Working in Edinburgh and across Scotland since 1980, we promote: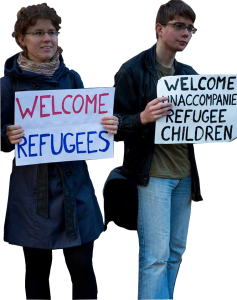 Nonviolence
Human Rights
Conflict Resolution
Ecological Sustainability
Creating a Culture of Peace
Our main fields of activity are:
Teaching Peace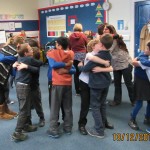 Our Cooperative Games and Conflict Resolution programm facilitators are working in Primary Schools to help children improve self-esteem, respect and communication. The programm supports Health & Well-being in the Scottish Curriculum for Excellence.
Challenging Militarisation

We organize demonstrations against Armed Forces Day and Fly Kites not Drones Day, challenge militarization of youth, distribute White Poppies remembering all victims of war and help run the Day of Action on Military Spending.
Plus we're working for Divestment from arms and to end arms sales to Saudi Arabia.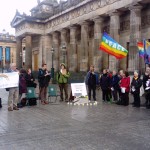 We're partnering on the WEA Scotland on the HLF Funded Legacies of Resistance to the First World War adult education project.
We organize Conscientious Objectors' Day vigils annually and lead a consortium to erect a Memorial to Conscientious Objectors in Edinburgh's Princes Street Gardens.
Supporting Refugees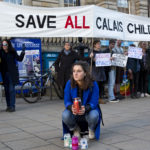 We advocate for unaccompanied asylum seeking children by publishing policy briefings, organising talks, symposiums, vigils and letter writing.
We work with local groups to collect clothes and donations for refugees.
Advocating Disarmament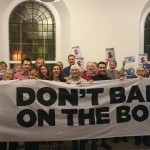 As part of the Scrap Trident Coalition and ICAN we organize demonstrations and campaign for nuclear disarmament.
Our 140,000 Origami Cranes project, inspired by a girl from Hiroshima who died of leukemia, engages people in their communities to remember all those killed by the Hiroshima atom bomb.
Raising Awareness through the Arts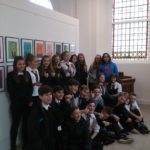 We organised an exhibition of Syrian childrens' art work and an exhibition focusing on people and communities who oposed the First World War.
With our CO memorial project we will engage an artist to create a sculpture that will be a public space for reflecting on alternatives to war.
We publish briefings and fact sheets
on issues of war, peace, migration and environment.
Our bi-monthly Peace & Justice News features articles, Book Reviews, Centre News, News from around the Movements and more.
Resources
Monthly diary of events, meeting and desk space.