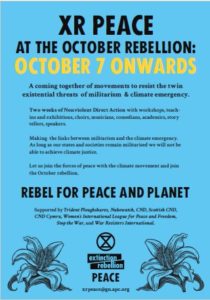 The Peace & Justice Centre has joined Extinction Rebellion Peace – a coalition of peace and justice organisations that is taking part in the nonviolent global rebellion to address the urgency of the climate crisis .
XR is calling on government to act now to halt biodiversity loss and reduce greenhouse gas emissions to net zero by 2025. In particular XR Peace will raise awareness of the military industrial complex and militarism at the heart of the exploitative system that drives climate change. Militaries worldwide produce 6% of carbon emissions, while nuclear weapons represent an equal threat to humanity and the planet. The use of just 100 of the thousands of nuclear weapons still deployed globally would lead to nuuclear winter and global famine. 
XR Peace will call on the government to redirect the extensive resources currently allotted to the MoD to be used to address the climate crisis. 
7th October 2019 Blockade
XR Peace will occupy the road outside the Ministry of Defense on 7 October and invite people to take part starting at 10am. Anyone considering attending is encouraged to attend a Nonviolent Direct Action training before heading to London and come prepared to camp out.
As we block the road we will have workshops, teach-ins and exhibition making the links between nuclear weapons, militarism and the climate emergency. This blockade is expected to last up to two weeks so please attend if you are in London over the dates of 7th October – 18th October.
FURTHER DETAILS: https://www.facebook.com/events/2954496691290769/