Remembering Hiroshima – Banning Nuclear Weapons
140,000 Origami Peace Cranes Project
In 2015 P&J volunteer Atsuko Betchaku started this project aiming to make 140,000 origami peace cranes to remember those who were killed by the atomic bombing of Hiroshima and to  express the hope that this will never happen again and highlight the Treaty to Prohibit Nuclear Weapons – the Ban Treaty – as a way to ensure that.
Since then people have been making paper cranes at workshops in Edinburgh, at the P&J Centre, in churches, libraries, at home, even on buses. We've received peace cranes from many countries including France, Germany, Canada, New Zealand and Japan. And now we have exceeded our goal! Well done everyone who has contributed.
Now we want to create an Exhibition. We're planning for August 2020 (to be confirmed) to mark the 75th anniversary of Hiroshima and we hope, to celebrate the ratification, by then, of the Nuclear Weapons Ban Treaty. Once ratified by 50 states the Treaty (TPNW) will become international law.
We're hiring a Community Exhibitions Curator to work with volunteers to shape all the materials we have assembled into an exhibition at Just Festival in August.
Read the Curator Brief for full details here.
Read the Exhibition Plan here. 
Want to help prepare the exhibition? We'll be holding  looking a series of workshops to string the thousands of cranes together into mobiles and garlands and other arrangements for the exhibition. An exhibition curator will work with the volunteers to develop all of our ideas for display. This will include creating display panels telling the story of Sadako, Hiroshima, Nagasaki, nuclear weapons, and the Ban Treaty.
Exhibition Prep Workshops.: Sat 14 March. 11am – 1pm & 2- 4pm.  Sat 11 April. 2 – 4pm. Sat 18 April. 2 – 4pm.  Edinburgh Peace & Justice Centre. Edinburgh Methodist Church, 25 Nicolson Square, EH8 9BX.
Get in touch to let us know if you want to be involved . Click here to Email us. 
Folding paper cranes is done in memory of the children killed by the Hiroshima and Nagasaki bombs because of the story of Sadako, a Japanese girl who was just two years old, living in Hiroshima when the atom bomb was dropped. Sadako later developed leukemia and while in hospital heard the legend that anyone who folded 1000 paper cranes would have their wish granted. Wishing for peace Sadako set out to fold One Thousand Paper Cranes before she died aged 12. There is a statue of Sadako holding a golden crane stands in the Hiroshima Peace Memorial Park.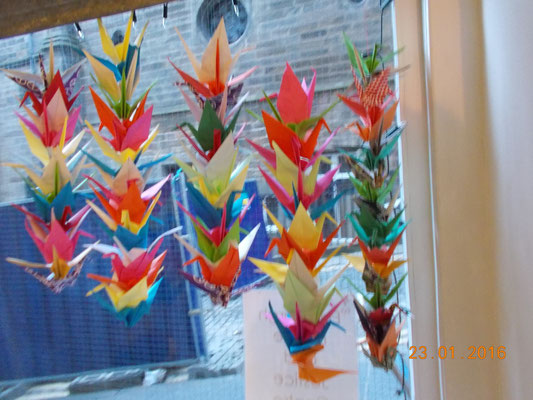 The atomic bomb dropped in Hiroshima on 6 August 1945 killed 140,000 citizens by the end of the year. Currently each nuclear warhead held by the UK is considered eight times more powerful than the one dropped in Hiroshima. If it is simply multiplied by eight, 1.12 million more than one fifth of the Scottish population would be dead. Later this year it is planned that the British government will renew Trident, the Britain's nuclear weapons system, costing £182bn. Currently Britain holds four nuclear submarines and 215 nuclear warheads. Faslane, near Glasgow, is home to such nuclear weapons in the UK.
Organise a Workshop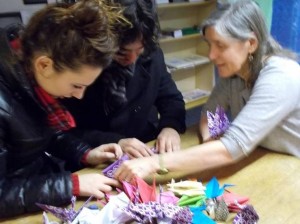 Although we have over already assembled over 140,000 schools and community groups that want to have children make origami cranes and send them in to us can still be included in the exhitition. 
(Some extra cranes will be used to display in other places to advertise the main exhibition.) A couple of suggestions for this are:
Children can write their names on the wings –  Write a wish on the other wing – Take group photo with their cranes – Include a note saying number of cranes, name of school and class group and any message they want to send along – Thread the cranes on one long thread with just a small enough gap between them so each crane can be seen and add a tag at the bottom end indicating name of school etc.(This arrangement would be great for the exhibition as we can hang cranes from high up in the roof space.)
Cranes can be posted to:
Edinburgh Peace and Justice Centre, City of Edinburgh Methodist Church, 25 Nicolson Square, Edinburgh EH8 9BX 
Download a flyer to advertise your own origami cranes workshop here
Watch a video of How to Make an Origami Crane Here.
 Who started the project?