WW1 Conscientious Objectors and their Legacies of Resistance  – lessons to learn for today's world?
Classes Free and Starting Soon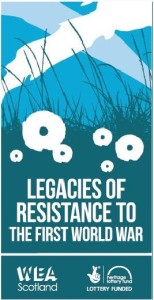 The Workers' Educational Association, in partnership with Heritage Lottery Fund and the Peace and Justice Centre, are open to new learners for their Legacies of Resistance groups running in Edinburgh, Glasgow and Dundee. The groups are investigating and researching the untold stories of Scotland's Conscientious Objectors to the First World War – women as well as men – and what we can learn from them and their struggle.
How relevant are their beliefs and courage to today's movements for a peaceful and just society, free from nuclear weapons? Can we learn more about their personal stories, their methods of resistance and the local communities that organised to support or revile them – communities that may also be our own? In particular, can we find ways to reclaim and communicate that past in ways that make sense to today's people – of all ages – wondering what they can do as active citizens of today's Scotland and the World?
If you are interested too in support to develop internet and research skills, to meet new people, take part in a programme of talks and visits to interesting places, as well as helping to keep alive a legacy of peaceful resistance that is often overlooked, then come and join us!  Classes run weekly for 2 hours during the day, in 8 week blocks, and the next block is about to start later in October.
There is no cost, we meet in central locations, open to everyone, and no experience is necessary.  Just bring along yourself, your interest and curiosity… and don't worry if you're not used to computers and the internet – this will be a great way to learn, and our experienced tutors will be happy to support you on that.
Want more information?
Get in touch with the W.E.A.'s Kait Laughlin on 0131-226-3456 or 07825 115917, email KLaughlin[at]wea.org.uk, or drop her a line at the WEA office at 17Gayfield Square, Edinburgh EH1 3NX.