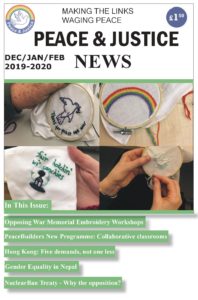 In P&J News this month there's Centre News – with updates of progress on all our major projects as well as three feature articles and a thought provoking reflection by Peace & Justice Coordinator Brian Larkin on a flock of starlings and the plane tree that led him to arrest with Extinction Rebellion.
In Centre News there are updates on Embroidery workshops for community engagement on the Opposing War Memorial project, publication of the The Legacies of Resistance to the First World War booklet, Collaborative Classrooms – an exciting new component  in the Peacebuilders programme for primary schools and the origami cranes project is nearly reaching its goal. Plus there's news of our involvement in XR Peace, and how to get involved in a P&J Affinity Group.
Former P&J volunteer Federico Marchiolli, now a Programme Manager with an NGO in Nepal writes about the shocking extent to which gender disparity prevails in Nepal and, as in many countries, is rooted in local customs, and traditions.
Two of our newest volunteers Elena Deamant and Anna Karisto cover two diverse existential struggles.  Lane gives an update on the Hong Kong protesters herculean efforts to hold on to their freedom while Anna surveys the global effort to eliminate nuclear weapons once and for all.