The Edinburgh Peace and Justice Centre has organised Light Against Darkness: An Exhibition of Syrian Refugee Children's Art which will take place at City of Edinburgh Methodist Church, Nicolson Square and Edinburgh University Chaplaincy, Bristo Square with a small selection at St John's Church, Princes St 21 October – 12 November. Opening Hours  are: Monday – Friday. 10am – 3pm, Tuesdays 6 -8pm & at City Methodist only,  Saturday 1 November 10am – 3pm .
The exhibition comprises 166 paintings and drawings done by Syrian refugee children during a three month therapeutic workshop at Shatila refugee camp in Lebanon.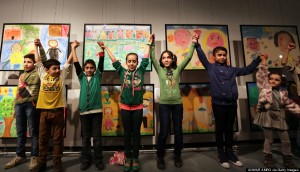 The joy of light… in the face of darkness! 
Children and teenagers in the flower of youth have been forced to leave their homes, and the places they knew and loved under showers of relentless bombardment. The smell of death and destruction has filled all parts of their country where raging infernos are destroying their schools and childhood playgrounds.
This is the group targeted by "Tomorrow is Ours Center" as part of the "Najda Now" psychological support project – Syrian refugee children living in Shatila camp in Lebanon where Palestinian refugees receive their Syrian refugee brothers and sisters.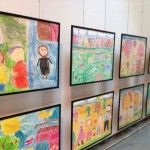 Violence, fear and murder have drawn these innocent souls in to darkness, the terrifying things they have seen, perhaps involving relatives or friends, causing deep psychological wounds. "Tomorrow is Ours" aims to extend a loving hand to these children and plant the seeds of hope. Perhaps the psychological support programs provided by the center can help bring
these children out of the darkness and in to the light; put smiles back to their sad faces, and wipe away the tears from their troubled eyes. One of these programs was the drawing course which continued for three full months, under the supervision of the artists Oruba Deeb, and Nour Shantoot.
The two artists brought happiness, warmth and friendship to the souls of
these gentle young children and worked towards halting the destruction, violence and despair that have filled their lives.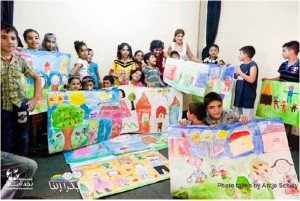 The result is these wonderful pictures which have begun to remove the black shades and terrifying images from these children's memories… taking them gradually to the colors of happiness and joy… the colours of the rainbow… the colors of their childhood that was violated using the most vicious means. With the help of the color palette and the paper that was put in the children's hands, their small fingertips began to play across pages as pure and white as their hearts.
The result was a festival of colors and enticing images representing distant homes… forgotten trees and schools, and the beloved faces of the departed.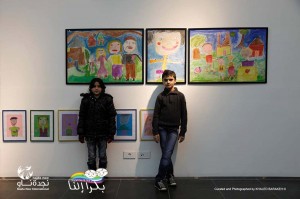 While the pictures show a memory filled with grief, an inner light seems to shine out from in between the children's fingers, clothing their faces with joy and happiness in a darkened world.
The French Embassy in Beirut held an exhibition of the children's pictures in the Embassy's exhibition hall in December 2013. The children and their families were present at the opening ceremony.
A book called "Light Against Darkness" which contains the children's pictures and some of their wishes and thoughts will be available for sale at the Peace and Justice Centre and at the various venues where the paintings will be exhibited.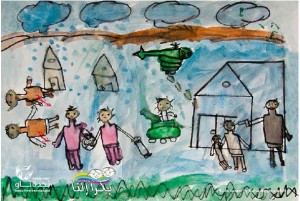 The Children's War Museum presents children's experience of war from across the world through their own voices and creativity. Our first exhibition of children's art has been visiting schools around the country with the support of the Jewish Museum in Prague.
We would like to thank the Church of Scotland, City of Edinburgh Methodist Church, Greyfriars Kirk, St John's Church, Edinburgh University Chaplaincy and Nadja Now Lebanon for helping us to bring the Syrian children's story to Scotland.
Brian Devlin and Najda Now
"..My father went without food for days because there wasn't enough. I
remember watching him tie his stomach with a rope so he wouldn't feel so
hungry."
Ala'a. 10 years old.
"..In my village there was a demonstration. Some children were there. As a
punishment, armed men went to the school. They selected 50 children at random in the classrooms, from grades 1 to 7. They took them out of the school and tore out their fingernails. Many of these children were 6 years old, just 6. People in the village were trying everything to get their children back, but we had no weapons, so we could do nothing. I don't know where they are now. I left soon after that happened."
Mohammad. 17 years old.
"..after 2 days I was taken out of the room to be interrogated. I was extremely weak. They hung me up from the ceiling by my wrists off the ground, then I was beaten. They wanted us to speak, to confess to something.  I passed out from the severe pain of hanging like that, and from the beating. They took me down and threw cold water on my face to wake me up. Then they took turns stubbing out their cigarettes on me. Here I have these scars."
Khalid. 15 years old.
"..Once I was arrested along with hundreds of other people. They separated out the children and I was the oldest at 16. We were forced into a small cell together – there wasn't even a toilet, just a hole in the floor. There was a group of small children with us whose parents were "wanted." There were perhaps 13 children. They weren't allowed food or water. When it was time for us to eat, their group was surrounded by armed men who stopped anyone giving them food. These children were too weak to even cry. They just lay on the floor. They were also subjected to repeated beatings with sticks, worse than us. I knew a boy called Ala'a. He was part of that group. He was only 6 years old. He didn't understand what was happening. His dad was told that his child would die unless he gave himself up. I'd say that this 6 year old boy was tortured more than anyone else in that room. He wasn't given food or water for 3 days and he was so weak he used to faint all the time. He was beaten regularly. I watched him die. He only survived for 3 days and then he simply died. He was terrified all the time. They treated his body as though he was a dog."
Wael. 16 years old.
from Save the Children: Voices of Syrian Children.