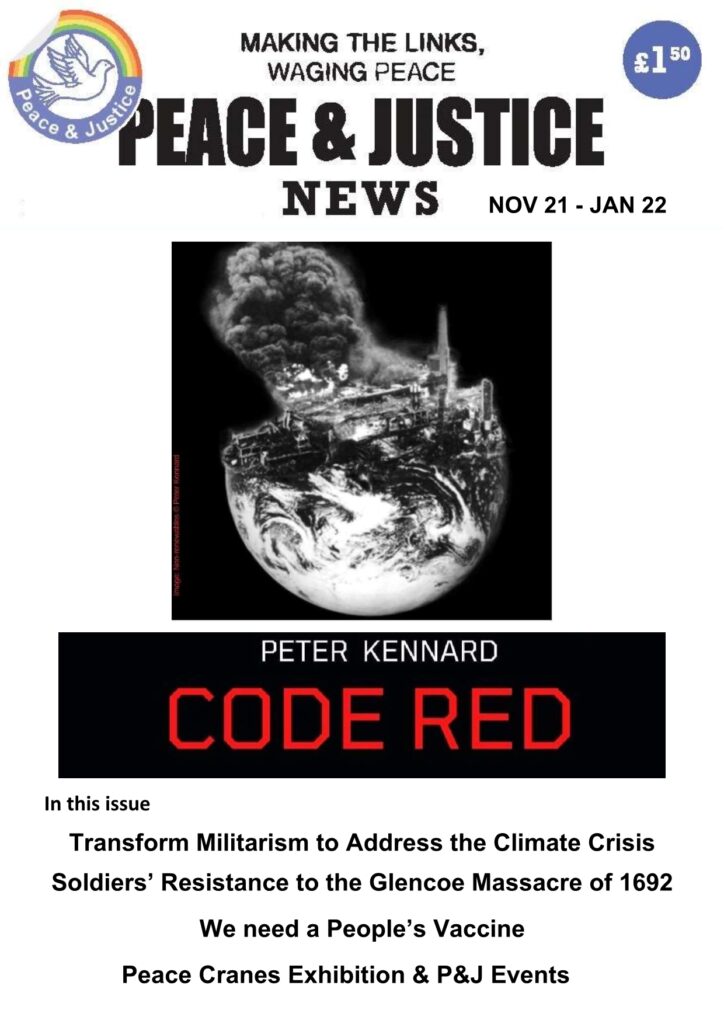 Peace and Justice News: Nov 2021 – Jan 2022
This issue of Peace & Justice News explores the links between militarism and the ecological emergencies, with details of events and exhibitions we're organising that explore this theme; with Remembrance Day upon us, there's a feature on indigenous resistance to militarism in Scotland's history; plus a feature on the injustice of the global response to the pandemic.
In our Editorial Brian Larkin argues that we must end militarism in order to prevent the ravages of climate change.
There is a lot of information on our Peace Cranes exhibition and past events you can still view online – and events yet to come. Through striking visual installations and other arts events the project powerfully raises awareness of the twin existential threats to humanity – nuclear weapons and the ecological crisis – reaching people who might not otherwise have been exposed to that message. The main exhibition continues until 13 while a new installation of prints by one of the UK's most influential political artists, Peter Kennard, starts at Out of the Blue Drill Hall on 6 November. 
There's news from other corners of Peace & Justice too, from the Opposing War Memorial to advocacy tools for addressing the situation for asylum seekers in Dungavel Detention Centre and details of many events and actions around peace and climate in conjunction with COP26 in Glasgow.
Peace & Justice has joined in a Stop Climate Chaos Coalition letter calling on the First Minister to firmly oppose approval of Cambo oil field. And we're teaming up with Veterans for Peace Scotland again this year for an Alternative Remembrance Day event at the proposed site of the Opposing War Memorial. Find details in our P&J News section.
Delve into alternative remembrance of one of the most notorious incidents in the history of British imperial presence in Scotland's past with P&J intern Lane Deamant, who tells the story of resistance by soldiers to the Glencoe Massacre.
And, keeping on this seasonal theme you can also find out in P&J News where to get White Poppies for Peace in Edinburgh and how you can support COs and war resisters currently in prison on Prisoners for Peace Day.
Addressing the glaring injustice of the other planetary crisis, COVID Peace & Justice Administrator and Finance Officer Jane Herbstritt, whose other job is with Global Justice Now, makes the case for a People's Vaccine.
And don't miss News from the Movements – packed with a wide variety of local and global news on peacebuilding, peacemaking and the ecological crisis.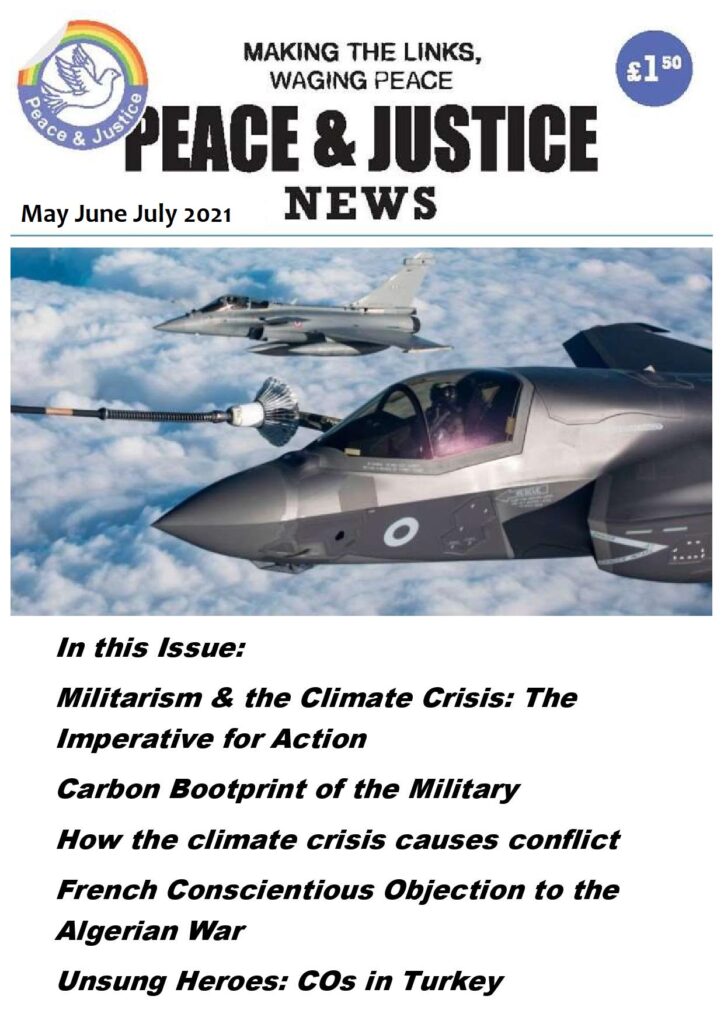 Peace and Justice News: May – August  2021 
In this Issue of we look to address two themes. First is the intersection of militarism and the climate crisis. Secondly, with International Conscientious Objectors Day coming on the 15th of May we have two articles on conscientious objection.
In Militarism & the Climate Crisis: The Imperative for Action Peace & Justice Coordinator and XR Peace campaigner Brian Larkin explains why he took part in a blockade of BAE Systems HQ in London during the 2019 Extinction Rebellion and in doing so makes the case that militarism is a key pillar that is upholding the resource intensive and destructive system that is driving the climate crisis. We offer some key facts on the Carbon Bootprint of the Military and Jane Tallents from Trident Ploughshares and XR Peace writes about some of the many ways that the climate crisis causes conflict.
Our Opposing War Memorial intern Alex Raboisson retells the story of French Conscientious Objection to the Algerian War and reports in Unsung Heroes on contemporary COs in Turkey. We invite readers not only to attend our collaborative UK Internatonal Conscientious Objectors Day Vigil, organised with Peace Pledge Union and others, but to take action in solidarity with COs in Turkey. Plus there's a new poem, Conchie: An Ordinary Man, by Brian Batson.
There's also a roundup of all our Peace & Justice activities and events. From an invitation to the Peace Cranes exhibition that will take place as part of the Just Festival in August, and to get involved in creating it in May and June, to great  guest speakers Paul Rogers and Jenny Pearce at our upcoming REAL Security event, to the publication of Made in Scotland and a workshop we're organising with Campaign Against Arms Trade Edinburgh on the arms that are made here and being used in Yemen, it's all go.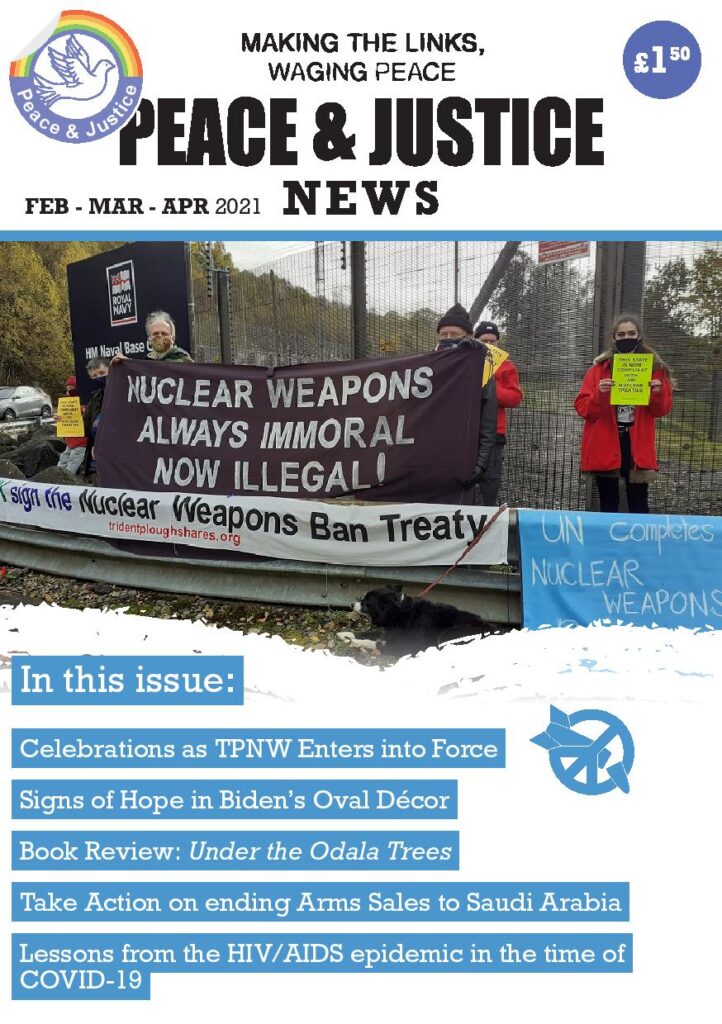 Peace and Justice News: Feb – April 2021 
Late last year we announced that we were becoming Peace & Justice. Read our new Vision, Mission, and Aims statements in Centre News and find out how we plan to fulfil our Mission of building a culture of peace in Scotland.
In our editorial, Peace & Justice welcomes the US ending "offensive" arms sales to Saudi Arabia but we look askance at the continuation of the sale of so-called "defensive" arms and call on the UK government to end all arms sales to and military support for Saudi Arabia, which has devastated Yemen, causing a humanitarian crisis. You'll find links in Centre News where you can support this call by writing to your MP.
Scotland is uniquely implicated as Scottish Enterprise has funded Fife defence contractor Raytheon, which has supplied bombs that have destroyed civilian infrastructure, and almost certainly killed thousands of civilians according to a Yemeni human rights group. We renew the call for Scottish government to end its support for the arms manufacturer.
There have been big changes across the globe as well. Brian Larkin finds some signs of hope in US President Biden's choices of Oval Office art and what this might mean for his term.
In this issue's feature Lane Deamant draws parallels between the COVID19 pandemic and the HIV/AIDs crisis of the 1980s, and sees lessons that governments could learn. In News from the Movements we report on celebrations of the entry into force of the UN Treaty on the Prohibition of Nuclear Weapons around the world. And finally, Lane Deamant reviews Under the Udala Trees by Chinelo Okparanta. Set in 1960s Nigeria, the novel looks at what it means to live freely and openly.
 Read the full issue here.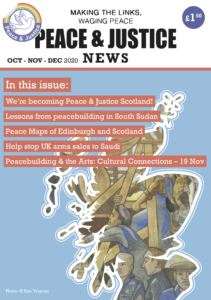 Peacebuilding & the Arts & P&J Scotland launch 19 Nov.  Plus PeaceBuilders videos for schools Crowdfunder. Alternative Remembrance 8 Nov and more.
Join us at our Annual Meeting & launch of Peace & Justice  or come along for an engaging panel discussion with Prof Jolyon Mitchell, Dr Lesley Orr and our project leaders on Peacebuilding and the arts starting at 6:30pm Thurs 19 November. More  details in Centre News.
After 40 years, the P&J is becoming Peace & Justice! Our mission is building a culture of peace across Scotland. This exciting change will better reflect the work we already do across Scotland, not just in Edinburgh. 
Join us & Vets for Peace Scotland for an Alternative Remembrance event at the Opposing War Memorial site in Princes St Gardens 10:45am – 11:30am Sunday 8 November.  If you can't make it to the in person event you can join us with Peace Pledge Union & Fellowship of Reconciliation for UK Alternative Remembrance 12noon 8 Nov. 
Our PeaceBuilders team are creating a series of videos for schools based on our programme. Can you support this project Crowdfunder? You can  donate by bank card or transfer here or by sending a cheque made out to Edinburgh Peace & Justice Centre with Peacebuilders videos in the Purpose field or as a reference posted to us at EP&JC, City of Edinburgh Methodist Church, 25 Nicolson Square, EH8 9BX.
In our editorial Brian Larkin calls out the cruel and conflicted UK approach to Yemen: giving aid while arming the Saudis causing humanitarian crisis.
Lane Deamant's "Peace Maps" article details a new P&J project to map peace sites across Scotland. Help grow this fantastic community resource by submitting your own favourite locations to us at contact[at]eaceandjustice.org.uk. 
Meklite Balcha analyses why the mediation process in South Sudan failed and reflects on the future of peacebuilding in the country.
News from the Movements features Extinction Rebellion's recent actions, the 2020 Nuclear Free Future Award recipients, how to support Edinburgh Refugee Sponsorship Circle and Voices for Creative Non-Violence.
And, in our Unsung Heroes colunmn this month Annie Milburn looks at the struggles of marginalised communities through the life of Hazel M. Johnson: her work serves to highlight the importance of intersectionality in the environmental movement.
We list plenty of ways to take action from home too. Email your local MP to demand a halt to the UK arms trade in Yemen and lobby them to support the new Climate and Ecological Emergency Bill.
Read the full issue here.
Peace and Justice News: July – September 2020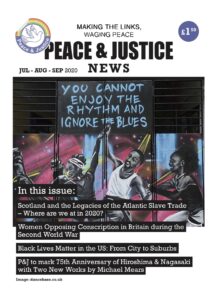 In this issue of Peace and Justice News we look at the pressing social justice agenda of the present moment: Black Lives Matter and the legacy of the Atlantic Slave Trade from American and Scottish perspectives. From the suburbs of Detroit Amanda Taylor sets out what it means to be an ally in America in the wake of the killing of George Floyd while Edinburgh History teacher Katie Hunter examines the teaching of the history of the slave trade and colonialism in Scotland's secondary schools curriculum.
In our editorial P&J Administrator Jane Herbstritt explains why we have signed on to a call for the Scottish government to make it a just green recovery, and suggests this wider movement integrate transitioning from the arms trade. 
P&J intern Lane Deamant, writing from Chicago during this COVID lockdown explores the stories of women who refused not only active military service but conscription into civilian wartime national service during the Second World War.
And in Centre News you can find out about some great upcoming P&J events planned to mark the 75thanniversary of Hiroshima and Nagasaki. Lastly, in keeping with our aim to be inclusive and welcoming Lane Deamant offers an intro to transgender pronouns and how to use them.
Peace and Justice News – April 2020 – June 2020
In these unsettling times as we hear daily news of lives taken by the COVID-19 virus we bring some very good Peace & Justice News.
 We're planning to re-launch as Peace & Justice Scotland in time for our 40th birthday. In Centre News you'll we invite all who hold the P&J dear to contribute to how renewing our vision and reshaping how we work in line with our values.
 There's also great news on the Origami Peace Cranes project. We've been planning an exhibition of the cranes at the Just Festival for this summer – that's been postponed until 2021. That's a set back and an opportunity. We have appointed Iliyana Nedkova as Curator. With over 25 years of experience curating contemporary art, drama and design Iliyana aims to attract artists with socially proactive practice to contribute work and to take the exhibition to a number of European cities too.
You can meet her online this week. She'll outline volunteer opportunities and how to input ideas to help shape the exhibition.
There are ways to take action from home this month globally on the GDAMS 2020: HEALTHCARE NOT WARFARE campaign, locally to call on Edinburgh City Councillors to divest from nuclear weapons and by joining an online CO Day vigil. 
Don't miss Lane Deamant's article on "Feminist Conscientious Objection in Israel", part of our Opposing War Memorial project, and P&J intern Anna Karisto's report from the Paris ICAN forum: "Nuclear Weapons: Risks, Consequences and Solutions"
As ever we bring you News from the Movements, with Margaret Ferguson Burns account of work she's been involved with at Refugee Community Kitchen in Calais, and in our Editorial Brian Larkin asks us to think about the impact of COVID-19 on the most populous and poorest parts of the world. Lastly there's a reflection on the contradictions inherent in arms dealers making ventilators.   
Peace and Justice News – December 2019 – February 2020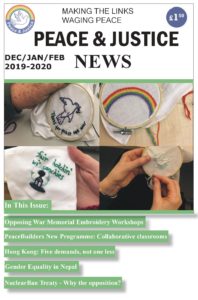 In Centre News this month there's news of progress on all our major projects: Embroidery workshops for community engagement on the Opposing War Memorial project; publication of the The Legacies of Resistance to the First World War booklet; Collaborative Classrooms – an exciting new component  in the Peacebuilders programme for primary schools; and the origami cranes project is nearly at its goal.
Plus there's news of our involvement in XR Peace, and how to get involved in a P&J Affinity Group. Check out Peace & Justice Coordinator Brian Larkin's reflection a flock of starlings and the tree that led him to arrest with Extinction Rebellion.
Former P&J volunteer Federico Marchiolli, now a Programme Manager with an NGO in Nepal writes about the shocking extent to which gender disparity prevails in Nepal and, as in many countries, is rooted in local customs, and traditions.
Two of our newest volunteers Elena Deamant and Anna Karisto cover two diverse existential struggles.  Lane gives an update on the Hong Kong protesters herculean efforts to hold on to their freedom while Anna surveys the global effort to eliminate nuclear weapons once and for all.
Peace and Justice News – Sept Oct November 2019
In this issue of Peace & Justice News Nay Nay Htun who hails from Burna, remembers the forgotten people – the Rohingya Muslims that are currently undergoing an ethnic cleanse in Myanmar. Eeman Talha gives historical context to the crisis in Kashmir and Cindy Kamtchoum explores West Papua's demand for autonomy, a battle that is far from over.
In Centre News we have nearly reached our goal of making 140,000 Origami Cranes. All welcome to join one of our autumn peace crane workshops or send your cranes in. Our Peacebuilders Collaborative Classroom projects programme is nearly ready to launch in schools. And catch up on the latest developments on our work on the arms trade and nuclear weapons.
It's time to celebrate another unsung hero. Cindy Kamtchoum profiles recognizes the peace work Coretta Scott Kind and did in her lifetime.
Lastly,  a calls to action on Don't Bank on the Bomb and West Papua.
Peace and Justice News – April May June 2019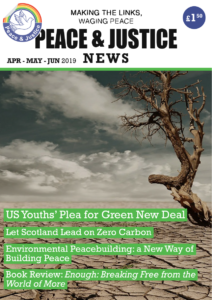 In Peace & Justice News this month we focus on the relationship between security, peace and the environment.
Our Editorial calls on Scottish Government to increase emission reduction targets in the Climate Change Bill to zero by 2040 and require the Budget be linked to the Climate Change Plan.
Noting that most conflicts have resources as at least part of their cause, Anelise Vaz explores the idea of Environmental Peacebuilding as an emerging way of building peace.
Following a protest at the office of Senator Diane Feinstein  Samantha M., age 12, and Angelica Perkins, age 17, make an impassioned Plea for Green New Deal.
In our book review Anelise Vaz recommends John Naish's Enough: Breaking Free from the World of More. It seems that, when it comes to happiness, less really is more.
Peace and Justice News – January February March 2019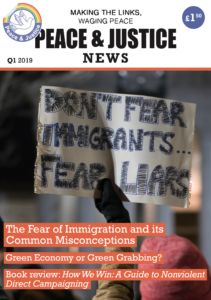 This issues of Peace and Justice News is the first of 2019, and looks at a variety of relevant topics like immigration and the new green economy.
Anelise Vaz discusses the lack of concern regarding Saudi Arabia in our editorial.
Hsiao-Wei Chen's feature article explores the recent solution to climate change that is green economy, and highlights its negative implications.
"How We Win: A Guide to Nonviolent Direct Action Campaigning" is reviewed by Anelise Vaz. George Lakey explores new conducts for campaigning in order to achieve real progressive change.
Centre News celebrates the approval of our Opposing War Memorial from the City of Edinburgh Committee.
As ever, we thank you for your readership and hope that you enjoy the issue!
The Editor
Peace and Justice News – July August September 2018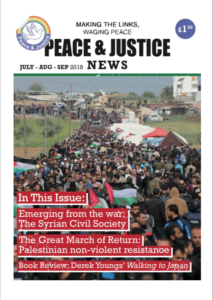 This issue of Peace & Justice News highlights a number of views of to peace and justice subjects around the world.
In the editorial, Brian Larkin asserts the urgent need of denuclearization of the World, with a special call to the UK and other nuclear powers to sign the Nuclear Weapons Ban Treaty.
Olivia Kashti's feature article tells about the peaceful aspect of the Great March of return and the struggles of Palestinians who want the right to go home and to live in more dignified conditions.
Margherita Distrotti's article is about the civil society in Syria that emerges from hard times of war, causing people to organise themselves in groups to help each other and provide services such as medical assistance and education to the population.
Anelise Vaz has reviewed the book "Walking to Japan: A Memoir", by by Carolyn Affleck Youngs and Derek Youngs. It is an inspiring biography of a peace walker and his many stories.
Centre News celebrates the arrival of the Nobel Peace Prize as an ICAN partner.
As ever, we thank you for your readership and hope that you enjoy the issue!
The Editor
Peace and Justice News – April May June 2018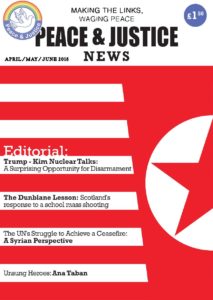 This issue of Peace & Justice News highlights a number of alternate perspectives on all too familiar threats to peace and justice around the world.
Brian Larkin's editorial assesses the unconventional (to put it lightly) approach Donald Trump has embraced as a solution to the US's tensions with North Korea.
Anelise Vaz's feature article responds to the latest shooting in the US by reminding us that it only took one tragic event in Scotland for the UK to implement extremely restrictive measures on gun ownership.
Kristee Boyd's extended feature article is an interview with Zaina Karam, who has lived in Edinburgh for 10 years since leaving her native Syria. In the interview, Zaina shares her perspective on the conflict as a whole, as well as the more recent tragedy in Eastern Ghouta.
Lochlann's Unsung Heroes piece looks at a novel response to South Sudan's long history of violence: a youth led movement that uses art to express messages of reconciliation and change in their country.
Centre News in this issue includes updates on the Centre's competition for a Memorial to Conscientious Objectors and Opponents of War in Prince's Street Gardens, Cooperative Games & Conflict Resolution Schools Programme, and progress with the Origami Cranes project.
In News From Around the Movements, Zoe Morgan has compiled some fascinating stories. They include good news in the divestment movement to using the Olympic Games as a platform for peace to commemorating Mary Barbour in Glasgow on International Women's Day.
As ever, we thank you for your readership and hope that you enjoy the issue!
The Editor
Peace and Justice News – Jan/Feb/March 2018
This issue of Peace & Justice News is the first to be published on the new quarterly basis. It is perhaps appropriate, then, that the pieces in this issue cover a wide range of the most topical current affairs of the past months – situations that are certain to be just as relevant in January as they are to be in March.
Brian Larkin's editorial highlights the threat of nuclear warfare in the twenty first century – one defined by jingoistic egos hitherto prevented from access to nuclear codes. Federico Marchiolli's feature story both reminds us of the context, and brings us up to date with, the Rohingya crisis. Lochlann's feature story insists on the importance of recognising the role of western democracies in the Yemen crisis.
This issue's Book Reviews, while focussing on radically different problems, are testament to the role that silencing plays in oppression. Emma Davis's review of Men Explain Things to Me maintains the importance of intersectionality in feminism – encouraging marginalised groups to co-operate with, rather than exclude, each other in their discourses. Lochlann's review of Drone Theory shows covertness is essential to the success of armed drones.
Centre News has great news about the Origami Cranes project, as well as updates on our upcoming exhibition, our Co-operative Games Programme, and White Poppies distribution. In News From Around the Movements, we have a comprehensive report from Janet Fenton reporting from Oslo on ICAN, and an important development in efforts to advance divestment from nuclear weapons.
We are very happy to include two substantial pieces from Janet Fenton and Robert Koehler, which offer different perspectives on ICAN's work with nuclear disarmament.
As ever, we thank you for your readership and hope that you enjoy the issue!
The Editors
Peace and Justice News Oct Nov Dec 2017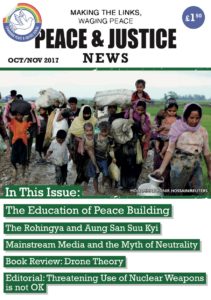 In this issue, Sarah Macdonald asks whether we have met the Sustainable Development Goals for Education in these turbulent times and reminds us that Education has a knock on effect on preventing Conflict and Peace Building. Touching on another refugee crisis, that of the Rohingya of Myanmar, Kristee Boyd raises some hard criticisms of Nobel Laureate and global icon Aung San Suu Kyi.
Lochlann Atack critiques the myth of the neutrality of the mainstream media. And in our Editorial P&J Coordinator Brian Larkin says that threatening the use of nuclear weapons Is Not OK. Our own Centre News features Weave – an initiative that brings together community events  that are creating a more nonviolent world in and around Edinburgh like Living Nonviolently Toward the Earth at Bridgend Farm and our first annual Peace Walk.
Finally, News from Around the Movements covered nonviolent disruption of the DSEI Arms Fair, Fracking protests in Yorkshire, the new Nukewatch Report: Unready Scotland and much more.
The Editors.  Read the full pdf Here.
Peace and Justice News – Aug/Sept 2017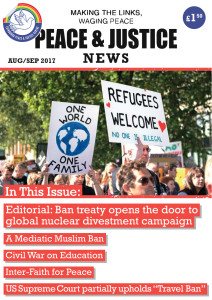 On July 7, 2017, the United Nations adopted a Treaty on the Prohibition of Nuclear Weapons. 122 countries voted in favour of the treaty, demonstrating the clear and unequivocal acceptance of the majority of UN members never to use, threaten to use, produce, possess, acquire, transfer, test or deploy nuclear weapons.
The nuclear-armed and allied States opposed the treaty and none are likely to join any time soon. As such they are not bound by its provisions, and will not be directly affected by it. However, the new treaty could be used to impact on the policies and practices of the nuclear armed States, especially if States' Parties prohibit investments in nuclear weapons corporations as part of their implementation of the treaty.
Corporations manufacturing nuclear weapons and their delivery systems are major drivers of the nuclear arms race. They actively lobby their parliaments and governments to continue allocating the funds to nuclear weapons. And they support think tanks and other public initiatives to promote the 'need' for nuclear weapons maintenance, modernization and expansion. Many of the countries supporting the nuclear prohibition treaty have public funds (such as national pension funds) and banks, operating in their countries, that invest in these corporations.
The new treaty does not specifically prohibit such investments. However, States to the treaty agree not to 'assist, encourage or induce, in any way, anyone to engage in any activity prohibited to a State Party under this Treaty.'  This can be interpreted as prohibiting investments in nuclear weapons corporations.
If a number of State Parties to the treaty decide to prohibit investments in nuclear weapons corporations, this could highlight the unethical corporate practice of manufacturing such weapons, damage the standing of such corporations and constrain their lobbying power.
In 2016, International Peace Bureau (IPB) joined UNFOLD ZERO, Parliamentarians for Nuclear Non-proliferation and Disarmament (PNND), the World Future Council and others to launch Move the Nuclear Weapons Money, a campaign and resource guide on cutting nuclear weapons budgets in nuclear-armed States, redirecting these funds to meeting economic and environmental needs such as promoting renewable energy and protecting the climate.
A handful of countries (Lichtenstein, New Zealand, Norway and Switzerland) have already implemented nuclear divestment policies through action by parliamentarians and civil society. If they were joined by 50 or even 100 more countries (as they ratify the ban treaty), this influence would multiply exponentially. Organisations behind Move the Nuclear Weapons Money are therefore using the ban treaty to amplify the global nuclear weapons divestment campaign. They are being joined by the Abolition 2000 Working Group on Economic Dimensions of Nuclearism.
PNND, for example, has included this in a Parliamentary Action Plan for a Nuclear Weapon Free World, which was released at the United Nations on July 5, as the ban treaty negotiations were drawing to a close.
Move the Nuclear Weapons Money also encourages nuclear-weapons-divestment by cities, universities and religious institutions in nuclear-armed and allied countries, building on the nuclear divestment example of the city of Cambridge MA (USA) and the recent resolutions of the US Conference of Mayors which call for re-direction of nuclear weapons spending to meet human and environmental needs.
Divestment was one of the key tools that the international community used to move South Africa to end apartheid. Nuclear divestment could be the game-changer to finally end the power of the nuclear weapons corporations to keep the nuclear arms race running.
Peace and Justice News – June/July 2017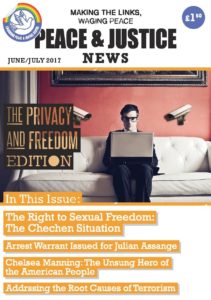 When asked his opinion of Donald Trump, Edward Snowden once said, "We shouldn't be focusing on the people. We should be focusing on the directions, the impacts, the policies that this will lead to. Presidents come and go. Policies stay." These words serve as a powerful reminder that we need to stay vigilant and never give up the fight to protect our core rights and freedoms, regardless of what we think of individual leaders.
Unfortunately, in light of the daily madness of a Trump presidency, it's easy to find ourselves standing doe-in-the-headlights style, trying to decide which executive order or policy we should stand against first. Indeed, Trump himself cannot manage to demonstrate any degree of consistency in terms of his promises or policies, not to mention coherent logic in his arguments.
However, what we do know for certain is that Trump intends to clamp down on personal privacy and free speech, as he does not want to be held accountable for the type of actions listed above. While he goes to great lengths to conceal secret actions of specific people and organisations and wants journalists who release classified documents arrested, he is simultaneously working to revoke ever more of the privacy of ordinary citizens.
As Snowden stated, "privacy isn't about something to hide. Privacy is about something to protect. That's who you are. That's what you believe in. Privacy is the right to a self. Privacy is what gives you the ability to share with the world who you are on your own terms… [it] is the fountainhead of all other rights.
Freedom of speech doesn't have a lot of meaning if you can't have a quiet space, a space within yourself, your mind, your community, your friends, your family, to decide what it is you actually want to say."
And so, in this issue of Peace and Justice News, we celebrate the Assanges, Snowdens and the Mannings of the world, those heroes who sacrifice themselves so that we can know what our governments are doing, both to us and on behalf of us. We acknowledge that, without them, our world would be a much darker place.
Emma Clark highlights the case of Chelsea Manning: An unsung hero of the American people. Kristee Boyd explores the effect that the arrest warrant for Julian Assange may have on human rights and fundamental freedoms and Will Duncan investigates grave violations of sexual freedom in Chechnya.
In light of the tragic terrorist attack in Manchester, Brian Larkin discusses the root causes of terrorism in our Editorial. Finally, don't miss our Centre News and News from Around the Movements.
Read the full .pdf HERE
Peace and Justice News – April/May 2017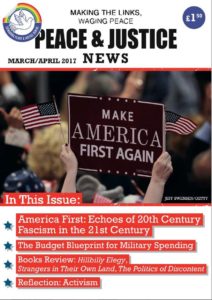 The election of Donald Trump as the 45th President of the United States of America took many around the world by surprise. He has now been in office a few months and the world has come to realise his America First campaign was not all talk, as many speculated during the campaign. We have themed this issue "America First" and will look at some of the major issues of the president's first few months in office.
Our Editorial will look at support for diplomacy and development by the military, written by David Cortright. Louise Smith looks at the similarities between fascist ideology in the 1930's and 40's, and the Trump administration's policies. Sarah MacDonald looks into the administration's proposed increase on military spending and the consequences of taking funds from other important departments.
The Peace and Justice Centre has many upcoming events and workshops to get involved in; including making Paper Cranes at the Centre most Saturdays and the Cooperative Games in schools programme.
Keeping in line with this issue's theme of America First, Sarah MacDonald reflects on political and civil activism in the few months since Donald Trump's inauguration, and the peaceful demonstrations for equality that have been organised during this time.
In the book review, William Duncan writes about three books Hillbilly Elegy by JD Vance, Strangers in Their Own Land by Arlie Hochschild and The Politics of Resentment by Katherine Cramer.
All three of these books have the common theme how they come to believe they have been left behind by politician and tend to vote a certain way because of it, when the reality of the policies work against them.
Read the full PDF HERE
Peace and Justice News – February/March 2017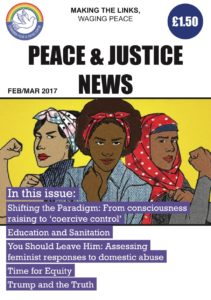 In consideration of International Women's Day on March 8, as well as the solidarity that was demonstrated across the world in the form of Women's Marches on January 21, this Peace and Justice News focusses on the importance of Women's Rights.
Rebecca Spross highlights the fact that, in many liberal countries, inequalities continue to drag humanity backwards as a global society instead of pushing us into a more equitable future. A major form of ongoing inequality is evident in the ways in which women's work is underpaid or, in many cases, entirely unpaid.
Sarah MacDonald investigates the impact of menstruation on women's rights around the globe, in terms of girls' access to education and the social stigmas that ostracize menstruating women, to prevent them from "contaminating" their household.
Priyanka Radhakrishnan assesses various feminist responses to women who find themselves in abusive relationships. Whilst feminists agree that "domestic violence occurs when a man holds the power in a relationship and is socialised to be aggressive, while the woman lacks agency and is socialised to accept victimisation," feminist opinions vary when contemplating the best solution.
Orlaith McAree discusses the way in which the paradigm of domestic abuse has shifted in recent years.
What was once perceived as simply as distinct episodes of physical violence has developed into broader understandings of 'coercive control'.
McAree highlights Evan Stark's model of coercive control, which recognises that domestic abusive involves various forms of restriction of the freedom of one's partner, including isolation, humiliation, threats and 'gas-lighting'.
In Unsung Heroes, Will Duncan profiles two female activists who continue to fight for the freedom and dignity of others. Also, don't miss the review of Sue Lloyd-Roberts' book The War on Women, News From Around the Movements and all our own Centre News!
Read the full PDF HERE
Peace and Justice News – December/January 2017
This month, Peace and Justice News focuses on various food and agricultural initiatives that contribute to a sense of 'community' within and across Scottish communities. There are many such initiatives in Scotland but, unfortunately, we only have space to highlight a few of them! Due to the local focus for this edition, we invited writers from a range of backgrounds and organisations to contribute articles which highlight their varying fields of work and expertise.
Lusi Alderslowe, Forest School Leader, Permaculture Designer, Educator and Coordinator, has contributed an informative article on Permaculture networks across Scotland. She explains the basic concept of 'permaculture,' and offers advice on where people can take courses locally, in order to develop their own skills in this area.
Charlie Hanks is coordinator of The Real Junk Food Project in Edinburgh. Beginning with highlighting our broken system of food waste and poverty, Charlie goes on to describe this initiative with the motto 'Let's feed bellies, not bins,' and the importance of food communities which are capable of moving food around until it's gone.
In the first of a two-part series, Irina Erdmann highlights plastic waste in Germany, interviewing Björn Zacharias who is one of the founders of the 'Glaskiste-natürlich unverpackt,' a packaging-free shop in Germany. Next issue Irina will contribute a follow-up interview from the New Leaf Co-op here in Scotland.
Kristee Boyd profiles the Bridgend Farmhouse, a community- run project which grows food, runs a wide range of workshops and events and actively cultivates a sense of community while participants work towards common goals.
In Unsung Heroes, Kate Neven, writes about the Unsung Heroes of Yemen: Youth, women and community groups.
And in News from around the Movements, Brian Larkin discusses the issues faced by Water Protectors as Dakota Access Pipeline protests head into winter.
Read the full pdf HERE
Peace and Justice News – October/November 2016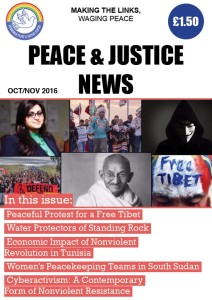 In honour of Gandhi's birthday on October 2nd and UN International Day of Nonviolence, this month's Peace and Justice News has a theme of 'Nonviolent Resistance.'  Around the world, there are thousands of organisations and countless inspirational individuals who practice nonviolence and work to build a safer and more just world for everyone. In this issue, we profile a number of these organisations and individuals.
Viviane Straub discusses nonviolent activism within the Free Tibet movement. She also highlights the united efforts of nonviolent protectors of Native American land as they stand against the planned construction of the Dakota Access Pipeline. Will Duncan investigates the economic impact of the nonviolent revolution in Tunisia.
Kristee Boyd looks at the work of Women's Peace-keeping Teams in Sudan, trained by Nonviolent Peaceforce and Alessandra Piacenti considers Cyberactivism as a turning point in the history of nonviolent protest. And in Unsung Heroes section, Kristee discusses the inspirational work of Gulalai Ismail, who recently spoke at Quaker House here in Edinburgh about her efforts to counter the effects of radicalisation in rural Pakistan.
News from around the Movements is packed with news of resistance to Trident, arrests at the Pentagon, resistance to palm oil in Indonesia, a new report on nuclear convoys and more. Be sure to check out our book reviews of 'Britain's Secret Wars' by Tim Coles and 'Nonviolent Resistance to the Nazis,' written by George Paxton who will be giving a talk this month at the  Centre! Find details of this and other exciting upcoming events in this month's Centre News!
Read the full PDF here
Peace and Justice News – August/September 2016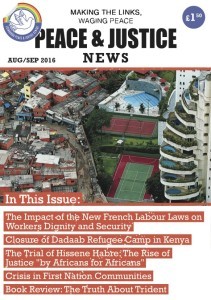 This month the P&J News will highlight inequality in its different forms around the world. Inequality is not just a regional issue it is everywhere. We continue to see studies and statistics about the growing gap between the poor and wealthy, with supposed solutions like austerity only seeming to make the divide wider.
With the final vote on EU referendum tallied Sarah MacDonald looks at the driving force for the ever-growing inequality gap in the UK and the reason Brexit gained so much support. Our talented illustrator Rebecca Willmott has contributed another of her illustrations. More of Rebecca's work can be found on her website: www.rebeccalanyon.co.uk
Madeleine Etcheco looks at the Nuit Debout movement protesting labour laws in France and the toll it taking on the workforce. Kristee Boyd looks at the closing of a Somali refugee camp in Kenya and the devastating effects on its residents. Priyanka Rahdakrishnan has written about the war crimes and trial of dictator Hissene Habre in Chad and Africans taking justice back into their own hands. Sarah MacDonald looks about indigenous peoples rights in Canada. Our Unsung Hero this month features 10 Things you did not know about Conscientious Objectors by Michael Mears. And finally we have a book review on The Trouble with Trident, which was featured in the last edition, by David MacKenzie.
Read the full PDF here
Peace and Justice News – June/July 2016
The UK is holding a referendum to ask citizens whether or not they want to stay within the European Union. With the impending decision on "Brexit", we decided this month to focus mainly on topics concerning the European Union, and as always, with an underlying focus on peace and justice.
In our Editorial William Duncan looks at the ever present issue of criminalising non-violent protests. In Centre News we have published a briefing on unaccompanied asylum seeking and refugee children arriving in Scotland. The policy paper makes recommendations for guardianship to be managed by Scottish government rather than local authorities. The paper is available on our website. Rebecca Willmott has contributed more of her great illustrations. More of Rebecca's work can be found on her website: www.rebeccalanyon.co.uk
Yalda Safavian has contributed a very thought provoking article on the dilemma of third party intervention and the responsibility of the international community to protect citizens outside their jurisdiction. Sarah MacDonald looks at the EU and its contribution to the fight against climate change. Madeleine Etcheto writes about peace in the EU since its forming and whether or not the Union has accomplished its goal of peace, within the Union and with its ties globally.
Matthew Naumann has written a special piece for the centre as an update in South Sudan since its independence from Sudan in 2011 and the 2015 peace agreement. In Unsung Heroes,  Zoe Cameron highlights two young conscientious objectors, Tair Kaminer (Israel) and Samir Elsharbaty (Egypt) who are standing up for peace.
Zoe has also written a book review on Walden Bello's 'Capitalism's Last Stand? Deglobalization in the Age of Austerity', which looks at financial crises around the world and alternate approaches to address them. Finally, our Reflection by Elizabeth Stanyer highlights her experience volunteering in Calais.
Read the full PDF here
Peace and Justice News – April/May 2016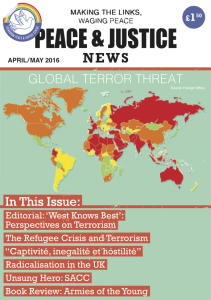 We are marking our first issue switching to a bi-monthly format with a focus on terrorism. Terrorism is a daily occurrence around the world with recent attacks in Lahore, Pakistan, Brussels, and Paris. We are bombarded with images and constant rhetoric of fear in 24 hour media of the threat of refugees and radicalisation. Many of these terrible events are only granted seconds of airtime if they do not occur in the West. We hope to bring some insight into this devastating issue and create dialogue that may not be part of the regular news outlets.
In our editorial, Zoe Cameron is challenging our views on what the West classifies as terrorism in a piece on drone strikes by Western forces in the Middle East. She argues that drone strikes are missing their targets 90% of the time and more civilians are being killed and injured than militants. In Centre News we are looking for new schools to participate in the Conflict Resolution Skills for Primary Schools. Upcoming events include a EP&JC / CAAT Peace & Global Justice Hustings, Conscientious Objectors Day and join us every Saturday at the Centre for the 14, 000 Paper Cranes Workshop.
We have three features this month. Yalda Safavian has written an article on refugees and states responsibilities to assist those in need, fleeing war and terror in their home countries. Militant radicals are posing as refugees to spread fear in the West and she argues we must do our best to combat this fear. Madeleine Etcheto focuses on the infringement of human rights by the French government's use of emergency measures in conducting home raids and searches since the Paris Attacks that would normally require authorisation.
Sarah MacDonald's article looks at the contributing factors that lead individuals to becoming radicalised and carrying out acts of terror at home or travelling abroad as foreign fighters.
William Duncan's Unsung Hero is Scotland Against Criminalising Communities (SACC) and their efforts against the UK's use of excessive state power. Sarah MacDonald contributes a book review on David M. Rosen's Armies of the Young, Child Soldiers in War and Terrorism. Zoe Cameron has a Reflection on government's use of fear to gain support for controversial and unethical policy. Finally Rebecca Wilmott has contributed illustrations throughout the issue.
Read the full PDF here
Peace and Justice News – February/March 2016
In this issu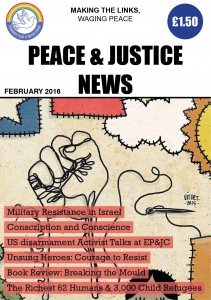 e of Peace and Justice News we look at resistance to military conscription in a variety of places and times. Our newest writer Yalda Safavian considers resistance to mandatory military service by the brave individuals of the conscientious objector movement within the Israeli state. Marking the centenary of conscription in Britain, Brian Larkin elaborates on In "Conscription and Conscience" in the first of a two part article, on opposition to conscription during WWI. In News from around the Movements we give updates on a number of conscientious objectors around the world. Pat Bryden reviews "Breaking the Mould: Edinburgh: Researching and Celebrating 100 years of Women's History in Social and Political Activism since the beginning of WWI", a new WEA publication that celebrates different women who devoted their lives to the struggles for justice, health, peace and community-building. In our Unsung Heroes column this month Izi Ames highlights the US based organisation Courage to Resist which supports Gl resisters and military objectors in the United States, speaking out against illegal war, occupation and injustice. February's Take Action sheds light on various campaigns, like the Friends of the Earth Scotland's new campaign to make Scotland 100 % fossil free, and the Show the Love on Divestment Day campaign which is going to take place during February all across the UK. In our Reflection Yalda Safavian considers the acts of (sexual) violence committed on New Year's Eve in Cologne. In the Editorial, "The Richest 62 Humans and 3,000 Child Refugees", Brian Larkin draws attention to growing global inequality, supporting the Oxfam call for the UK to tackle tax avoidance and the call for the UK to take in at risk lone child refugees, and asks if we should not do much more. Centre News recaps US disarmament activist Sister Megan Rice's talk at the Edinburgh Peace and Justice Centre, and features upcoming training for prospective facilitators on our conflict resolution skills for primary schools programme and Origami Peace Cranes Workshops at the Peace and Justice Centre in memory of the children killed by the Hiroshima and Nagasaki bombs.
Read the full PDF here
Peace and Justice News – December 2015
In the December issue of Peace and Justice News we cover a broad variety of topics. In the editorial 'UN Endorsement of Bombing Syria Flawed' Brian Larkin returns to a topic which we have covered previously, but is no less relevant today.
For the first feature we have republished '8 Ways to Defend Against Nonviolence,' a list written by George Lakey and originally published by Waging Nonviolence. In 'Climate Change and the Refugee Crisis' Emma Davis explains how climate change is contributing to the increasing numbers of refugees and can no longer be approached by world leaders as something that will occur down the road. Our third feature 'Military Service Tribunal Records Available Online' reports on the historic appeals by Scottish men to conscription on the basis of conscientious objection which have been made available to the public.
In Centre News we cover the success of the primary school conflict resolution skills program at Dalry Primary, the Scrap Trident Skillshare, the CAAT Edinburgh conference, and white poppies. In News from around the Movement we share stories about a refugee protest at the Balkan borders, a demonstration against the US's 'School of Assassins', protests against Dow and Unilever, and the report on the Don't Bank on the Bomb public launch and MSP briefing.
Pat Bryden reviews Tony Benn's 'A Blaze of Autumn Sunshine: the Last Diaries' for this month's Book Review. In Unsung Hero, Aurelius profiles Andy Parker and his role in the fight for stricter gun control in the US. Following the terror attacks in November, Emma Davis writes a reflection piece about the nightmares she had as a child after 9/11 and how we should translate our fear of terror attacks in the West into compassion for those escaping terror in places like Syria.
Read the full PDF here
Peace and Justice News – November 2015
Following the Human Rights and Peace Process in Colombia event organised by the World Justice Festival at Scottish Parliament and the recent developments in the Colombian peace talks, we thought the conflict and peace process in Colombia merited special attention this month.
In the editorial, Emma Davis calls on the UK to do more to help refugees escaping Syria. She argues that with winter just around the corner, the settlement of vulnerable refugees is a time sensitive issue which requires a multi-pronged approach. In Centre News we have updates about our upcoming move, the Conscientious Objectors Memorial Campaign, and our recently published report on Austerity, Debt, and Military.
Emma Davis writes about the 5 decade conflict in Colombia and the ongoing peace talks in "The Colombian Peace Process."  In "A Toxic Relationship: The US and Colombia" Tom Younger writes about the influences of US military involvement in Colombia on the people, environment, and coca industry in Colombia.
International Peace Day, Hands across the Forth, and other stories are covered in this month's News from around the Movement.
In this month's Unsung Heroes, Sean Reid Campbell writes about the Zonas Campesinas in Colombia acting to provide a parallel solution to the economic causes of conflict while Colombians wait for the results of the peace talks to materialise.
Will Duncan reviews "The Most Good You Can Do" by Peter Singer in this month's Book Review.
Lastly, we are pleased to introduce the illustrations of Rebecca Wilmott. Several pieces can be found in this issue, including the one below and we look forward to her contributions to issues to come. Readers can find more of Rebecca's work at: www.rebeccalanyon.co.uk/
Read the full PDF here
 Peace and Justice News – October 2015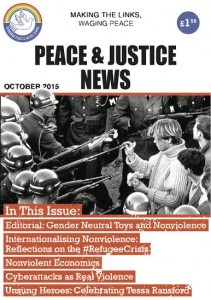 On the heels of our roundtable discussion with Arun Gandhi, grandson of Mahatma Gandhi and marking Gandhi's birthday, this issue focusses on nonviolence. There's a shocking report on the Militarization of Children and Young People along with a report on our discussions with Arun Gandhi in Centre News.
The contributors to the October issue have approached the theme of nonviolence from very fresh perspectives which are unlike any of the pieces written for P&J News before.
The editorial explores the usefulness of gender neutral toys in cultivating a culture of nonviolence. In 'Internationalising Nonviolence' Tom Younger reflects on the response of EU countries to the current refugee crisis and calls on states to seek nonviolent alternatives to the militarisation of borders. William Duncan explores the values of Gandhian Economics as tools for nonviolence and in 'Cyber-Attacks as Real Violence' Sean Reid Campbell criticises the idea that cyber-operations as an alternative to traditional armed conflict are any less violent.
Our summary of our Militarization of Children and Young People event in Centre News provides resources for working on this issue. We invite anyone who wants to work on this issue to get in touch.
In News From Around the Movements we cover stories about activists arrested in America, the Arms Fair in London, a CO Symposium in Istanbul, and others. In this month's Unsung Heroes Pat Bryden celebrates the life of Tessa Ransford, a long-time friend of the Peace and Justice Centre and founder of the Scottish Poetry Library. And in our Reflection Brian Larkin suggests that Gandhian nonviolence is more than just changing ourselves.
Read the full PDF here
Peace and Justice News – September 2015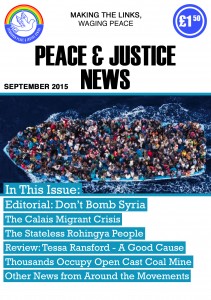 This month we take a look at the global issues of human migration and human trafficking.
Brian Larkin's editorial demands Britain not join in on the bombing of Syria, stating that current bombing campaigns in the region by the US are increasing the number of civilian casualties and refugees and doing nothing to deter ISIS.
Brian Larkin reviews Tessa Ransford's book A Good Cause. A copy of the book is available on loan from the Peace and Justice Centre Library.  Tessa has also donated her latest pamphlet Broderie Ecossaise. It is available for donations which will benefit the Peace and Justice Centre and Edinburgh Campaign Against the Arms Trade.In "The Calais Migrant Crisis" Emma Davis criticises the militarization of the British border in response to the migrant crisis in Calais and calls on the UK to take a more humanitarian approach. In "The Stateless Rohingya People" Soleil Westendorf analyses the legal challenges faced by the Rohingya group in Myanmar. Sean Reid Campbell's contribution to the Unsung Heroes segment complements this month's focus greatly by highlighting the bravery of refugees who dare to leave their homes and families at great risk in search of better futures.
Read full PDF here
Peace and Justice News – August 2015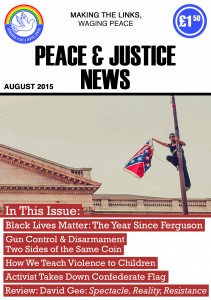 In this issue we look at the culture of violence in contemporary America.
In our feature piece Black Lives Matter Emma Davis reviews the spate of police killings of African Americans and the responses of the African American community, in the year since the death of Michael Garner. Black lives are devalued in the American justice system and Brian Larkin's Editorial turns a new light on the related vexed question of gun control in the US and suggests a connection between the large number of guns and armaments.
David Soleil addresses another side of the culture of violence and suggests that we take a look at the toys we give our children in "How We Teach Violence to Children".
And Judy Russell reviews David Gee's "Spectacle, Reality, Resistance: Confronting a culture of militarism". There will be an opportunity to hear more from David in our Conversation on "Militarisation of Children" in the Just Festival at St John's on the 31st of August.
In "News From Around The  Movements" Kellie Scott talks tea party with three Quaker grannies whilst Gregory Pappas highlights the growing discontent with Angela Merkel's decision on the Greek financial crisis and much more.
Read full PDF here
Peace and Justice News – July 2015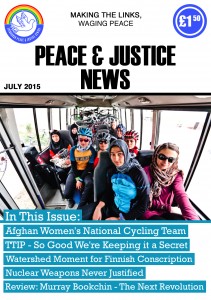 In Centre News this month we report on progress on our campaign for a conscientious objectors memorial and feature our upcoming events: Forgiveness Workshops and a Conversation on Militarization of Children and Youth. Our petition to Edinburgh Council met with unanimous approval. Now we will determine location and form. We celebrated with a concert at The Pleasance organised by Penny Stone and raised over £600. Thanks to all who came along or bought tickets and to the performers who gave their time.
On the theme of anti-militarism Antti Sipilas gives a history of Finnish conscription, where conscientious objectors' human rights are violated as they are imprisoned for twice the time they would be required to serve in the military while Jane Tallents gives a moving personal reflection on a clod of earth from Waterloo. And William Duncan profiles the inspiring Afghan Women's National Cycling Team who show that sport has the power to protect human rights.
New contributor, David Simmons, looks at TTIP, from a US perspective, where the insidious international trade agreement appears to be a purposely well kept secret while Tom Younger's review of Murray Bookchin's The Next Revolution offers an insight into the possibilities for an alternative to the ravages of global capitalism.
In Take Action we ask readers to write to authorities in Colombia where Human Rights defenders have been put at risk by the President of the National Assembly, who publicly shared details of their travel arrangements.
Brian Larkin's editorial returns to a familiar subject and summarises the arguments for the immorality of nuclear weapons. And there is plenty of News from Around the Movements.
Read full PDF here
Peace and Justice News – June 2015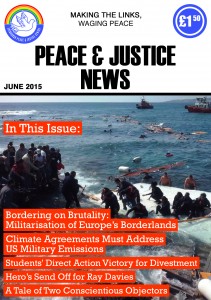 This month's issue looks at the interrelated topics of climate change and the Militarisation of the EU response to the refugee crisis.
Cameron Watt reports on Edinburgh University students' occupation. Their campaign for divestment from fossil fuels, demonstrates the efficacy of direct action as the University reversed its decision and agreed to divest from Tar Sands and Coal.
Tom Younger challenges states' military responses to the increasing flow of refugees across the Mediterranean. 40,000 refugees have died escaping desperate situations since 2000: more than half in the Mediterranean.
But, as Brian Larkin points out in our Editorial many refugees are fleeing conflict. Climate change is a big factor in fueling these conflicts and it in turn is fuelled by excessive and unrestricted carbon emissions of  the US military which is protecting access to oil.
Centre News reports on the Conscientious Objectors Day vigil. We're campaigning for a CO memorial. Sign the petition in Take Action! Come to the Unsung Heroes fundraiser 20 June and to our AGM for a talk on COs by P&J Patron Prof Toby Kelly and Dr Lesley Orr 3 June. There's a Reflection on two COs by Alan Davies. We're also raising funds for Nepal earthquake relief. (details p.6).
In Movements News we report on the Church of Scotland recognising  Palestine as a state, the disastrous NPT, and the women who crossed the Korean DMZ.
Kelvin Mason pays tribute to a great peace activist – Ray Davies from Wales who died recently.  Alan Davies tell the story of two Conscientious Objectors, and Douglas Shaw  describes recent revelations behind the killing of Osama Bin Laden.
Read full PDF here
Peace and Justice News – May 2015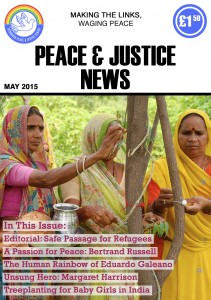 In this issue we look at personal freedom: the choice not to take part in wars, the choice to move across borders and the choices for a good life under global capitalism.
The editorial asks us to consider those leaving for Europe from Africa as "refugees, fleeing war and persecution, instead of migrants". Our solutions must involve saving lives rather than the military protection of borders.
Tom Younger, who spent some time working in South America, surveys the life and writings of Uruguayan activist and writer Eduardo Galeano who died recently.  His writings address the issues of uncontrolled global capitalism which cares little for the environment or the welfare of working people. His ideas have served as a model for social justice movements throughout the world
 Douglas Shaw describes the activist and pacifist sides of Bertrand Russell, a man whose determined stand against WW1 cost him his job as a lecturer at Cambridge University and a future at Harvard University.  Both Russell and Galeano were well rounded individuals with creative sides that complemented their activism and let them speak to a wider audience.
Margaret Harrison, one of the founders of Faslane Peace Camp and a lifelong peace campaigner died recently too. In our Unsung Heroes column Jane Tallents shares some personal memories of her life.
In Movement News we report on the Barins Not Bombs demo & blockade, the Indian village that plants trees for infant girls, a Columbian community creating humanitarian space and more.
On 15 May we have our Conscientious Objectors Vigil at The Mound at 5pm, and on 3 June Toby Kelly and Lesley Orr will be speaking on Conscience & Conscientious Objection.
Read full PDF here
Peacemaking – April 2015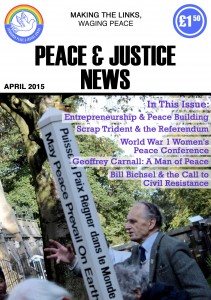 We dedicate this issue to peacemakers and especially Geoffrey Carnall, who played a vital role in the Peace and Justice Centre for many years and is our Unsung Hero for this month, his obituary kindly written by Chris Booth. Another recent death was that of the American anti nuclear weapons activist, Bix Bichsel, who carried out many actions at military bases and founded the Tacoma Catholic Worker Community.
In this issue we focus on peacemaking. Peace activism never seems to stand still,  and after the Blockades of Burghfield by ActionAWE, which we report in News from Around the Movements, comes the Scrap Trident Demo and Blockade on the 4 and 13th of this month. Both vital events in the struggle against Nuclear Weapons.
Andy Jamieson discusses the issue of Trident and the pivotal role Scotland will play after the General Election (if the London Based media panic about the SNP proves to be correct).
William Duncan continues with the second part of his article from the February edition on the role of social entrepreneurs in building peace. He  quotes:
" a pluralist state, access well-paid jobs… food security and a healthy environment, these factors (known as HUGES for Human, Gender and Environmental Security) invariably create the context for a peaceful community."  A message our own leaders appear to neglect as they cut benefits and impose sanctions on the weakest in society.
Marking the Centenary of the International Women's Peace Conference at the beginning of the First World War Helen Kay tells of the women who risked their lives to promote peace. As war fever grew and grew these women were branded as misguided troublemakers.
Also in News from Around the Movements is the report of the second uninvited performance of the Trident Oratorio at Westminster Abbey.  I remember singing in  the first performance which was in 2004 at the Parliament Hall in Edinburgh. reply to the
It was composed as a reply to the Lord Advocates Judgement that Trident was not illegal in International Law.
In Centre News read about and then please sign the petition to Edinburgh City Council calling for a Memorial for Conscientious Objectors. There will a fundraising concert 20 June at the Pleasance.  Let's place a Memorial for Peace amongst all the war memorials to the casualties of war.
Read full PDF here
Peacebuilding & Environmental Campaigns – March 2015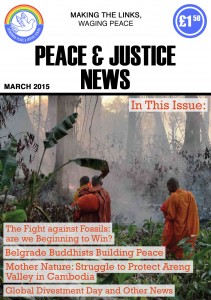 In keeping with our encompassing aims to promote nonviolence, peace building and ecological sustainability, as well as human rights and conflict resolution this month's issue includes articles on divestment from fossil fuels, peace building in Serbia and the struggle to protect a valley in Cambodia as well as news of creative nonviolent actions for justice and peace.
In the Editorial Peace and Justice Centre Coordinator Brian Larkin responds to the House of Bishops recent statement on Trident nuclear weapons and suggests that Jesus would have been somewhat more prophetic.
February saw a massive mobilisation of demonstrations calling for divestment from fossil fuels as part of Global Divestment Day.
We wanted to know more about this new phase of the campaign to combat climate change and it potential. Ric Lander from Friends of the Earth Scotland describes the fight against fossils and asks: Are we beginning to win?
Andy Jamieson brings back an inspiring story of Buddhist Peacebuilders from Belgrade. And this month's Unsung Heroes are Alejandro Gonzalez-Davison and Mother Nature activists struggling to protect the Areng Valley in Cambodia. They are profiled by new writer (and volunteer) Thomas Younger.
As ever News from Around the Movements is packed ith action, from a Campaign Against the Arms Trade activist taking the stage at an arms fair to Peace Piratews at Faslane and an Amazon tribe beating big oil.
Justice Edition – February 2015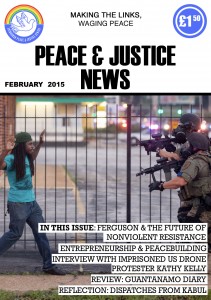 In this issue we look at a variety of topics but with the theme of Justice at their core. Justice for those who come into contact with the police, justice for those held in Guantanamo, justice for  protestors against drones and  protestors against police violence.
First, William Duncan shows how important economic activity, especially entrepreneurship is in rebuilding a society torn by war, where people can be empowered and make a secure community for themselves.
Widespread public protests following police killings in Feguson in the US have raised the question of the value of nonviolent protest as a response to heavy handed police actions. Andy Jamieson suggests that disaffected groups would benefit from adopting nonviolent methods rather than resorting to looting and rioting.
In an interview by US activist Medea Benjamin (CodePink) Kathy Kelly, Coordinator of Voices for Creative Nonviolence tells us that 28 civilians are killed for every person targeted in a drone attack. She faces 3 months in a Federal prison walking 2 steps over the line at a drone base.
From Kabul comes Maya Evans with her heartening accounts of various self help projects there that are alleviating the poor status and opportunities for Afghan women.  We meet some the street children and hear their stories.
Two clocks are ticking according to  Brian Larkin in our editorial: the continuing dangers of climate change, and the continuing existence of nuclear weapons, both threaten our very existence and it is time to act.
Read full PDF here
TTIP & TTPA Edition – December 2014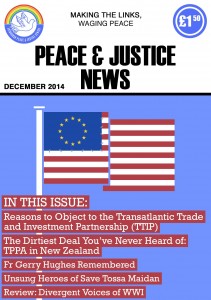 In this issue of P&J News we look at the pressing current issue of TTIP. For anyone unfamiliar with the acronymn. TTIP is the Transatlantic Trade and Investment Partnership. This trade agreement is being drawn up behind closed doors but could mean that US corporations would be able to demand further privatisation of the NHS. Ailbhe Moloney outlines Seven Reasons to Object to TTIP, among them that it threatens to Democratic control over our Environment, Food Regulation and even Banking Regulation.
Meanwhile, less known is that the US is currently negotiating sister deal to TTIP on the other side of the world.  In "The Dirtiest Deal You've Never Heard of" Tracy Buckley gives a glimpse of Trans-Pacific Partnership Agreement (TPPA).
In the Unsung Heroes column Tracy Buckley highlights the victory over a deadly firing range in Kashmir by the nonviolent resistance campaign Save Tossamaidan Front, while News from around the Movements includes accounts of the Natho Peoples Resistance to Forest Destruction, widespread resistance to UK companies arming Israel, Israeli conscientious objector Udi Segal on hunger strike, and more.
Centre News reports on our exhibition of the art work of Syrian refugee children and our production of Divergent Voices of the First World War at the National Library of Scotland while Pat Bryden gives a lengthy review of the performance.
Read full PDF here
 Syria Refugee Crisis edition – November 2014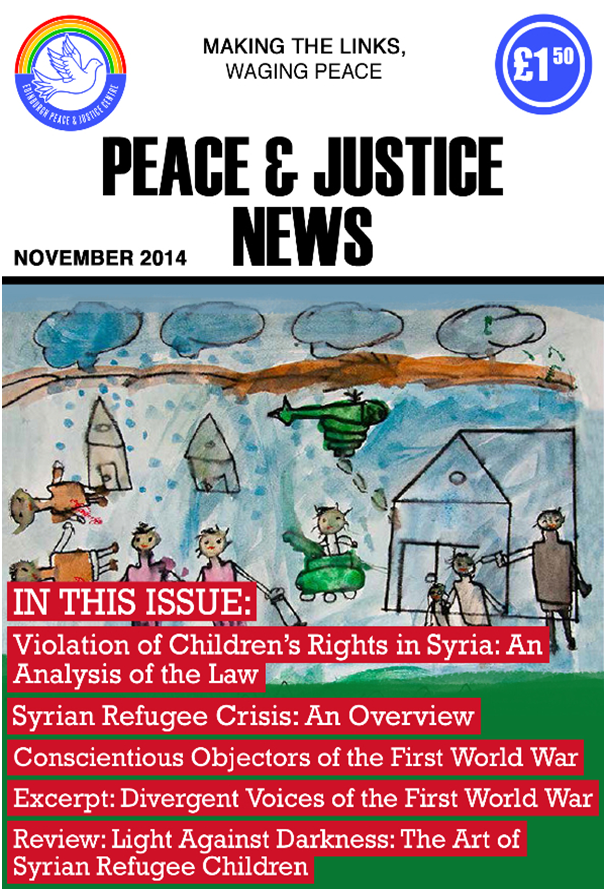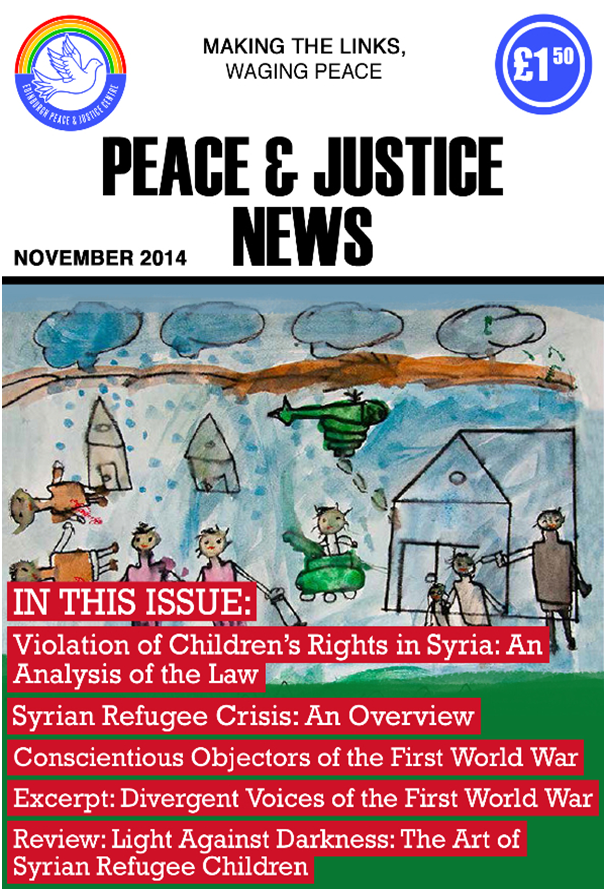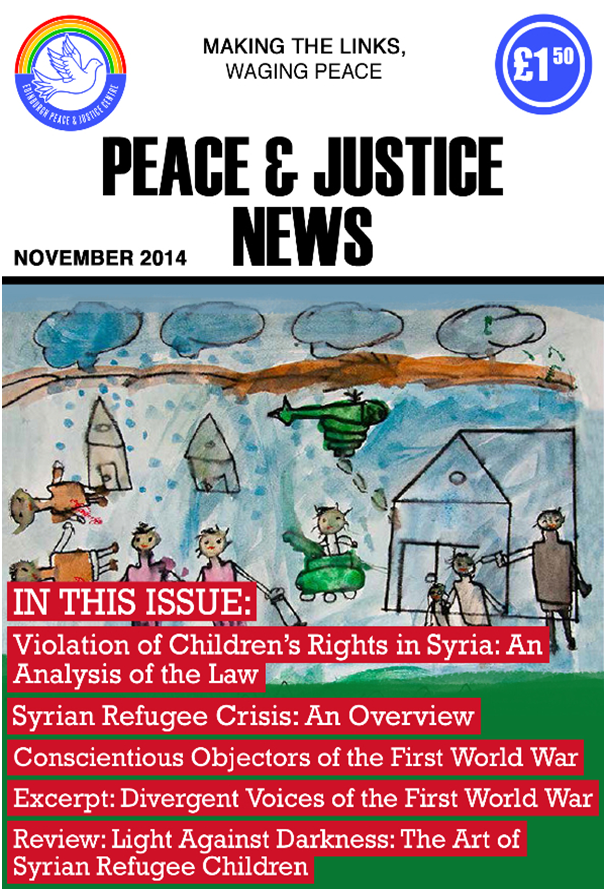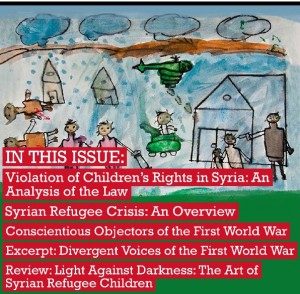 In this issue we continue to focus on the ongoing crisis in Syria, this time looking at the human cost of this tragedy, the refugees and the suffering of children in particular. Our exhibition of Art by Syrian Refugee Children "Light Against Darkness" is raising awareness locally of the impact of the civil war on children and the work of one small charity to bring them some healing from the trauma.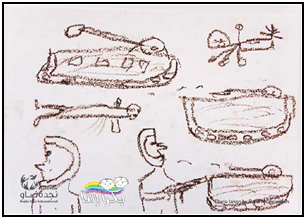 Rositsa Yordanova, our new intern, provides a concise summary of the international catastrophe taking place in Syria, outlining the scope of the situation for refugees, including millions internally displaced. The amounts of aid needed are huge (6.5 Billion US dollars).
In black and white Ailbhe Moloney outlines how the rights of Syrian children have been trampled on and neglected during the current conflict.
Marking Remembrance Day we focus on the First World War. Elena Ashmann describes the difficulties faced by those "Unsung Heroes" who refused to fight. Our Reflection continues this theme, with an excerpt from the Peace and Justice Centre's performance Near not Far: World War One's Divergent Voices taking place at the International Storytelling Festival 1st & 2nd November.
Our Speaker Series reports cover two inspiring talks given this month, both by American activists, one a poet the other a philosopher, Drew Dellinger and Charles Eisenstein.  Read the full issue here
Iraq and Syria Edition – October 2014
With the emergence of Islamic State, Syria has returned to the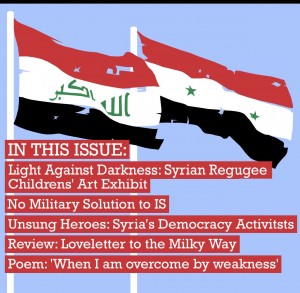 headlines, and we devote this issue to the people of that war torn country.
After  the UK Parliament voted for the bombing of IS in Iraq, we look at the nature of Islamic State and the efforts of various countries to halt its expansion in the Middle East.
Also nearby, the children of Syria are suffering during their long civil war and their experiences will be shown through their art at a forthcoming exhibition in Edinburgh, with the help of the Peace and Justice Centre.
In Unsung Heroes, two Syrian Peace Activists are highlighted as is the work of the brave and enterprising organisation called "Young Syrian Activists". 
Poetry has always been central to Syrian culture and we feature a review and a recent poem by Najat Abdul Samad, which is one of many translated into English by Gharda Alatrash.
A taste of Drew Dillinger's recent spoken word performance, organised by The Peace and Justice Centre is available in his book "Love Letter to the Milky Way ", which is reviewed here.
September was a busy month for activists, and we report on the many actions and demonstrations, including the Climate Change March, the action at Faslane, and Palestine Solidarity Campaign. Read more…
The Palestine Edition – September 2014
As we go to print Israel and Hamas have agreed a cease fire after 50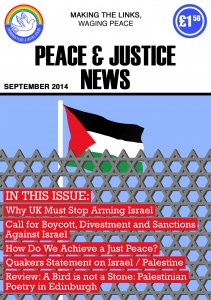 days of violence which has so far cost the lives of 67 Israelis and over P&J – 2014 – September 2100 Palestinians, most of them civilians and 458
of them children. Our Editorial reiterates what we wrote to the Foreign Secretary: a call upon the UK to Stop Arming Israel.
Jamie Mann sets out the case for an arms embargo to be placed on Israel and Jonathon Greig lays out the arguments for Boycott, Divestment and Sanctions.
Shabana Diouri reports on something beautiful that happened in the middle of the month in the Meadows: families chalked the figures and names of 458 children killed in Gaza.
We include too Sabeel Ecumenical Liberation Theology Center's Statement on Gaza which looks at how we can achieve a just peace and theQuakers' Statement on Israel / Palestine.
On the Referendum front Geoffrey Carnall replies to Brian Cooper's Case for Voting No and explains that, in his view, the issue of nuclear disarmament trumps all else.
News from Around the Movements is packed with news of a rooftop occupation of a UK Drones manufacturer, No to NATO demos, protests at First World War commemorations and more.
And finally Pat Bryen reviews the Palestinian poetry book and event 'A Bird is Not a Stone'.  Read more…
Yes or No? The Independence Debate – August 2014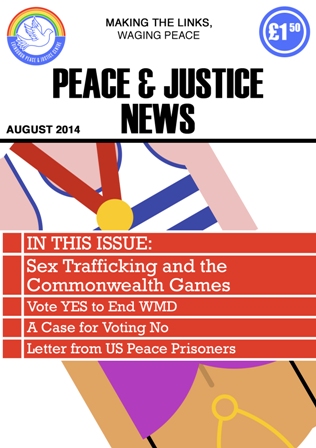 In this issue we make space for arguments on both sides of the Independence debate. Former chair of the Peace and Justice Centre Owen Dudley Edwards calls on readers to vote YES while Churches Secretary of Uniting for Peace Reverend Brian Cooper makes the case for voting No.
 Fern Azura Martin, a new contributor to Peace and Justice News takes a hard look behind the glamorous facade of major international sporting events like the Commonwealth Games and examines the issue of sex trafficking, asking whether major international sporting events increase demand for prostitution.
We report on the visit to Scotland of Atalla Hanna, the Eastern Orthodox Archbishop of Jerusalem who testified to the unity of Palestinian Christians and Muslims and called for support for Boycott Divestment and Sanctions. In our Unsung Heroes column we make space for the voices of three unsung heroes who are serving lengthy prison terms in the US for exposing the insecurity of America's highest security nuclear site.
Geoffrey Carnall's editorial urges Russia to take responsibility for the downing of Malaysian Airlines flight MH17 by looking back at how the US government did just that after shooting down an Iranian civil airliner in 1988.
And in our regular columns we bring you, as always, News from Around the Movements and ideas for taking action.  Read more…
Forced Organ Harvesting of Falun Gong Practitioners – July 2014
This issue includes three diverse features which in some ways reflect the range and diversity of concerns of the Peace and Justice Centre.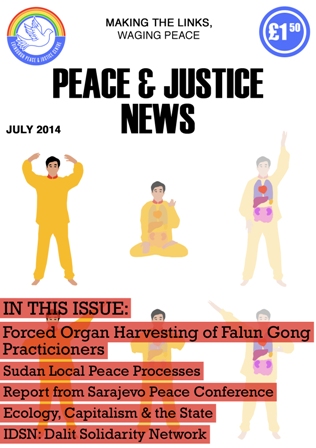 Writing exclusively for us from the United States, William Duncan, a junior faculty member at BakerUniversity in Kansas, considers the influence of outside NGOs on peace conferences in troubled Sudan. His article is a reminder of the talk of two South Sudan peace campaigners we hosted nearly two years ago.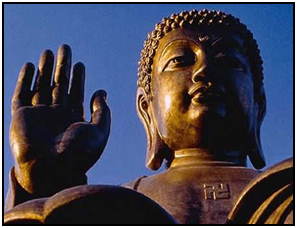 Meanwhile Rosemary Byfield of the Falun Dafa Association UK calls our attention to the mostly forgotten outrage of forced organ harvesting on Falun Gong members in China. We tend to think of the oppression of the people and culture of Tibet and of the Uighers in modern China; but we must also remember, and speak out against this atrocious ongoing violation of human rights.
Volunteer Cameron Watt has produced a substantial article on Ecology, Capitalism and the State, which raises serious questions about the sustainability of present political and economic structures and sets out a vision of a viable alternative.
Conor Watt, writes about the work of the International Dalit Solidarity Network who campaign for an end to the oppressive and unjust caste system in India, Bangladesh and, yes in many Western countries too.
Finally our Editorial comes from David Mackenzie and Eric Chester of the Scottish Peace Network which held a Vigil at the UK Armed Forces Day Event in Stirling calling for No More Wars. The Editorial is the text of a leaflet handed out to people along the route of the march. Read more…
Armed & Unarmed Forces Day – June 2014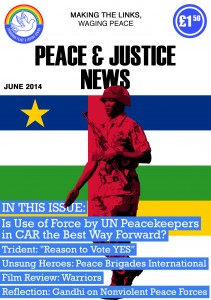 The 28th June is  Armed Forces Day, a national day, established in 2006 as Veterans Day, to remember those who served in the armed forces and changed in 2009 to Armed Forces Day, described by the government as "a day to show support for the Armed Forces." This year Armed Forces Day is in Stirling, conflicting with Bannockburn Day, and, in celebrating the role of the forces for "the whole of the UK" has ramifications for the independence debate. Responding to this the Scottish Peace Network  is holding a No More War vigil. The EP&JC will be there.
Raising awareness of the alternative to the use of armed force to resolve conflict in this issue we include articles which address the ongoing suffering and plight in the Central African Republic and whether arming the UN Peace volunteers is the right decision. We also profile Peace Brigades International, which deploys unarmed peace keepers in conflict situations worldwide, while Douglas Shaw writes about Gandhi's non violent volunteer peacekeeper program which sought to minimize communal violence in India.  Read more…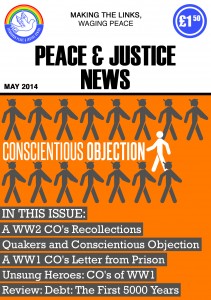 Conscientious Objectors Day – May 2014
Marking International Conscientious Objectors Day we organised a Vigil honouring Conscientious Objectors (COs) on 15 May on the Mound in Edinburgh, where demonstrations against the First World War took place and in Peace & Justice News we focused on Conscientious Objection to wars.
In our Unsung Heroes column this month Brian Larkin,  expresses the true definition of what constitutes a 'hero' arguing that the 16,000 British men that refused to kill during the First World War were real heroes for they portrayed "extraordinary bravery, firmness, and fortitude". Geoffrey Carnall and David Turner both recall personal experiences as World War 2 COs. Geoffrey by the way highlights the important role of Quakers in Britain in supporting the right to Conscientious Objection. And Our Reflection is taken from a powerful and disturbing letter by a CO to his wife sent upon his release from prison. The letter highlights the horrific reality and punishment COs  often endured during the First World War.  Read more…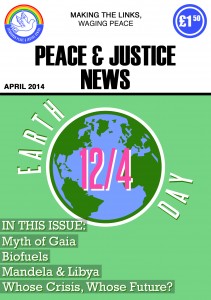 Earth Day – April 2014
Earth Day is an annual event that is celebrated worldwide to demonstrate support for environmental protection. Following this theme, Brian Larkin's feature story is about the myth of Gaia – the idea that the earth is a holistic living being – an idea that coincided with the first Earth Day in 1970, which marked the birth of the Ecology movement  at a time of  widespread environmental destruction and unregulated industrial pollution.  And Pat Bryden reviews 'Whose Crisis, Whose Future? Towards a Greener, Fairer, Richer World' by Susan George.  Read More…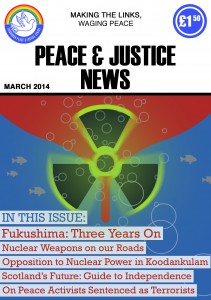 Fukushima – March 2014
In the immediate aftermath of the Fukushima disaster three years ago 300 tons of contaminated water flow into the sea everyday, and the Japanese government tried to hide it. Three years later Marco Gori explains that the catastrophe is still affecting our health and environment. Varsha Gyawali, explores the stories of the  People's Movement Against Nuclear Energy  who protest against nuclear energy in Kudamkulan, India. And Jane Tallents writes about  Nuclear  weapons on a Road Near You (in Scotland) and invites people to join the Nukewatch network tracking them. Pat Bryden also reviews a book that explores the future of an independent Scotland –including the notion of a country without nuclear energy.   Read the Full Issue Here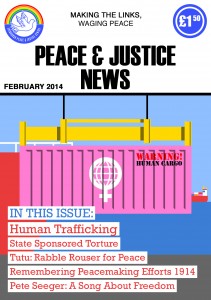 Human Trafficking – February 2014
Some 25 million human beings, more than at any time in history are now being trafficked at any one time. William Duncan brings light to the difficult issue of Sex Trafficking while Cameron Watt, tackles State Sanctioned Terrorism, focusing in on Guantanamo, the US Gulag which remains in business after twelve years. Marking the Centenary of the First World War  our  "Reflection" this month recalls efforts to prevent the outbreak of war in 1914. Pat Bryden Reviews the biography of Desmond Tutu: Rabble Rouser for Peace  and our Unsung Heroes are three US Plowshares activists who are facing many years in prison. The Editorial celebrates the life of another (widley sung hero!) Pete Seeger.       Read the full issue here.
Climate Change- December 2013
With the devastation of Typhoon Haiyan and subsequent COP19 talks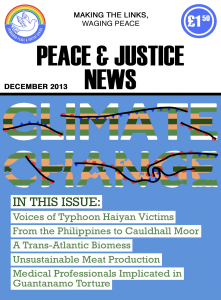 in Warsaw it is timely that in this edition of Peace and Justice News we feature several articles on Climate Change and related sustainability issues. Hannah Walters' Editorial makes the case that human induced Climate change impacts the poorest communities most. Jane Tallents makes a plea for joined up action and takes us from the Philippines, through Warsaw to Scotland and Cauldhall Open Cast. Sophie Bastable of Biofuelswatchexplains the cost of UK biofuel expansion on US forests.  Niko Gori looks at the cost to the planet of industrial meat production. Jeroen van Herk reviews a new Report which implicates medical professionals in torture at Guantanamo. Pat Bryden reviews "Gaza: When the Sky Rained White Fire". And in his Reflection Brian Larkin argues that the idea of "Just War" is outmoded.
Remembrance and War – November 2013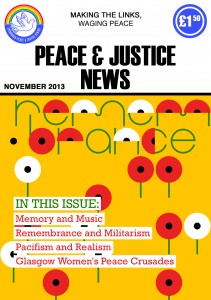 We remember all victims of war, soldiers and civilians, and feature some of those who stood for peace.  Pacifism & Realism in the 20th and 21st Centuries, Peace Activism and Remembrance Day, Helen Crawfurd and the Women's Peace Crusade, Crystal MacMillan and the Women's International League for Peace and Freedom, Remembrance and Music, The Tragic Odyssey of Migrants, Poems from Edinburgh's Tessa Ransford, Denis Goldberg's EWJF keynote and Chris Cole on the Economic and Human Cost of Drone Wars. Plus this issue features our new  Take Action section.
Creating a Culture of Peace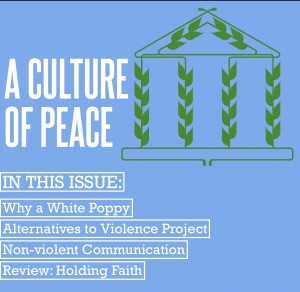 This month we take for our theme 'A Culture of Peace'. In addition to our regular features we hear from writers making their own contribution to a culture of peace. Jeroen van Herk writes about the dismal nature of much care for the elderly, Jake Lawy and Isabelle Wolf introduce us to non-violent communication, a means of practicing non-violence in our everyday lives, and Martin Mansell writes about the Alternatives to Violence project now expanding across Scotland.We also features a reviews of David Gee's Holding Faith, a Reflection by our Coordinator Brian Larkin on Gandhi and the necessity of nonviolent civil  resistance while Anne Scott explains the importance of White Poppies.
Becoming the Change We Want to See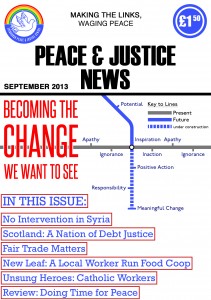 In this issue we focus on Being the Change We Want to See.  In Fair Trade Matters Lisa Jones on the achievements and problems facing Scotland's Fair Trade movement. Will Roper on creating a workers collective wholefood shop. An excerpted review by Rosalie Riegle of Doing Time for Peace: Resistance, Family, and Community. Finally in a Reflection on the Drones Quilt Jane Tallents considers the relationship between inner peace and political action.
Latin America 
In this issue of Peace and Justice News, as Pope Francis visits Brazil, we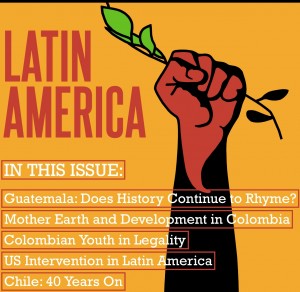 turn our attention to Latin America. Norma Fonseca writes about the Plan de Vida of indigenous peoples in northern Cauca. In "What about international community?" the power of the word and Colombia's ongoing peace process is explored, we reprint "And does History Continue to Rhyme?" a blog post in which Roddy Brett  considers the "Scream of the Guatemalan Genocide". Alice Guttierrez writes about The International Group for Peace –GIP-an initiative while Chilean singer-songwriter Carlos Arredondo remembers the day Salvador Allende was killed. Finally Pat Bryden reviews Meet me in Gaza: Uncommon stories of hope inside the strip by Louisa Waugh.
Intervention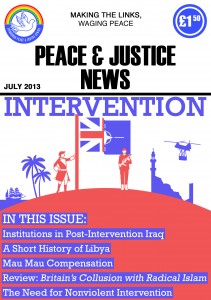 In this month's edition of Peace and Justice News we consider the wide-ranging and rather abstract topic of Intervention. William Duncan on Iraq's struggle to rebuild the institutions of a successful state following the 2003, Geoffrey Carnall updates us on Libya, providing a backdrop to the rule of Gaddafi and the coalition intervention, Helen Harris looks at the recent pay out to victims of torture in Kenya,  Douglas Shaw reviews the recent book Secret Affairs, Varsha Gyawali finds much to celebrate in the heroism of those responding to the recent floods in Uttarakhand, and Jane Tallents considers an outsider's view of non-violent direct action.
Syria
 In this month's edition of Peace and Justice News we turn the spotlight on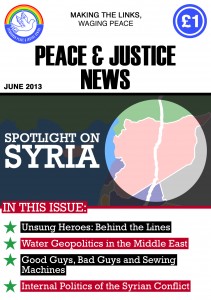 Syria. William Duncan looks at what is an often overlooked trigger for conflict: water geopolitics in the middle east, Catherine Kojdecka gives an insight into the roots of the conflict in Syria, Helen Harris looks at the question of prolonging the conflict, this time from the perspective of outside intervention, and Douglas Shaw illustrates the numerous attempts that have been made to start along the path to peace. In our regular Unsung Heroes feature Varsha Gyawali discusses those who work to help the victims of the war: including combatants on both sides, and Jane Tallents provides a provoking Reflection as she reminds us that we cannot split the world into 'good guys' and 'bad guys'.
Environment Issue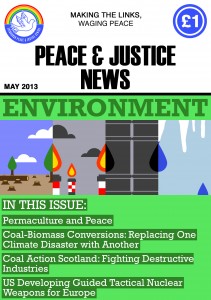 Along with nonviolence, human rights, alternatives to war and conflict resolution  the Peace and Justice Centre espouses ecological responsibility as one of its core values. Sam Jones of Coal Action Scotland outlines the latest developments in the struggle against the massive carbon emissions producers, Sophie Bastable explains, in terms of human rights, how a shift from Coal to Biofuels is doing more damage to the earth, health and communities,  Lusi Alderslowe introduces us to the deep connection between permaculture and peace, Brian Larkin on US plans to develop a new guided tactical nuclear weapon based at European bases, another reason Scotland should stay out of NATO, and Helen Harris evaluates the inadequacies of the Arms Trade Treaty.
Women and Violence
In this month's edition of Peace and Justice News we focus on Women and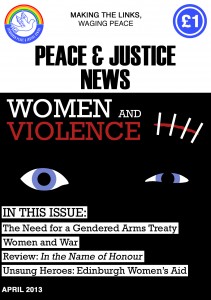 Violence. Varsha Gyawali and William Duncan both remind us that the cost of conflict falls disproportionately upon women, Anne Scott, writes about why it is so important that the Arms Trade Treaty includes references to the specific violence faced by women and girls in conflict, Nicola Chuhan looks at the work of Edinburgh Women's Aid, and Helen Harris considers the media coverage of the Steubenville rape case.
Afghanistan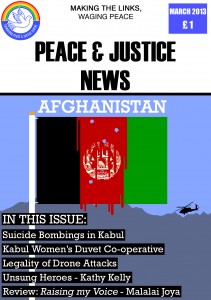 In this month's edition of Peace News we draw our attention back to Afghanistan.  Kathy Kelly writes about the Kabul Women's Duvet Cooperative, established by the Afghan Peace Volunteers, Maya Evans writes about meeting the families of victims of suicide bombings in Kabul, a consideration of the recently leaked US Department of Justice memo on the legality of the use of drones for the targeted killing of American citizens.and William Duncan provides  a measured editorial on the knock-on consequences of intervention, with a spotlight on Mali.
New Years Issue 2013
In this first edition of Peace and Justice News of 2013 we gave our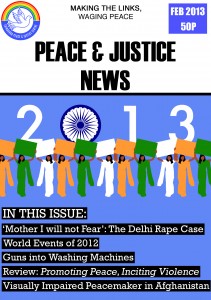 contributors a free reign to comment on the last year, and consider their hopes for the future. Douglas Shaw gives us the run-down on the events of the previous year, Varsha Gyawali discusses horrific rape and death of a young woman in Delhi, Brian Larkin writes about thereturn of Prince Harry from Afghanistan, we review recent book by Professor Jolyon Mitchell, which looks at the role of religion and the media in promoting peace and inciting violence, and our reflection  seeks to remind us that Martin Luther King was much more than just a civil rights activist, and that his anti-militarist views are especially relevant today.
Civil Society and Peacebuilding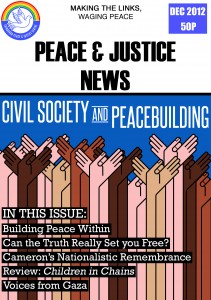 In light of the recent Edinburgh Peace Initiative inaugural symposium, this month's edition of Peace and Justice News focussed on Peacebuilding, and the role of civil society. Arbie Baguios' piece 'Building Peace Within' encourages all of us who work for peace out of the city of Edinburgh, Heather Tait considers transitional justice, Pat Bryden describes the situation in Palestine, and details an extensive list of organisations which work for peace in the region, and in Unsung Heroes we stay with Palestine, hearing stories of those working for peacebuilding organisations in Gaza as they wait out the recent Israeli aggression.
Building Democracy
In this month's edition of Peace and Justice News we focus on the role of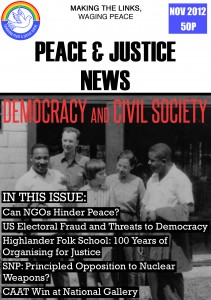 Civil Society in democracy movements. Douglas Shaw highlights for us some of the issues in the US electoral system, Varsha Gyawali  takes us through the compound problems which NGOs both face and cause in post-conflict situations, and Brian Larkin describes for us the work of the Highlander Folk School in Tennessee and the role it played in the Civil Rights movement.
War on Terror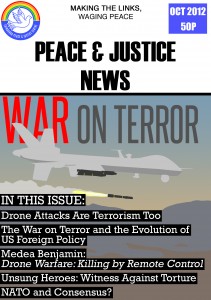 In this edition of Peace and Justice News we consider how the 'war on terror' begun. Heather Tait considers the broad sweep of US foreign policy, Helen Harris looks at the use of unmanned combat drones, their effects and their legality, Varsha Gyawali looks at the group 'Witness against Torture', and our reflection from Jane Tallents, builds on last month's discussion concerning NATO and nuclear weapons.
Nuclear Weapons
In this month's Peace and Justice News we focus on the issue of nuclear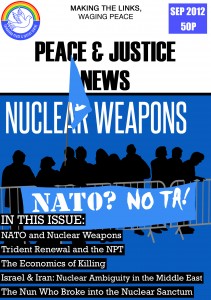 weapons, a cause celebre of the Peace and Justice Centre. We begin with a discussion of Scotland's position on nuclear weapons, Jane Talents considers how the decision to disarm Scotland may be as much in NATO's hands as in Holyrood's, Douglas Shaw invites us to be rather more critical of what we hear in the mass media with particular reference to Iran, the NPT is a feature of Heather Tait's article, our reflections piece challenges our readers, in asking whether peace is ever truly possible, whilst paying homage to the friendliness of the Scots people, Pita Catt suggests that if peace cannot be achieved here, where can it?
Arms Trade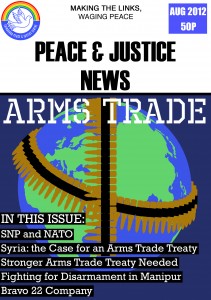 In this issue we present varying perspectives on whether the proposed treaty will prevent arms being used to commit human rights abuses or end up protecting arms exporters like the UK and arms dealers. Sara Usher makes the case that protecting innocents is impossible with an internationally accepted and promoted unregulated arms trade, Ray Acheson argues that the draft treaty could undermine the rule of law, Varsha Giywali in her monthly Unsung Heroes column sketches the career of disarmament campaigner, Binalakshmi Nepram, who has made a significant contribution in advocating small arms non-proliferation and empowering women survivors of violence, Helen Harris reports on the Scottish Parliament's Debate on the Arms Trade Treat, Heather Tait reports on US activist George Lakey's workshop at the Peace and Justice Centre on nonviolent methods of peacemaking, Judy Russell reviews 'The Two Worlds of Charlie F.', and Brian Larkin's editorial argues that the SNPs proposal for a future independent Scotland to join NATO while getting rid of Trident, is more than a logical contradiction.
Refugee Special
This month's edition of Peace & Justice News focuses upon displacement,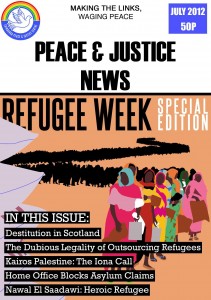 with a series of articles on refugees, IDPs (Internally Displaced Persons) and asylum seekers; their journeys, their struggles, and the political, environmental, legal and economic factors which have led to their displacement. Brian Larkin reviews the latest event in Edinburgh Peace & Justice Centre's Speaker Series, Dr Omar Shaban of Gaza's Pal-Think Institute talk,  Colin Douglas suggests ways in which we in the UK can – through boycott, disinvestment and other forms of nonviolent action – challenge the root causes of Palestinian displacement and the region's ongoing conflict, Pita Catt, outlines the case against governmental outsourcing of refugee detention, while Thomas Leith of Edinburgh's Tibet Society writes of perhaps the world's most famous refugee, the Dalai Lama, and his recent visit to our fair city.
Green Scotland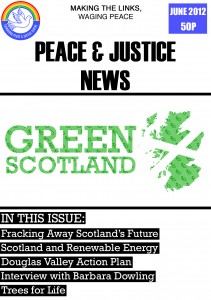 This edition is dedicated to Scotland and Scottish environmentalism. Brian Larkin interviews activist Barbara Dowling following her recent spell in prison, Ellie-May Richmond looks as the effect of fracking on the future of Scotland and Scotland's renewable energy, and a review of Bill McKibben's book, 'Eaarth' is offered.
Human Rights
This issue is dedicated to the theme of international human rights. Sara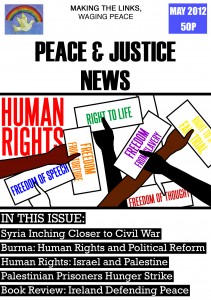 Usher unfolds the Syria debate, Varsha Gyawali delivers a concise history of international human rights movements, Ellie-May Richmond frames the Burmese human rights situation, Pat Bryden details the human rights abuses in Palestine, and our regular Reflections piece offers poetic pause for thought with 'Please Call me by my True Names', a poem by the Vietnamese Zen Master Thich Nhat Hahn.
International Women's Day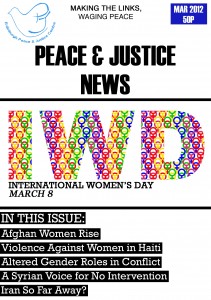 This edition of Peace & Justice News marks the 101st International Women's Day, with a series of articles about the position of women today. Read about The Revolutionary Association of the Women of Afghanistan, or RAWA, a feminist, prodemocracy movement in Afghanistan fighting for equality and peace in their homeland, the position of women in post-earthquake Haiti, and the new legislation which aims to shrink the ever growing problem of sexual violence and female illhealth across the country, our very own Peace Library here at the centre, and IWD related books members can withdraw for free – such as Selling Olga, the story of a young woman sold into slavery. And, a little closer to home, read about two of our female volunteers who help make the Edinburgh Peace & Justice Centre what it is.