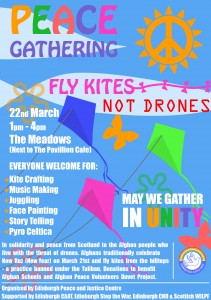 Kite Making & Flying – Storytelling – Juggling  & Dancing – Pyro Celtica – Afghan Clothes Stall  – Meadows Pavillion Café Open – Face Painting – Music Making
In solidarity with the Afghan Peace Volunteers , a youth group dedicated to nonviolence & grassroots peacemaking in Kabul, and others who live with the threat of drones. Afghans traditionally celebrate Now Ruz (New Year) on the 21st March. People fly kites from hilltops.This was banned under the Taliban.  See this short video in which the Afghan Peace Volunteers talk about the joy of kite flying: http://youtu.be/k8hlqfDGoAI  Donations will benefit the APV Duvet Project and a School in Afghanistan.
Download & Print Flyer Here. Please Put the flyer up in your local area and Network this event
Join the Event on Facebook and Invite Your Friends
The event will be filmed & sent to children in Afghan schools.
Organised by the Peace and Justice Centre. Supported by Scottish WILPF, EdinburghCND, Edinburgh CAAT, and Edinburgh Stop the War