Workshops
Would you like to join a staggering installation made up of 140,000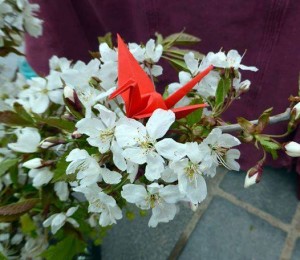 Origami cranes? This huge number represents all the people killed by the devastating Hiroshima atomic bomb in 1945 (that year alone). Come and learn how to make Origami cranes! Family Friendly. Free entry.
Upcoming Dates
Second Saturday of every month: 2:00pm – 4:00pm (except August 2017 – the workshop will be on 5 August to mark the anniversary of the Hiroshima bombing on 6 August) at the Peace and Justice Centre (5 Upper Bow, Edinburgh EH1 2JN) and at community Centres, churches and libraries.
For more information on the project, click here.