A remarkable performance took place, featuring well-known poets and musicians, on Saturday and Sunday, 1 and 2 November at the National Library of Scotland. Near not Far: The First World War's Divergent Voices was part of the Scottish International Storytelling Festival. It featured well know Scottish actors Gerda Stevenson and Crawford Logan,  poet Anghos Macneacail, singer/guitarist Michael Byrne and  Scots 'voice' Jamie Reid Baxter gave us a wide range of experience in song, poetry and prose.  Brian Larkin created the script, acknowledging the help received from poet Tessa Ransford and from Jane Tallents in crafting the piece. We were taken through the stages of war, the protests against its beginning and its prolongation and the often forgotten point that the stated goal of war leading to peace has never actually happened.  As well as the better known voices, the event gave us many others that cannot and should not be forgotten.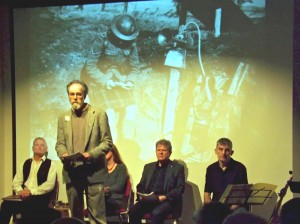 What is sometimes omitted in discussion around World War 1 is that there was considerable dissent and protest before and during the war: Keir Hardie and many of the Labour Party and those who stood against entering the war saw it as 'fostering greed and the intrigues of militarists and armament mongers…'. Undoubtedly there was a fervour and rush to enlist, even by very young boys, but it was, as Katherine Hodges reflects many years later, based on ignorance of what war meant: it was excitement and the thought of adventure that drove many, and the encouragement of peers and men in uniform: 'We hadn't the faintest conception of what "war" really meant. We were young and to us it was going to be a wonderful adventure, just that.' Katherine had worked as a nurse in Serbia.
Across your dreams in pale battalions go, When support for the war was waning, the government of the day tried to enlist writers such as H.G. Wells and war poet, Rupert Brooke, to stir up patriotic feeling. Other writers questioned the war, for example Charles Sorley, who wrote:
'When you see millions of the mouthless dead
Say not soft things as other men have said,
That you'll remember. For you need not so.
Give them not praise. For, deaf, how should they know
It is not curses heaped on each gashed head?
Nor tears. Their blind eyes see not your tears flow.
Nor honour. It is easy to be dead.
Say only this, "They are dead." Then add thereto,
"Yet many a better one has died before."
Then, scanning all the o'ercrowded mass, should you
Perceive one face that you loved heretofore,
It is a spook. None wears the face you knew.
Great death has made all his for evermore.'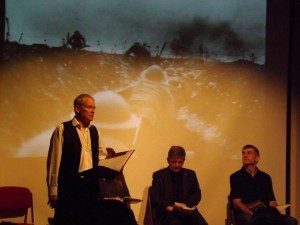 The song 'I don't want to go to war' also echoed the realisation that it was far from romantic and indeed a very harsh, cruel 'adventure' in which to take part.
War, however, has a humanitarian side: serving the needs of people traumatised, wounded, dying and bereaved, often many times over.  The Quakers set up an Ambulance Service and many women were involved in nursing. The psychiatric centre of Craiglockhart was famous for treating men traumatised by their experience, and much of the poetry of Wilfred Owen came from his connection with Siegfried Sassoon there. Ethel Moir wrote in prose of the horror of working amid the rattle, booming, screams and 'shuffle of countless weary feet'.
We were also invited to imagine how it was for young men from far away India, who were soon disillusioned by the 'Sahibs' whom they had perhaps respected in colonial India, seeing how they were 'wilfully destroying each other, ruining their villages and their cities'. No doubt others from other parts of the 'Empire' felt the same.
Often it is the voices of the 'victor' we hear.  One German voice came from Ernst Junger, a German Officer who fought in both the First and the Second World Wars. In his memoir Storm of Steel, he tells of his reaction to the endless bombardments:
".. there crept over me a mood a profound re-orientation, a reaction to so much time spent on the edge. I felt I had got tired and used to the aspect of war and I felt that the purpose with which I had gone out to fight had been used up and no longer held."
The facts are well known and it is perhaps easy to gloss over their horror in an era where we are too used to hearing of similar numbers being killed in Syria, Gaza, Iraq, and where the devastation of plague-like illnesses (Ebola currently) affects many thousands.  However, the fact that on one day, July 1, 1916, the first day of the Battle of the Somme, there were 60,000 British casualties, and about 20,000 killed, still has power to shock.  One wonders how many young Germans were killed and wounded in that same battle.
Scotland featured large in the narrative, with Helen Crawford launching the Women's Peace Crusade in Glasgow in June 1916. This set her in opposition to Emmeline and Christabel Pankhurst, who encouraged women to work with arms for the war effort.
Other extracts from memoirs featured, including Lloyd George's, which reveal the harsh truth that often the public are not given the truth, because they would not stomach it.  So we had fact as well as fiction. Most moving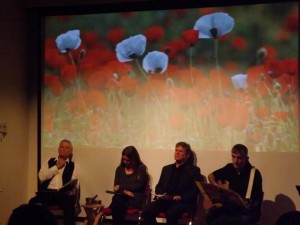 among the prose passages was the reading in Doric of that painful, piercingly beautiful passage from 'Sunset Song' where Euan's friend Chae tells Chris was really happened and how and why Euan died: 'He looked at me, Chris, and he said, "It was that wind that came with the sun – I minded Blawearie. And I couldn't believe it was me that stood in the trench, it was just daft to be there. So I turned and got out of it." In a flash it came to him, the memory o you, Chris, at Blawearie, and his last days here, mad he'd been, he said, treated ye as a devil might. He'd tried tae hurt ye, trying in the nightmare tae waken. He knew he'd lost ye, he'd known it the moment he'd climbed out the trenches, he said; but he knew he'd be a coward if he didn't try. So out he'd gone, wanting tae reach ye, knowing as he tramped mile on mile he never would. But he'd made ye that promise, he said, that he'd never fail ye; lang syne he'd made it. And he minded on young Ewan, all he'd tae say and do if only he might win tae Blawearie… '
The succession of these deeply feeling voices left the audience with many questions.  One I would ask is how those taking part in modern wars reflect on the deaths they do not see, from drone controls or combat aircraft or even huge armoured tanks. Surely troops on the ground, detonating mines, seeing the effects of 'collateral damage', or the death of their comrades are deeply affected. These lines from Rudyard Kipling concluded a most moving and intelligent series of stories, the material of which could well be put in a text for wider distribution.
"Epitaph"
If any question why we died
Tell them, because our fathers lied.