Could Scotland Cope with a Nuclear Weapons Convoy Crash?
The Nukewatch report "Unready Scotland" raises sharp questions about the preparedness of the civil authorities in Scotland to respond to a serious incident involving the transport by road of UK nuclear warheads, with its unique combination of high explosives and toxic nuclear materials.
Nukewatch is organising a series of Public Meetings in Helensburgh, Edinburgh, Glasgow and Stirling at which authors, Nukewatchers Jane Tallents and David Mackenzie, will set out the key findings of the report and comment on the response from the UK Ministry of Defence, Scottish local authorities and Scottish Government.
Nukewatch monitors and tracks British weapons of mass destruction from the atomic weapon factories in Aldermaston to Coulport on Loch Long, where the warheads are stored. Unready Scotland is based on a survey of Scottish local authorities near convoy routes, conducted in autumn 2016 by the office of Mark Ruskell MSP and research by Nukewatch and other related campaigns.
For details of the events times and locations and more information and the full report see: http://www.nukewatch.org.uk/
Treaty on the Prohibition of Nuclear Weapons here at last!
On July 20th fifty countries signed the treaty to Ban nuclear weapons at the United Nations in New York. When fifty countries have gone through their own legislative procedures to ratify it the treaty will come into force.
Beatrice Fihn from ICAN said "We are putting nuclear weapons in the same category as other unacceptable weapons. Like the conventions prohibiting chemical and biological weapons, landmines and cluster munitions, this treaty bans an entire category of weapons. It strengthens the norm that weapons that cause unacceptable harm for civilians cannot remain legal – and that nuclear weapons are no longer an exception to these norms. This is what a real step looks like."
Fracking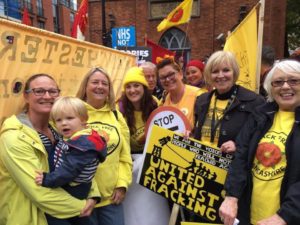 Lancashire communities are continuing to resist a new fracking site by Cuadrilla Resources at Preston New Road near Blackpool. There have been rolling blockades to prevent the drilling rig from being brought onto the site. In response to violence by police and security people there is a silent protest every Wednesday morning. https://www.facebook.com/PNRProtest/
Stopping the Arms Fair & Beyond. Weapons manufacturer BAE was at the Excel centre, London twice in September: first at a massive arms fair, then at 'New Scientist Live' a "celebration of science" which promised to "touch on all areas of human life" – yet it lent legitimacy to a company whose warplanes are currently tearing apart human life in Yemen.
BAE Systems sponsored the festival's Engineering Zone, with the cost of sponsorship a small price to pay for the opportunity to present itself as a force for good in the world. Meanwhile, with no hint of irony, oil corporation Shell sponsored the Earth Zone.
Stopping the arms fair
Earlier in September BAE was among hundreds of arms companies exhibiting at DSEI, one of the world's largest arms fairs. This was one event the arms industry wanted unnoticed: it wasn't even listed on the ExCeL Centre's events calendar.
Two weeks of action confronted and exposed it. Over 100 people were arrested after blocking entrances, and  abseiling from bridges. There were workshops, dancing, and prayer. Art and theatre and subvertising brought the arms fair to new audiences; street artist Banksy donated a new artwork to the Art the Arms Fair exhibition; creative interventions added humour – it was the first time we've seen a Dalek arrested!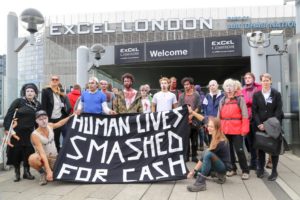 Actions had a direct financial impact on the event, with military equipment blocked from entering the site. Some contractors reported receiving extra days of pay as protests prevented them starting work as scheduled.
People from Scotland travelled to London to join the week of action. Groups blocked vehicles taking in military hardware. On a No Nuclear Day Members of Trident Ploughshares joined by London CND and Faslane Peace Camp had the West Gate closed most of the day while Yorkshire and Manchester CND blocked the other gate.
There will be trials in Dumbarton as a result of blockades of Coulport nuclear weapons store during Trident Ploughshares Camp in July. Supporters welcome.10am 12 & 18 Oct outside Sheriff Court, Church St with banners.