"When the military started to kill the people in our village, we ran but we didn't know there were going to be mines on the way. I was right behind my husband when it blew up. All I could think of was how I could cope with our four children now. I have nobody left in this world and I don't know what to do. The one I loved is gone."
Mosheeda, Rohingya refugee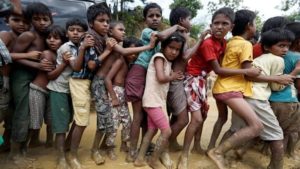 Burma's State Counsellor, Aung San Suu Kyi, continues to be the subject of fierce international scrutiny over what many are calling 'ethnic cleansing' of the country's minority Rohingya population. There are calls for her to be stripped of her Nobel Peace Prize. Her perceived inaction has been condemned by fellow Nobel laureates and peace activists, Desmond Tutu and the Dalai Lama. However, her defenders insist that she is powerless to act, as she has no control over the powerful Burmese military. As such, speaking out would do nothing but antagonise relationships with the armed forces and hinder the steady democratic progress that is taking place.
Aung San Suu Kyi has publicly condemned human rights violations of all kinds, asking the international community to respect the fact the young democracy needs time to work towards peace within Burma's deeply fractured society. The question is, are we holding the Nobel Peace Laureate to too high an ethical standard, in terms of the delicate process required to effectively address this crisis in which over 400,000 Rohingya refugees have now fled over the border into Bangladesh? Does she actually have the power to protect the Rohingya population of her country?
It is certainly true that Senior General, Min Aung Hlaing, controls the military, the police and the border guards. It is also true that Aung San Suu Kyi has undertaken an enormous challenge in terms of leading a much fractured society to democracy. However, there is mounting evidence that she is misusing the power she actually has at her disposal.
For a start, Aung San Suu Kyi has direct control over the ministries of information, religious affairs, immigration and foreign affairs. The way in which she is exercising this control is cause for alarm, even for those inside her own political party. Known for avoiding the media and carefully hand-picking foreign journalists whom she will allow to interview her, charges against journalists under the notorious Article 66D – which many claim directly violates Freedom of Speech – have significantly increased since Aung San Suu Kyi came into power. She is also commonly described as a 'micromanager.' In an investigation by the Guardian, a Senior Aide stated, "In meetings, she is dismissive, dictatorial – in some cases, belittling … there is complete fear of her."
Aung San Suu Kyi is known to be the 'sole decision maker' of her party with an authoritarian leadership style. Reports indicate that fighting in Burma has actually increased since Aung San Suu Kyi came into power. Not only that but her government has cut off humanitarian access to thousands of people in areas of conflict, resulting in people having to cross a 'front line' of fighting in order to collect aid.  Such claims from multiple sources, both within and outside of her government, serve as a reminder that the Nobel Peace Laureate is also a skilled politician who once said, "It is not power that corrupts but fear. Fear of losing power corrupts those who wield it…"
"When the military started to kill the people in our village, we ran but we didn't know there were going to be mines on the way. I was right behind my husband when it blew up. All I could think of was how I could cope with our four children now. I have nobody left in this world and I don't know what to do. The one I loved is gone."
Mosheeda, Rohingya refugee
In relation to the Rohingya crisis, it could be argued that she has used her limited influence to excuse military actions, to dismiss and deny accounts of the Rohingya people and to further dehumanise them. Indeed, the State Counsellor's official website screams 'Fake Rape' in relation to the many stories of gang rapes being carried out by the armed forces. "Most of [the accounts of abuse] are made-up stories, blown out of proportion," said a Foreign Ministry spokeswoman. "The things they are accusing us of didn't happen at all." To directly quote Aung San Suu Kyi, "The international communities are really exaggerating too much and just focusing on this issue … there are people who really exaggerate."
Aung San Suu Kyi has also reportedly asked the U.S. not to refer to the minority group as 'Rohingya.' This is enormously significant, as the Rohingya people are often accused of being Bengali and, therefore, illegal immigrants within Burma. This misconception has been used to excuse decades of human rights abuses, including the stripping of Burmese citizenship, rendering the Rohingya stateless, and denying access to freedom of movement, marriage, employment opportunities and adequate healthcare.
Indeed her political decisions thus far, regarding the Rohingya minority, are somewhat at odds with the position taken by her apologists – that she is a human rights champion held back by the Burmese military. Aung San Suu Kyi is failing to use the influence she has at her disposal to protect the basic human rights of the people of her country. However, she remains the same woman who endured enormous personal sacrifice and used non-violent means to stand against a powerful military regime, for the love of her country. Let's hope that Aung San Suu Kyi finds her way back to the courageous, self-sacrificial heroine to Burma that she once was, one truly deserving of her Nobel Peace Prize.
Sources: The Guardian, Al-Jazeera, The Intercept.                              Kristee Boyd