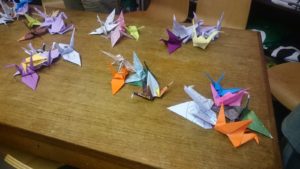 140,000 Origami Cranes Project
The project is now reaching out worldwide to Gujarat, France, Yorkshire, and the Borders.
There was a special Hiroshima Day Origami Cranes session as part of the annual CND vigil at the foot of the Mound.
Origami Cranes Workshops at the P&J Saturdays 14 Oct & 11 November 2 – 4pm.
 Can you help the project by organising a workshop in your local community? We're asking local groups to pledge to make 100, 500, or 1,000 Origami Cranes. For details of how to make and pack peace cranes for the project see our website or contact Coady, Emma or Madeleine at origamicranes@peaceandjustice.org.uk
SHOEBOXES NEEDED! We need shoeboxes for storing peace Cranes. Drop off at the Centre Fridays 12:30 – 4pm. Or ring to arrange a time to drop off.
Divest Lothian Pension Fund from Arms. We joined with Campaign Against the Arms Trade to call on the City of Edinburgh Council and Lothian Pension fund to divest from arms.
Cooperative Games Primary Schools Programme.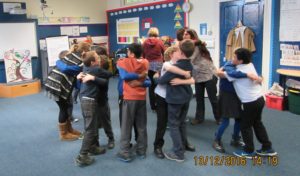 Working through fun, dynamic team building activities our Nonviolence / Peace Education Programme is running in four schools. It aims to help children establish positive relationships, improve communication, work cooperatively, and address conflict in a constructive manner in order to build peaceful and respectful communities. If you'd like us to bring the programme to your school get in touch or recommend us to the Head Teacher.
Cooperative Games Facilitator Training. One day training for new Facilitators on Sat 4 Nov. 9am – 5pm. At University of Edinburgh. Venue tbc upon Registration.
Those who complete the one-day training can continue as Volunteer Trainee Facilitators working alongside experienced practitioners in schools for 8 weeks of two hour sessions. Upon completion of the programme trainees are eligible to become paid Facilitators. Email us with Cooperative Games in the subject line to register for the training or ring us on 0131 629 1058 for more information.
Legacies of Resistance to the First World War in Scotland
The Legacies of Resistance project of the Workers Education Association, on which Peace & Justice is a partner, is moving into its second term. Adult learners are invited to explore the legacy of Conscientious objection in Edinburgh, Glasgow and Dundee, make links to active citizenship and develop computer and research skills. The Edinburgh course is starting up in mid to late October. For details contact Kait Laughlin at WEA Scotland: KLaughlin[at]wea.org.uk
WEAVE Community Events Project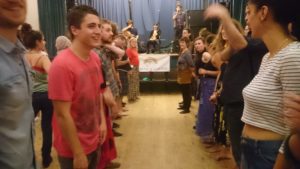 Initiated and coordinated by Katie O'Neill Weave is a new project of the Peace & Justice Centre to create community events that bring together and showcase people and individuals working in the local community to promote nonviolence in myriad ways. Events that have taken place so far include the Dancing for Nonviolence Fundraiser Ceilidh and the Living Nonviolently towards the Earth event.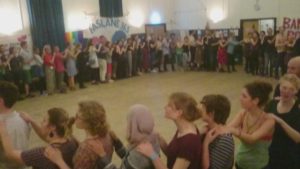 The Ceilidh was a huge success. We had to turn some people away at the door! and a great fun night for all, raising over £1,000 in support of the Peace & Justice Centre's Cooperative Games and Weave Community Events programmes. Many thanks to Katie and Darla and to all the volunteers. Special thanks to Greater Spotted Ceilidh Band for donating their time and to Vegware for donations.
Living Nonviolently Towards the Earth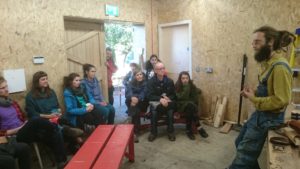 was organised in partnership with Bridgend Farm and took place there. Weather was a slight factor but not too bad. About 25 participants came along. We made a start on co-creating a peace pole from a rescued larch log, led by Fife woodcarver Owen Pilgrim, watched a film  & had a discussion led by The Permaculture Classroom, and upcyled tetra packs to wallets with Shrub Cooperative.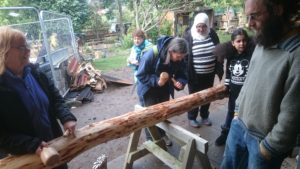 We enjoyed soup made by The Beetroot Cafe and Disco Soup / Foodsharing Edinburgh and heard heartfelt stories of nonviolence told by the talented Owen Pilgrim. Thanks to Katie for organising and to all the individuals and organisations that contributed to making a great day. Join us in the spring when we will install the Peace Pole and plant a Peace Garden.
Weave Events can be found on the P&J Website AND on the Weave website at: weavecommunityedinburgh.wordpress.com/
Volunteers Needed  
White Poppy Distribution Coordinator: White poppies remember all those killed in wars, including civilians and show a commitment to ending war. We need a volunteer to reach out to churches, community centres etc., asking them to make white poppies available. 3 – 4 hours a week until 10 November. Can you help?
Social Media: Posting events and material about our activities on FB and Twitter.
Posting Flyers: Occasionally, a few hours per month.  Cleaning: 1 hour per week.
Photographer for our events for our promotional materials, and social media.
Videographer: Create events & campaign videos for promotions and social media.
Graphics Artist for P&J News and events and campaigns publicity as needed.
For more info or to volunteer contact Brian: coordinator[at]peaceandjustice.org.uk.
Upcoming Peace & Justice Events
A Divided Britain: What Can we learn from the Nordics? Mon 9 October.
Book Talk with author George Lakey on his new book Viking Economics.
7 – 9pm. Quaker Meeting House. Organised with Southeast Scotland Quakers.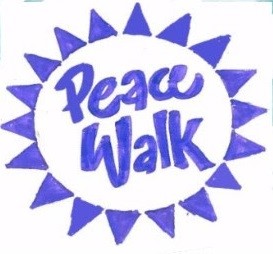 Peace Walk Edinburgh
Sunday 15 October. 2 – 5pm. Starting from Terrace of St John's Church, Lothian Rd.
Rescheduled from previously advertised date.   A gentle mix of mindful walking with poetry, discussion, singing, stories of nonviolence, and dancing. Visiting peace places around the city. A Weave / P&J event in Partnership with University of Edinburgh Chaplaincy, Salisbury Centre.  Booking is not required but it is encouraged! https://peace15oct.eventbrite.co.uk
Building Peace: How Can I Help? Day Workshop.
With Scilla Elworthy, Founder of Peace Direct and Oxford Research Group.
9:30am – 5pm. Sat 18 November. Venue To Be Confirmed.
Many people feel powerless in the face of wars and violence. Take time to reflect on the question: "what can I do about all this?" Investigate opportunities for service and look into the skills we all need if we are to be effective in our chosen actions. A fantastic opportunity to spend the day with one of the most effective Peace activists of our time.
Thrice nominated for the Nobel Peace Prize Scilla is founder of Peace Direct, which works with local peace-builders in conflict areas, and was adviser to Desmond Tutu in setting up 'The Elders'.
Business Plan for Peace Book Talk at Radical Book Fair with Scilla Elworthy.
6:30 – 7:30pm. Roxy Assembly. Fri 17 Nov.
Organised with Lighthouse Bookshop.