Reflection: Remembering Gandhi's Birthday 2 October: 3 Quotes from the Mahatma
The ones who are crazy enough to think they can change the world are the ones that do.
Whatever you do will be insignificant. But it is very important that you do it.
Our greatness lies not so much in being able to remake the world – that is the myth of the atomic age – as in being able to remake ourselves.
Peace & Justice News often has a theme. But, considering all that is happening in the world sometimes we need to range more widely.

In this issue, Sarah Macdonald asks whether we have met the Sustainable Development Goals for Education in these turbulent times when so many young lives are disrupted by war and poverty and reminds us that Education has a knock on effect on preventing Conflict and Peace Building.

Touching on another refugee crisis, that of the Rohingya of Myanmar, Kristee Boyd raises some hard criticisms of Nobel Laureate and global icon Aung San Suu Kyi.

And our newest writer Lochlann Atack critiques the myth of the neutrality of the mainstream media.

In our Editorial Peace & Justice Coordinator Brian Larkin says that threatening the use of nuclear weapons Is Not OK.

Our own Centre News features a new P&J initiative called Weave that seeks to bring together and show case already happening community initiatives that are creating a more nonviolent world in and around Edinburgh. The first event – Living Nonviolently Toward the Earth – took place at Bridgend Farm. All are invited to take part in a gentle Peace Walk on 15 October that will visit peace places around the centre of Edinburgh. There are new developments on our Cooperative Games Programme and we're looking for Volunteers – all in Centre News.

Finally, don't miss News from Around the Movements where you'll find reports on nonviolent disruption of the DSEI Arms Fair, Fracking protests in Yorkshire, the new Nukewatch Report: Unready Scotland and much more.

The Editors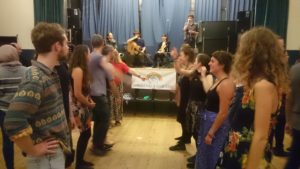 Photo credit: Brian Larkin

CONTENTS
Editorial: Threatening Use of Nuclear Weapons Is Not OK
4
Centre News
5
Feature The Education of Peacebuilding
7
Feature: The Rohingya and Aung San Suu Kyi:

Diplomacy or Complicity?

9
Feature: Mainstream Media and the Myth of Neutrality
11
News from Around the Movements
14
Unsung Heroes:

Sunrise Youth Movement

15
Read the full PDF here