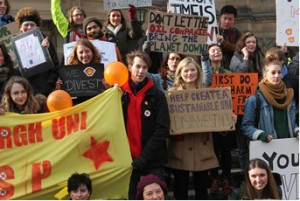 In keeping with our encompassing aims to promote nonviolence, peace building and ecological sustainability, as well as human rights and conflict resolution this month's issue includes articles on divestment from fossil fuels, peace building in Serbia and the struggle to protect a valley in Cambodia as well as news of creative nonviolent actions for justice and peace.
In the Editorial Peace and Justice Centre Coordinator Brian Larkin responds to the House of Bishops recent statement on Trident nuclear weapons and suggests that Jesus would have been somewhat more prophetic.
February saw a massive mobilisation of demonstrations calling for divestment from fossil fuels as part of Global Divestment Day.
We wanted to know more about this new phase of the campaign to combat climate change and it potential. Ric Lander from Friends of the Earth Scotland describes the fight against fossils and asks: Are we beginning to win?
Andy Jamieson brings back an inspiring story of Buddhist Peacebuilders from Belgrade. And this month's Unsung Heroes are Alejandro Gonzalez-Davison and Mother Nature activists struggling to protect the Areng Valley in Cambodia. They are profiled by new writer (and volunteer) Thomas Younger.
As ever News from Around the Movements is packed with action, from a Campaign Against the Arms Trade activist taking the stage at an arms fair to Peace Pirates at Faslane and an Amazon tribe beating big oil.
Brian Larkin