Disarm Now Ploughshares Activist Bill Bichsel SJ & Leonna O'Neill of Faslane Peace Camp. 
Disarming Trident: Nonviolent Direct Action in the US and Scotland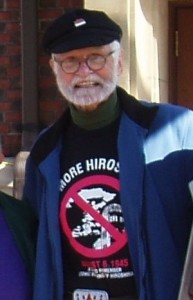 As one of the  Disarm Now Ploughshares group 83 year old Jesuit priest Bill 'Bix' Bichsel was imprisoned for 6 months for seeking to live out  Isaiah's prophecy to "beat swords into plowshares". He and four other Catholic activists had attempted to disarm US Trident nuclear weapons with ordinary household hammers in Nov 2009. In early December Bix travelled to Norway to attend the Nobel Peace Prize ceremony as recipient of the Greater Tacoma Peace Prize awarded by the Sons of Norway. He must have turned a few heads in his trademark black and red "No More Hiroshimas" sweatshirt amidst the tuxedos. He came to Scotland on the return journey in order to interview nuclear disarmament campaigners for a film about his action and subsequent journey and gave a Peace and Justice Centre Talk, Disarming Trident: Nonviolent Direct Action, with Leonna O'Neill on 21 December.
Leonna has been living at Faslane Peace Camp for two years. She has organised numerous nonviolent direct actions resisting Trident here in Scotland. Last June she entered Coulport nuclear weapons depot, reaching the high security explosive handling jetty. Leonna described how she first visited Faslane Peace Camp two years ago, when it had been quiet with few actions at the base. She later met members of Edinburgh CND and became more educated about Trident and nuclear weapons and decided that her life would be about opposing nuclear weapons. Moving straight away to live at the Peace Camp she worked hard to tidy up and started organizing actions against Trident.
Bix started with a joke and apologised if he sounded like a preachy priest. For him "connections" were the main object of his visit; he feels so energised by meeting other activists all round the world. And indeed his week in the UK was packed with such meetings. Accompanied by Centre Coordinator Brian Larkin, Bix attended the Wednesday vigil at Faslane and interviewed the campers and visited and interviewed Cardinal Keith O'Brien, former Church of Scotland Moderator Alan Macdonald and World Court Project Founder Alan Wilkie and his wife Marie-Collette who had met years ago blockading Coulport. Bix asked Alan Macdonald and the Cardinal if they would see themselves participating in civil disobedience at Faslane. The Cardinal said he had not so far felt he could break the law of the land but he greatly admired Archbishop Oscar Romero who was assassinated for calling on the Salvadoran army to lay down their weapons. That, he pointed out was an act of civil disobedience which challenged the unjust power of the government of El Salvador. He had once been asked to visit the base and refused to do so. Maybe, he said, he should have done like Bix and gone in there with a hammer under his coat!
In keeping with the philosophy of Catholic Worker founder Peter Maurin Bix stressed that mutuality is important. We have to share our concerns and stories with each other. He felt that awareness and opposition to nuclear weapons was far greater in the UK than the US (the US has far harsher punishments for protesters), and that resistance needs community. He talked about the details of his action at Bangor. His three month imprisonment was harsh, particularly when it was followed by six months under house arrest.
Leonna was asked what drove her in her work. She replied that Weapons of Mass Destruction were linked to so many other problems and issues in society such as poverty and asylum seekers. Also there was a huge ignorance of the UK's and world dangers from nuclear weapons, especially in the way the UK Government uses them to project its power in the world.
Bix talked about his life of poverty in a Catholic Worker Community where they aim to live out the nonviolent message of Dorothy Day. Its important to be in touch with the marginalised and poor in society, it is this belief which drives  the members of this community. Our conscience tells us that WMD are very wrong, while we watch the US project its power throughout the world instead of helping its own poor. The US is continually investing in new weapons and new delivery systems, securing a future full of high-tech weaponry. Bix described the main developments which will cost billions of dollars.
Leonna spoke of WMD developments in the UK, and also the SNP's decision to change its policy and welcome membership in NATO for a future independent Scotland. She was involved with the No to NATO Scotland Coalition and invited everyone to save the weekend of 13 – 15 April for the Scrap Trident: Let Scotland Lead the Way to a Nuclear Free World protest and action. Saturday 13 April will be a Demonstration in Glasgow.  Monday 15 April there will be a Mass Blockade of Faslane. Go to www.scraptrident.org to register for Nonviolent Direct Action Training on Sunday 14 April or phone the Peace and Justice Centre for more information.