Opposing War Memorial Design Launched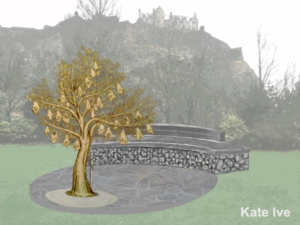 The design for a Memorial to Conscientious Objectors and Opponents of War was launched before a packed audience at an event at Quaker Meeting House on International Conscientious Objectors Day, the 15th of May. Following a competition in which four artists were commissioned to submit designs Edinburgh artist Kate Ive's intriguing design was selected by the CO Memorial Committee – a consortium of civil society and peace groups led by the Peace & Justice Centre.
Kate was inspired by an account of a meeting of the No Conscription Fellowship in 1916 when an agressive mob outside was threatening to break down the doors. The Chair asked everyone present to wave their handkerchiefs instead of applaud to avoid aggravating the mob. This led Kate to investigate handkerchiefs which were embroidered as souvenirs of the First and Second World Wars. Further research led her to the "Handkerchief Tree" or "Dove Tree" which, with its white bracts, is a peace tree associated with the story of a woman who brought peace between warlords in 16th century China.
Handkerchiefs will be embroidered with names of conscientious objectors, emblems of organisations that have opposed war, peace symbols, and cast as part of a bronze sculpture of the tree. Workshops will take place where participants can create embroidered handkerchiefs of their own design allowing everyone to be part of the project through an exhibition of these and possibly to be one of the 40 on the sculpture. The embroidered bracts will suggest the history of conscientious objection and opposition to war and be notably different from the war memorials surrounding it, which often place an heroic figure on a plinth. The intriguing design will invite people to explore its intricate details and find out more about opposition to war through a link on the base plate to this website. It will provide a space people to reflect on the role of individual conscience and the possibility of peacebuilding and conflict resolution.
The 256 leaves on the tree will represent First World War COs from the Edinburgh area. Forty bracts will each hold a piece of granite from the Dyce Work Camp, where COs were forced to do hard labour. And the gabion seating will be made of granite with the inscription "Dedicated to conscientious objectors all those who oppose wars."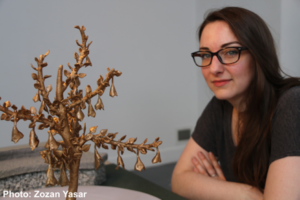 The event launched a campaign to raise funds for the next phase of the project – including completion of technical drawings, casting and installation. The design was submitted to the City of Edinburgh for initial consideration by the Parks Department at a meeting in the autumn. The design will be considered by several committees over 6 – 8 months before we will proceed with workshops and casting the sculpture. We aim to install the Memorial by August 2018, the centenary of the end of imprisonment of First World War COs.
The new website for the Memorial includes a downloadable brochure and drawings and information about the final Memorial design and other design proposals and artists. P&J volunteers and students on work placements will be adding profiles of Scotland's COs and war resisters and of contemporary COs around the world. Thanks to Joel White for building the site.
To complete the project we need to raise £125,000. We'll launch a Crowdfunder with a new video at the end of August to raise £45,000 toward that total. We want as many people as possible to contribute to show popular support for the Memorial. Donations of £100 will sponsor one of 256 leaves to represent local COs. £500 will sponsor one of 40 bronzed embroidered bract. A donation of £1,000 will cover the inscription. £5,000 will cover the cost of the tree. Please consider making a donation, small or large to help create this lasting memorial that will ensure the voices of opposition to war have a place in public space in Scotland. For more info visit https://opposingwarmemorial.wordpress.com
CO Artist Visits Local School
Artist Kate Ive brought the memorial design maquette to a workshop at St Thomas of Aquins RC High School in Edinburgh in May creating a unique and interesting way for students to learn about the history of opposition to war and conscientious. Thanks to teacher Katie Hunter for arranging the visit.
Peacebuilding Schools Programme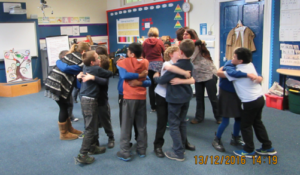 Thanks to everyone who donated to the Crowdfunder that has made it possible for us to continue the programme this past term. Facilitators Louise Smith, Emma Quayle and Romina Mangione worked with class groups in Flora Stevenson and Stockbridge Primaries. Trainees, Elsa Rodeck and Hazel Holloway assisted them.
Emma Quayle has stepped into the short term role as Peacebuilding for Schools Programme Coordinator and Development Worker. Emma is trained in Nonviolent Communication and has been a Facilitator on our programme for over a year. Since 2015 13 staff and 10 volunteer trainees have worked in 11 schools. We are seeking grant funding to continue the programme in three schools per term. From feedback and our experience in schools we identified a need and are working to develop Restorative Practice component to the programme and a whole school approach.
140,000 Origami Cranes Project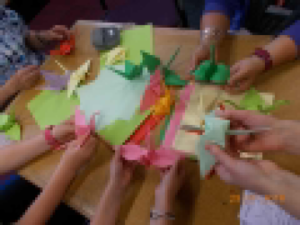 We have received 2,000 origami cranes in the past month and 3,000 more are on the way from Wales! Workshops continue on the first Saturday of every month at the Centre. We're reaching out to schools to make 1,000 origami cranes. Can you help approach your child's school? Or commit to make a set number, such as 100, personally. Volunteers are also needed to help run workshops – especially in schools.
Nobel Peace Prize Medal at Scottish Parliament
Representatives of the 5 Scottish International Campaign to Abolish Nuclear Weapons (ICAN) partners met with ICAN Co-Chair Dr. Rebecca Johnson in June at Scottish Parliament to discuss ways Scotland can promote the Treaty to Ban Nuclear Weapons. Rebecca brought the Nobel Peace Prize medal to emphasize that the Peace Prize belongs to all the ICAN partner organisations and to everyone who has ever campaigned for nuclear disarmament.
The Peace & Justice Centre is an ICAN partner and is proud to share the 2017 Nobel Peace Prize. It's up to all of us to call on the UK to sign the Ban Treaty.
There are lots of ways to help. If your MP is not SNP or Green write to them to ask them to support the Ban Treaty. Organise an Origami Cranes workshop in your area. Plan to come to the Nae Nukes Anywhere demo at Faslane on 22 September or mobilise in your local area to bring a group along to the demo.
Welcome New Students on Work Placements
Margherita Distrotti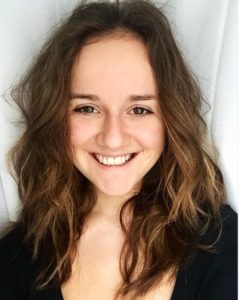 Margherita is from Italy. She studied Politics and Human Rights in the Mediterranean – Middle Eastern Campus of Sciences Po University in France and spent the third year of her studies at King's College London as a study abroad student taking Law and War Studies courses. In September, she will start an LLM in Human Rights at the University of Edinburgh. She is particularly interested in the study of Human Rights Law and how conflicts continue to affect the respect of Human Rights in different regions of the world.
Anelise Vaz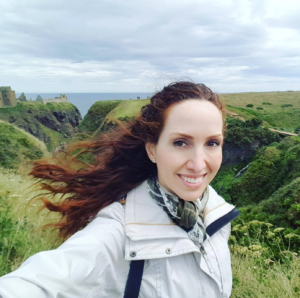 Anelise is from Brazil and has a Masters in Political Sociology. During her research scholarship from the Ministry of Education, she researched and wrote about international politics, humanitarian interventions, international human rights and peacebuilding. She is currently a PhD student in Politics & International Relations at the University of Edinburgh, where she will continue her studies, now focusing on peacebuilding practices and gender.
Olivia Kashti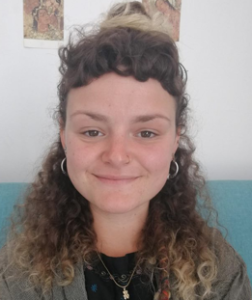 Olivia is a recent Masters graduate of Conflict Resolution and Mediation which she studied at Tel Aviv University. During this time, she has had Negotiation and Mediation training, receiving a Certificate in International Mediation. Through her experiences in the Middle East, Olivia has developed a strong interest in human rights and conflict resolution, particularly Middle East focused. She has recently written a book which explores the conflict from a young persons' biographical perspective which is in its final stages of editing.
Niamh McGurk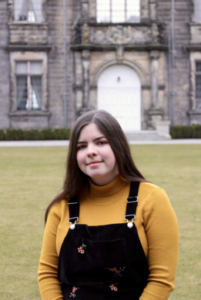 Niamh is from Ayrshire in Scotland. She is going into the final year of her MA(Hons) International Relations and Modern History degree at the University of St Andrews. Niamh will be focusing on the Hiroshima remembrance project during her time at the centre. She is currently the SSC Charities Officer at the University of St Andrews and the Scotland Representative of the National Student Fundraising Association. Niamh also writes on current issues in international relations for the Debate Post.
Two Great Workshops
We held two workshops recently. Peace News Editors Mil Rai and Emily Johns led an interactive "That's Not OK" workshop that explored ways of responding to oppressive and abusive behaviour at work and in public places. Internationally acclaimed music therapist Christine Stevens led an interactive "Peacebuilding through Music" workshop and spoke about working with groups of refugees in Northern Iraq during the Iraq War.
Upcoming Peace & Justice Events
Nae Nukes Anywhere!
Saturday 22 September. 12noon – 5pm. Organised by Scottish CND.
P&J Stall at Scottish Parliament Volunteers Needed. Help raise awareness of the work of the P&J. 25 – 27 September 10am – 5pm. A great opportunity to talk about our projects promoting peace and nonviolence. Contact Jane Herbstritt to sign up for a slot email:
admin@peaceandjustice.org.uk