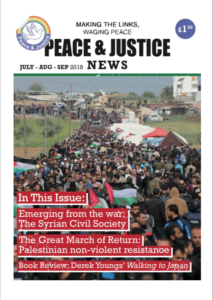 In the editorial of This issue of Peace & Justice News Brian Larkin asserts the urgent need of denuclearization of the World, with a special call to the UK and other nuclear powers to sign the Nuclear Weapons Ban Treaty.
Olivia Kashti's feature article tells about the peaceful aspect of the Great March of return and the struggles of Palestinians who want the right to go home and to live in more dignified conditions. 
Margherita Distrotti's article is about the civil society in Syria that emerges from hard times of war, causing people to organise themselves in groups to help each other and provide services such as medical assistance and education to the population.
Anelise Vaz has reviewed the book "Walking to Japan: A Memoir", by  by Carolyn Affleck Youngs and Derek Youngs. It is an inspiring biography of a peace walker and his many stories.
Centre News celebrates the arrival of the Nobel Peace Prize as an ICAN partner.
As ever, we thank you for your readership and hope that you enjoy the issue!
The Editor