By Federico Marchiolli
The Rohingya ethnic group are a stateless Indo-Aryan people from Rakhine State, Myanmar. They are mainly Muslim whilst a minority of them are Hindu; according to the 1982 Myanmar nationality law they are not recognised as citizens, being identified as "Bengali illegal immigrants"; moreover they are restricted from freedom of movement, education and civil service jobs[1]. Since the 1970s a number of crackdowns in Rakhine State have forced thousands of Rohingya to flee to neighbouring countries – especially Bangladesh. According to a report of Amnesty International, the Rohingya have suffered several types of human rights violations – i.e. rapes, summary executions, arbitrary arrests, torture – at the hands of Myanmar Security Forces and nationalist Buddhists[2].
In 2012, some Rohingya Muslims were charged with gang rape and murder of a Buddhist woman in Rakhine and the incident led to clashes between Muslims and Buddhists. Soon after that the Rohingya saw themselves being evicted from their homes, their lands confiscated and their villages and habitations attacked by Myanmar's military. In 2015 violations against the ethnic minority exploded again. Since then, over 900,000 Rohingya refugees have fled to south-eastern Bangladesh, and more to other surrounding countries. According to a UNHCR Joint Statement, after violence broke out in Myanmar's Rakhine State, in 2017 alone more than 500,000 Rohingya refugees crossed into neighbouring Bangladesh whilst 120,000 are internally displaced[3].
The United Nations declared the Rohingya as the most persecuted minority in the world and Human Rights Watch (HRW) defined the persecution of the Rohingya people as ethnic cleansing and condemned the violations as crimes against humanity, believing that Myanmar wants to expel the entire Rohingya population. In late November, HRW also released images showing that approximately 1,250 Rohingya houses in five villages had been burned down by the security forces[4].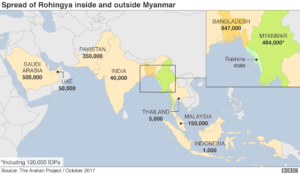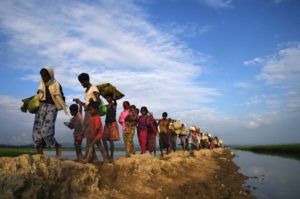 Malaysia, Thailand and Indonesia gave the refugees food and medicines but did not allow them to stay in their territories. With all the doors shut on them, Rohingya refugees turned towards India which is now home to approximately 40,000 Rohingyas who have their camps across various states. The Rohingya population has increased four times in India over the last two years and on September 5, Union Minister Kiren Rijiju asserted that Rohingyas are illegal immigrants in India and shall be deported to Myanmar. International organisations and UNHCR appealed to the principle of non refoulement – or non-return – set by the 1951 Convention relating to the Status of Refugees, Article 33, for which "no Contracting State shall expel or return a refugee in any manner whatsoever to the frontiers of territories where his life or freedom would be threatened on account of his race, religion, nationality, membership of a particular social group or political opinion". However, the Indian Ministry of Home Affairs, in its affidavit, submitted that India, as a non-signatory to the 1951 Refugee Convention, was not obliged to adhere to the principle[5]. Following this statement, the UNHCR's India office said that the principle of non-refoulement is considered part of customary international law, binding on all states whether they have signed the Refugee Convention or not[6]. Therefore, Rohingya refugee returns must meet international standards and must be voluntary. At present, conditions in Myanmar's Rakhine State are not in place to enable safe and sustainable return.
Bangladesh, instead, has kept its borders open, offering shelter and safety to fleeing families. Bangladeshi people share their own limited resources and treat refugees with warmth and compassion. However, most of the new arrivals stay in the refugee camps of Kutupalong and Nayapara, living in overcrowded communities. It's therefore a priority for the international community to intensify efforts to bring a peaceful solution to the situation of the Rohingya whilst supporting host communities and ensuring the conditions that will allow a voluntary return in safety and dignity of Rohingya refugees[7].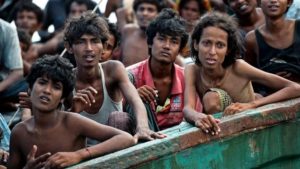 Sources: [1] sbs.com.au/news/
[2] web.archive.org/
[3]unhcr.org/
[4] ibtimes.co.uk/
[5] https://thewire.in/
[6] reuters.com/article/ refworld.org/
[7] unhcr.org/uk/                                 Photo: latimes.com