In December the Nobel Peace Prize was awarded to the International Campaign to Abolish Nuclear Weapons (ICAN) for its work towards the United Nations Treaty on the Prohibition of Nuclear Weapons.
Nobel Lecture given by the Nobel Peace Prize Laureate, ICAN, delivered by Beatrice Fihn and Setsuko Thurlow, Oslo, 10 December 2017.
Executive Director of ICAN Bea Fihn and Hiroshima survivor Setsuko Thurlow, accepted the 2017 Nobel Peace Prize on 10 December on behalf of all those who have campaigned for nuclear disarmament over seven decades.
Setsuko Thurlow and Bea Fihn accept the Nobel Peace Prize. Photo: bbc.co.uk
For the full text of their speeches see: nobelprize.org/nobel_prizes/peace/laureates/2017/
Speaking "as a member of the family of hibakusha – those of us who, by some miraculous chance, survived the atomic bombings of Hiroshima and Nagasaki" Setsuko Thurlow recalled that terrible experience. For "more than seven decades" she said "we have worked for the total abolition of nuclear weapons." "We were not content to be victims. We refused to wait for an immediate fiery end or the slow poisoning of our world. We refused to sit idly in terror as the so-called great powers took us past nuclear dusk and brought us recklessly close to nuclear midnight. We rose up. We shared our stories of survival. We said: humanity and nuclear weapons cannot coexist." Then, she called on "the officials of nuclear-armed nations – and to their accomplices under the so-called "nuclear umbrella": "I say this: Listen to our testimony. Heed our warning. And know that your actions are consequential. You are each an integral part of a system of violence that is endangering humankind. Let us all be alert to the banality of evil. To every president and prime minister of every nation of the world, I beseech you: Join this treaty; forever eradicate the threat of nuclear annihilation."
Pointing out that "Many critics of this movement suggest that we are the irrational ones, the idealists with no grounding in reality. Bea Fihn claimed "We represent the only rational choice. We represent those who refuse to accept nuclear weapons as a fixture in our world."
In a refrain that echoed throughout the speech Bea said "The story of nuclear weapons will have an ending, and it is up to us what that ending will be. Will it be the end of nuclear weapons, or will it be the end of us?"
She talked of "fear, freedom, and the future."  The real utility of nuclear weapons is in their ability to provoke fear. When accepting his prize in 1950 Nobel Laureate William Faulkner said, "There is only the question of 'when will I be blown up?'" This was the reality in the 1950s when school children routinely practiced "Duck and Cover" drills, absurdly practicing taking cover from nuclear fallout under their desks. It continued in the 1980s when, many readers will remember, the UK government issued the pamphlet "Protect and Survive" and campaigners responded by building mock Fallout Shelters in public places to draw attention to the insanity. But since then Bea Fihn argued, "this universal fear has given way to something even more dangerous: denial." "Gone is the fear of Armageddon in an instant, gone is the equilibrium between two blocs that was used as the justification for deterrence, gone are the fallout shelters. But one thing remains: the thousands upon thousands of nuclear warheads that filled us up with that fear. The risk for nuclear weapons use is even greater today than at the end of the Cold War. But unlike the Cold War, today we face many more nuclear armed states, terrorists, and cyber warfare."
In a pointed reference to Trump and Kim Jong Un Bea articulated what we all know, that a "bruised ego, could easily lead us unavoidably to the destruction of entire cities."
ICAN's duty maintained, "our duty", is to be the "voice of humanity", "to speak up on behalf of civilians. Giving voice to that humanitarian perspective" and to "create the end of fear, the end of denial. And ultimately, the end of nuclear weapons."
Fihn quoted two more previous Nobel Laureates the International Physicians for the Prevention of Nuclear War, the first ever anti-nuclear weapons organisation to win this prize, and among the founders of ICAN, and, Martin Luther King Jr. In their Nobel speech IPPNW protested "the moral obscenity that each of us is being continuously targeted for extinction", while Dr King called nuclear weapons "both genocidal and suicidal".
And of course, reminiscent of Greenham Common Women's Peace Camp Bea Fihn did not hesitate to point out the gender perspective on nuclear weapons. "Man – not woman!"  she said, "made nuclear weapons to control others". She challenged the perspective that nuclear weapons kept the peace in Europe and that deterrence has prevented nuclear war: "Far from preventing war, these weapons brought us to the brink multiple times throughout the Cold War. And in this century, these weapons continue to escalate us towards war and conflict. In Iraq, in Iran, in Kashmir, in North Korea. Their existence propels others to join the nuclear race. They don't keep us safe, they cause conflict."
Then, Fihn's peroration echoed the famous text of Isaiah who prophesied that "Nations shall beat their swords into ploughshares and study war no more" and called on rulers to "Choose Life". It is a text that has long inspired nuclear disarmament activists, in particular the "Plowshares movement. "The Treaty on the Prohibition of Nuclear Weapons"  Fihn said "is a light in a dark time". "It provides a choice between the two endings: the end of nuclear weapons or the end of us". That great hall echoed with a litany of the names of the intransigent countries that insist on the need for nuclear weapons to provide their security. "The United States, choose freedom over fear. Russia, choose disarmament over destruction. Britain, choose the rule of law over oppression. France, choose human rights over terror. China, choose reason over irrationality. India, choose sense over senselessness. Pakistan, choose logic over Armageddon. Israel, choose common sense over obliteration. North Korea, choose wisdom over ruin."
"To all nations: choose the end of nuclear weapons over the end of us!"
Listing the other weapons that have been banned Bea drew to a conclusion: "No nation today boasts of being a chemical weapon state. No nation argues that it is acceptable, in extreme circumstances, to use sarin nerve agent. No nation proclaims the right to unleash on its enemy the plague or polio.  That is because international norms have been set, perceptions have been changed." It is a telling argument against the possession, with intent to use them, of nuclear weapons. "And now, at last, we have an unequivocal norm against nuclear weapons." "There is only one way to prevent the use of nuclear weapons: prohibit and eliminate them. Nuclear weapons, like chemical weapons, biological weapons, cluster munitions and land mines before them, are now illegal." "Their abolishment is in our hands. The end is inevitable. But will that end be the end of nuclear weapons or the end of us? We must choose one.
Janet Fenton reported from Oslo in Common Space.
ICAN is a campaign made up of partner organisations, augmented by supporters, articulated by survivors of the weapons and the testing, and amplified by doctors and diplomats.
There are thousands of us across the world, and we understand that the existence and maintenance of nuclear weapons are not compatible with the sustainable development goals for life on this earth.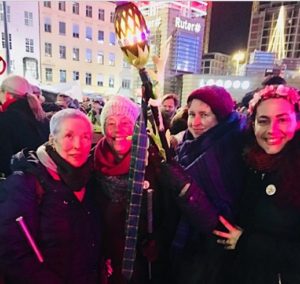 Photo: Campaigners Janet Fenton, Jill Saunderson, Veronika Tudhope and Flavia Tudoreanu from Scotland in Oslo
Four of the hundreds of ICAN partner organisations are in Scotland – Scottish CND, Edinburgh Peace & Justice Centre, Medact and UN House – and many people in those organisations – and more beyond those organisations have campaigned for nuclear weapons abolition on Scottish streets, in our parliament, outside the bases at Faslane and Coulport, inside schools and trade unions.
Hundreds of ICAN campaigners contributed to what has been described as the biggest torch-lit procession that the Nobel prize has attracted over the years, singing "we shall overcome" in the light of our torches as we gathered at the end, chanting "I can" as we walked the icy streets.
A group of Scots with political and popular support from home, symbolised by carrying a torch specially gifted by First Minister Nicola Sturgeon, are participating. The award is a significant acknowledgement of work by the Scottish peace movement and, in turn, increases Scotland's contribution to peace in the world.
But what does the award, and the treaty it celebrates mean? There are only nine states that possess nuclear weapons, unfortunately the UK is one of them, and the decision to acquire nuclear weapons was made by each of these states secretively and without democratic mandate.
Their governments choose to snub the Nobel Peace Prize process, for what that is worth, just as they snubbed the work directed by the UN to establish the treaty which, in the few months since its adoption, is already impacting on how the weapons are viewed and managed.
That position is not acceptable to Scotland, where all the UK's nukes are based, and the treaty is helping us to articulate that position – not only by directly messaging the government at Westminster, but in the international understanding and support for our view of nuclear weapons as well past their sell by date.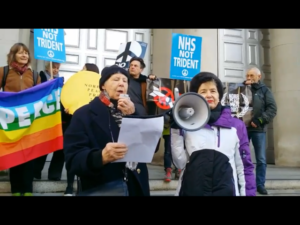 The treaty is simple, and its language is easy to understand. No possession, no deployment, no threat, no assistance to states that use nuclear weapons, no investment or procurement. And there are positive obligations as well, meaning that, for example, damaged people should be looked after and poisoned environments should be cleaned up.
As this campaign has grown, and each time we overcame a hurdle, it seemed to take us a few steps beyond that goal. Gaining the treaty has led to the Nobel award, and more signatures, and new ratifications, so that now there are 56 states signed up.
The treaty will not come into force until it is not only signed, but ratified as well by 50 UN members – this will take time as governments will need to create the legislation to put it into each country's own legal system.  Read Janet's full article in CommonSpace.
Peace is the Prize Parties
Parties to celebrate the award of the Nobel Peace Prize to ICAN took place all over the world. In London there was an award ceremony hosted by Bruce Kent who presented awards to several long time nuclear disarmament campaigners including Sheila Trigg and journalist Victoria Brittain. Speakers included Dr Michael Orgel from Medact. In Scotland there was a Peace Prize Party at UN House and at the Indy Hub, and a Peace Prize Origami Cranes Workshop at the Edinburgh Peace & Justice Centre.
Don't Bank on the Bomb Scotland Calls on Scottish Parliament to Divest from Nuclear Weapons
Along with Medact and Scottish CND the Peace & Justice Centre has written to Tavish Scott MSP, Chair, Scottish Parliament Pension Fund Trustees calling for divestment of the fund from Rolls Royce, which is building the engines for Trident replacement  submarines. In the past Scott has declined to respond to similar calls, including from John Finnie MSP. This time however, Scott has replied that: "I note what you say about the impact the signed UN treaty will have on the nuclear weapons industry and that investments in such companies could be subject to significant losses.  I will therefore make Baillie Gifford (Pension Fund Managers) aware of the developments with the UN treaty and the potential risk that may be associated with investing in this industry so that they can take this into account when considering any investments in companies linked to the nuclear weapons industry."
This small shift is enormously encouraging, as it is the first time any public official or fund manager in Scotland has acknowledged that there may be a risk associated with investment in nuclear weapons. Scottish government advice to Local Authority Pension Fund Managers is that they cannot make divestment decisions on purely ethical grounds, but that their Fiduciary duty requires that they take into account risks. Thus, this suggests that the door is opening a crack; and the Don't Bank on the Bomb group will now continue to push on that door in Scotland.