Editorial: We Shall Overcome: Banning Nuclear Weapons
The Peace & Justice Centre is one of 468 ICAN partners that, collectively, have been awarded the Nobel Peace Prize. We joined ICAN UK partners in a letter in The Guardian calling on UK to sign the Ban Treaty – the Treaty on the Prohibition of Nuclear Weapons.
Since the fall of the Berlin Wall the threat posed by nuclear weapons has seemed to recede. Other issues have captured our attention – Iraq, globalisation, and with the ice caps melting, climate change. But with Donald Trump, surrounded by Generals, in the White House, and Kim Jong Un seeking to acquire nuclear weapons, the risk of nuclear war is greater than it has ever been. Trump's new foreign policy strategy describes a return to the days of "great power competition," suggesting a revival of the Cold War. According to the New York Times "While Mr. Obama used his strategies to de-emphasize nuclear weapons, Mr. Trump calls them 'the foundation of our strategy.'" The US's economic and territorial tensions with China over its creation of military bases in the South China Sea, and with North Korea over its nuclear weapons programme provide strong justification for substantial increases in military spending which in turn are a boon from arms manufacturers, but are likely to lead to devastating conflict.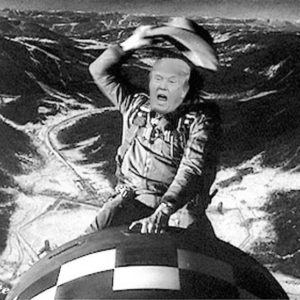 Photo: huffingtonpost.com
We hope that the Nobel award will wake people up to the danger of nuclear weapons – and the possibility of a way out. The danger their possible use poses is not widely understood. The use of just 50 of the thousands of nuclear weapons available would lead to a nuclear winter and global famine. With global grain stocks only providing a 180-day buffer crop failures would cause the death of over a Billion people –  one seventh of the world population. People don't like to hear that. But these facts must be told.
We all know that climate change is a great threat to future generations. We need to wake up and recognise that nuclear weapons are as great a threat. We may be tired of campaigning. But, with the advent of the Ban Treaty the tide is turning. Most countries in the world support the Ban Treaty. Britain and the other nuclear states are the exception. Now, over the next 1,000 days, until 50 countries ratify the Ban Treaty and even the possession of nuclear weapons is finally made illegal, we need to keep raising awareness of the urgent need for nuclear disarmament.
So, please take action. Write to the Secretary of State for Defence urging that the UK support the Ban Treaty. The Scottish government opposes nuclear weapons. All SNP MPs have signed the pledge to support the Ban Treaty. MPs of other parties should do so too. If you live in the constituency of an MP who has not done so, write and urge them to press the government to Ban Nuclear weapons.
Brian Larkin