140,000 Origami Cranes Project – Halfway to Goal!
In November we received several large boxes from Japan containing over 50,000 origami cranes bringing the total number of cranes contributed to the project to 70,000, halfway to our goal of 140,000. We hope this will inspire more people to make cranes. Origami cranes represent peace because of a girl called Sadako who was two years old living in Hiroshima at the time of the bomb. When she developed leukemia at age ten Sadako heard that, by making 1,000 origami cranes you get a wish. She wished for peace. When she died her friends continued to make paper cranes and since then people have been making them as a symbol of hope for nuclear disarmament and peace. Each of the 140,000 origami cranes in our project will represent one person who died at Hiroshima at the time of the initial blast.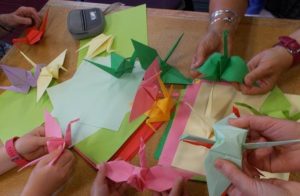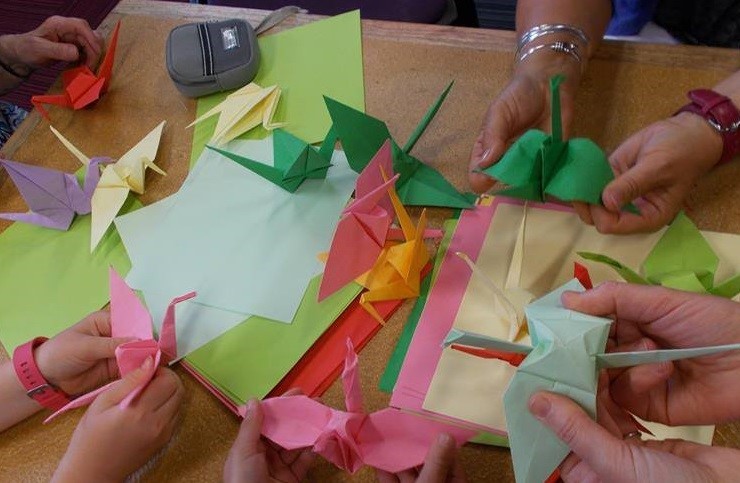 We need your help to make all those origami cranes!
 Highlighting the Ban Treaty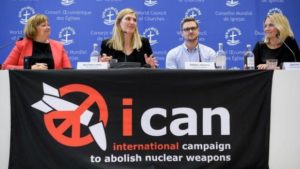 The Cranes project is raising awareness of the Ban Treaty – the Treaty to Prohibit Nuclear Weapons – to rid the world of the threat that these weapons pose to us all. We were incredibly excited when ICAN won the Nobel Peace Prize. ICAN is a network of 468 partner organisations and the P&J is one of those partners. The Cranes project is our main contribution to the global movement. And ICAN is now doing a 1,000 Cranes project inviting people to make an origami Crane, take their own photo with the crane and post that on  Facebook or Instagram. You can write something like, "I choose the #EndofNukes for (name) (name) (place)." On Facebook, link your post back to: http://nuclearban.org/1000cranes .
Why not keep going and make 10 or 20 or organise a group to make 100 or 1,000 and send them in to the 140,000 origami cranes project? Workshops have taken place in Edinburgh, including at Edinburgh Central SNP's Winter Peace Party, and in North Berwick, the Borders, Belgium, Faslane, Calais and Japan. Arran CND plan to run community  and schools workshops too. There's lots of information about how to make cranes and organise workshops on our website.  There will be workshops at the Peace & Justice Centre on Saturdays 13 January, 10 February and 10 March from 2 – 4pm.
Can you organise a workshop in your local community? For details of how to organise a workshop see our website or contact us at
origamicranes@peaceandjustice.org.uk.
The final exhibition will tell the story of nuclear weapons, the movements to eliminate them, the Ban Treaty, and of these workshops. When you send us cranes please include a little text about the workshop – date and place and who took part – and include those photos and short videos of workshop participants talking about their hopes for peace and disarmament. Please let us know if you can organise a workshop or if you can volunteer on the project Outreach, or as a Photographer or Videographer.
Cooperative Games Programme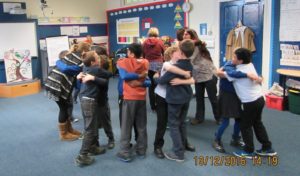 Now in its third year, our Nonviolence / Peace Education Programme ran in four Edinburgh schools in the Autumn term. Ten people attended our Facilitator training in November, and feedback was very positive. Fifteen people have completed our training programme, with six trainees currently in the programme. We'll be working in three schools in the winter term. We are seeking funding to continue and expand the programme. If you'd like us to bring the programme to your school get in touch or recommend us to the Head Teacher.
Cooperative Games Programme Facilitator Training. There will be a one day training for new Facilitators in the New Year. Those who complete the one day training can continue as Volunteer Trainee Facilitators working alongside experienced practitioners in schools for 8 weeks of two hour sessions. Upon completion of the programme trainees are eligible to become paid Facilitators. Email us to note interest in the training or ring 0131 629 1058 for more information. '
Conscientious Objectors Memorial
In November we announced the competition for artists to be commissioned to create design proposals for a memorial to COs in Princes St Gardens, a World Heritage site that is visited by millions of people. Amidst numerous war memorials and beneath the formidable Castle, wherein lies the National War Memorial, the CO Memorial will honour those who resist war and be an enduring locus of reflection on ways to maintain peace. We have received an impressive array of applications. Four artists have been asked to consult with our Steering Group, adult learners and academics and create design proposals by early March. Look out for a Crowdfunding campaign coming in the New Year!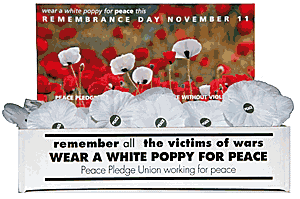 White Poppy Distribution: In November when a sea of Red Poppies swept across the UK,  Peace & Justice volunteer Lochlann Atack coordinated distribution of white poppies around Edinburgh to remember all those killed in all wars, whether soldiers or civilians. White poppies demonstrate a commitment to ending war as a means of resolving conflict. Last year we doubled the distribution of White Poppies around Edinburgh. This year we delivered poppies and collection boxes to 12 venues which sold over 600 white poppies. 
Alternative Remembrance: On Saturday 11 November a small group of people joined us in laying a white poppy wreath at the war memorial on the Royal Mile, outside the City Chambers. Very disappointingly, the following day it seems that our wreath was removed.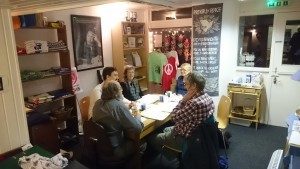 Desk & Meeting Space: In December we were joined at 5 Upper Bow by Shrub (Swap and Reuse Hub) staff who rented 4 desks. We rent office space to Tripod Training Collective and Be United. Hot Desk and Full Time Desk spaces are available at low rates for community groups and Charities that share our values. Community groups including Edinburgh Stop the War, CND, Friends of the Earth, Permaculture Classroom and Protest in Harmony hold regular meetings at the Centre. See our website or Contact us by email: coordinator@peaceandjustice.org.uk for more information.
Opening Hours:
The P&J itself is open for drop in Wednesdays and Fridays 1 – 4pm.
Volunteers Needed:
Origami Cranes Project Outreach
Photographer and Videographer: To photograph and make short videos for our projects.
Management Committee Members: We need people with skills in Fundraising and other areas.
Social Media: Posting events and other material about our activities on FB and Twitter.
Posting Flyers: Occasionally, a couple of hours per month.
Cleaning: 1 hour per week
Mailouts: Help wanted with Mailout once per 3 months.
Contact Brian Larkin by emailing coordinator[at]peaceandjustice.org.uk for more information or to help.
Diary of Events: As of this month we will no longer mail out the print Diary of Events on a monthly basis to members. This is due to costs and pressure on staff time. We will continue to post P&J News quarterly to Members. P&J News is free to everyone on our email list.
Upcoming Peace & Justice Events
Fly Kites Not Drones. Sunday 18 March. 1 – 4pm. In the Meadows. Maya Evans, from Voices for Creative Nonviolence will join us to run a Kite Making workshop.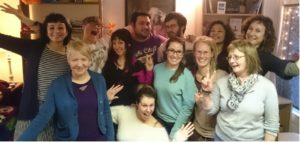 Become a Member! Like what we're doing? All this activity is organised by one part time staff person, a volunteer Management Committee and about twenty volunteers. To support our projects, from the CO Memorial to Cooperative Games  in schools as well as premises admin, we need to hire a part time Administrative support and Outreach Worker. Christmas has come and gone, and in Edinburgh the commercial takeover of this Season of Peace was more noticeable than ever this year.  Please take a moment to reflect on the lost meaning of all this. Then think about all that the Peace & Justice Centre does all year round to promote nonviolence, peacebuilding and conflict resolution. Can you give £2 or £3 a month to support a local peace centre that has national and even international impact?