Stop The Arms Fair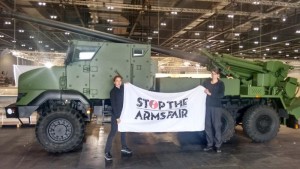 Stop The Arms Fair is a network of groups and individuals who have joined forces to put an end to DSEI and all UK arms fairs. DSEI is one of the world's biggest arms fairs. For one week every two years, in East London, arms companies display their weapons to buyers from around the world, including countries in conflict, authoritarian regimes and countries with serious human rights problems. The UK government helps to organise this arms fair, invites these military buyers from around the world, and helps arms companies to make deals, at the taxpayers expense. This has to stop, and together we can stop it.
DSEI is planning to return on 12-15 September 2017 and we are already working to stop it. Take action to challenge the arms fair, its organisers and the exhibitors that make a profit from killing and repression.  Check out the Stop the Arms Fair events page to see what they've got planned in the coming months.  https://www.stopthearmsfair.org.uk/events/
Arms Fair – No Nuclear Day
This year Yorkshire CND are working with Trident Ploughshares to co-organise an Anti-Nuclear Day at the DSEI arms fair in London.
Prop building day: 5th August   –  NVDA training: 10th August
Anti-Nuclear Day at DSEI – 6th September.
If you'd like to get involved, please fill out this quick survey: smartsurvey.co.uk/s/NoToNuclear
Why an Anti-Nuclear Day?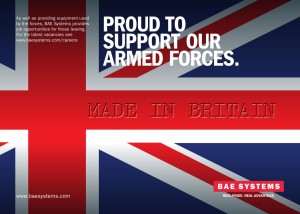 Source: forcesrecruiting.com
While the majority of the world's governments are coming together to try and bring about a UN Global Ban on Nuclear Weapons, many nuclear states are spending billions upgrading their weapons of mass destruction. Britain is one such country and last year's Parliamentary decision on Trident means that spending on nuclear weapons is increasing dramatically and will reach over one third of Britain's total defence procurement budget by 2020.
Many exhibitors at this year's arms fair are the key figures behind multiple nuclear weapons systems, including…
Lockheed Martin – the main partner in AWE-ML; the company that manages the UK's Atomic Weapons Establishment (AWE). The AWE is responsible for the maintenance of the warheads for the UK's Trident nuclear arsenal and manages and operates the AWE sites at Aldermaston, Burghfield, and Blacknest.
BAE Systems – the biggest UK arms company and subject of successive corruption and bribery investigations, it will provide the submarines that will replace the current 'Vanguard' subs that carry the UK's Trident nuclear missile system. It is also the prime contractor for the US Minuteman III Intercontinental Ballistic Missile (ICBM) system and part of the joint venture providing medium-range air-to-surface nuclear missiles for France.
Thales – part of a joint venture to build the M51 submarine-launched nuclear missiles for the French navy.
Rolls Royce – worked on propulsion systems for UK nuclear submarines as well as producing nuclear fuel rods at their plant in Derby.
Raytheon – currently involved in a project to stretch the lifecycle of the guidance systems of the Trident II (D5) nuclear missiles of the US Navy. It is also involved in studies in support of the new W80-4 Long-Range Standoff missile for the US arsenal.
To get involved with the Trident Ploughshares group taking action contact Brian at the P&J.