Nobody Should Live This Way: Inquiry Finds EU & UK Failing Unaccompanied Refugee Children
An Inquiry by the Human Trafficking Foundation has found that instead of protecting children who have fled to Europe for safety, Government is failing them. Police violence has taught these children to fear the authorities who should be protecting them, leaving the doors open for smugglers and those who want to exploit them; including traffickers.
The inquiry found no evidence that providing a safe route for children to travel to the UK acted as a 'pull factor' or encouraged traffickers. Instead evidence showed that leaving children without safe and legal options left them stranded in dangerous situations. In many instances this resulted in children turning to smugglers, putting themselves at risk of dangerous journeys and of exploitation to pay the smugglers.
The overwhelming evidence of violence inflicted by the French police on children is one of the more shocking findings of this inquiry, whether it be the indiscriminate use of truncheons or tear gassing of children including while in their sleeping bags.
Inquiry recommendations include:
– The UK works with European counterparts to ensure that in all cases safeguarding is prioritised and the rights of the child and the child's best interest are upheld.
– The British Government must ensure that any so called 'security measures', including outside of its own borders, operate in conformity with child protection and human rights principles and that in no cases are we contributing financially or otherwise toward physical or mental violence towards children.
– The 'Dubs scheme' needs to be open to children in practice and more children need to be included. This will require expanding the criteria so that it doesn't exclude vulnerable children due to their age or nationality and a revised cut off date. Most urgent is quick and transparent processing of these applications. The administration of the Dubs scheme requires multi-agency teams of specialists on the ground where most children are located, including Calais and Dunkirk, to build confidence in safe routes and resistance to traffickers.
Read the full report HTF Separated & Unaccompanied Minors Report [Hi-Res].pdf
Scots Delegation Takes Part in Nuclear Weapons Ban Treaty Conference
Eight Scottish anti-nuclear campaigners, including Janet Fenton, (former Coordinator of the Peace & Justice Centre and a Vice Chair of Scottish CND), Flavia Tudoreanu (SCND staffer) and two student interns, travelled to  New York to take part in an historic conference that concluded with the adoption of the Nuclear Weapons Ban Treaty by 122 countries at the UN on 8 July.  The treaty will be open for nations to sign on 20 September. When 50 nations have signed it will be open for ratification by the states' Parliaments. When ratified by 50 nations the treaty will enter into force as part of international law. Campaigners and diplomats are predicting this will take place as early as Christmas this year. Once the treaty enters into force it will be illegal for countries that have signed on to produce, deploy or use nuclear weapons or even encourage others to do so. While it will not outright make the possession, deployment or use of nuclear weapons illegal for countries that have not signed on, the existence of the treaty will stigmatize the possession of and reliance on nuclear weapons for national security, and will put considerable international pressure on nuclear weapons states to finally sign up to the deal and relinquish their nuclear weapons. This is the biggest development in the long struggle to abolish nuclear weapons ever and offers renewed promise that we will, one day, reach the goal of a world free of nuclear weapons.
Those who attended the Treaty Conference from Scotland are available to give public talks. They can be contacted through SCND.
Trident Plougshares Coulport Disarmament Camp
A 38 Degrees petition calling for the release of two nuclear resisters who were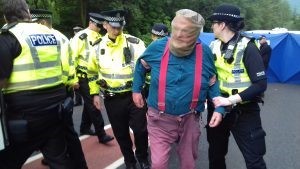 remanded in Scottish prisons gained more than 4,000 signatures. Trident Ploughshares members Angie Zelter and Brian Quail refused to accept restrictive bail conditions that would have prohibited them from participating in peaceful legal demonstrations at the Faslane nuclear weapons base following their arrest for blocking the road to the Coulport nuclear weapons depot. The story of their arrest and detention was on the front page of the National 3 times, and Brian's letters were printed in The Herald. Comic book writer Mark Millar, creator of the blockbuster Civil War and a former pupil of Brian Quail's, paid the costs of an appeal they lodged with the Sheriff Court. The two were released from prison after two weeks when the Procurator Fiscal unexpectedly withdrew the request for special bail conditions. Their arrests took place during Trident Ploughshares' nuclear disarmament camp that ended on the 16th of July.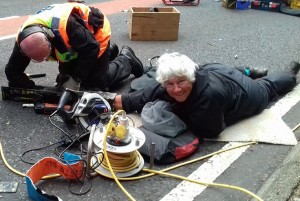 Seventy plus nuclear disarmament campaigners braved the rain and midgies on the West Coast of Scotland over ten days. Nine people were arrested on two blockades and numerous other actions on land and at sea challenged the UK government's continuing deployment of the Trident nuclear weapons system and its willingness to use them despite 122 nations agreeing a treaty at the United Nations on 7 July that will ban nuclear weapons.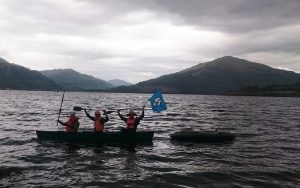 People from Sweden, Spain, Canary Islands and France travelled to take part in the disarmament camp which saw daily vigils at the main gate of Coulport, singing of new sections of the Trident Oratorio at the North Gate of Faslane, the raising of a disarmament flag on the fence marking the sea boundary of Coulport, a Town Crier action announcing the Nuclear Weapons Ban Treaty to the people of Helensburgh, vigils outside the Court in Dumbarton, and a group of activists breaching the MOD bylaws that prohibit free access to the Coulport Hills. Disarmament camps have been taking place at Coulport since 1998.
ACTIVISTS CHALLENGE US NUKES IN GERMANY, OCCUPY NUCLEAR WEAPONS BUNKER
Monday, 17 July 2017, Rheinland-Pfalz, Germany
An international group of five peace activists got far inside the Büchel Air Base in Büchel, Germany, after nightfall on Monday, 17 July 2017, and climbed on top of one large bunker used for nuclear weapons. After cutting through four fences surrounding the large earth-covered bunkers, the five spent more than an hour unnoticed sitting on the bunker until after two of them climbed down to write "DISARM" on the bunker's metal front door, setting off an alarm. Surrounded by vehicles and guards searching on foot with flashlights, the five eventually alerted guards to their presence by singing, causing the guards to look up. The international group was taken into custody more than two hours after entering the base.
The five, Steve Baggarly, 52, of Virginia; Susan Crane, 73, of California; John LaForge, 61, and Bonnie Urfer, 65, both of Wisconsin; and Gerd Buentzly, 67, of Germany, said in a statement titled All Nuclear Weapons are Illegal and Immoral: "We are nonviolent and have entered Büchel Air Base to condemn the nuclear weapons deployed here. We ask Germany to either disarm the weapons or send them back to the United States for disarming," it said in part.
The action came at the end of an "international week" at the base organized by "Non-violent Action to Abolish Nukes" (GAAA). The effort was part of a 20-week-long series of actions—"Twenty Weeks for Twenty Bombs"—that began March 26, 2017 organized by a 50-group coalition campaign, "Büchel is Everywhere, Nuclear Weapons Free Now!" Three other actions took place during the week. One succeeded in its demand to see the base commander. Oberstleutnant Gregor Schlemmer, who actually appeared at the site of a highway blockade and agreed to receive a copy of the newly-adopted UN Treaty on the Prohibition of Nuclear Weapons from Plowshares activist Sister Ardeth Platte, OP, of Baltimore, Maryland.
More than 60 people from around the globe—Russia, China, Mexico, Germany, Britain, the United States, The Netherlands, France and Belgium—participated.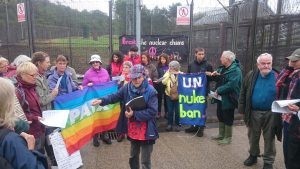 Activists from the United States came to Büchel to highlight the plans for modernization of the B61. Ralph Hutchison, from Oak Ridge, Tennessee, where a new thermonuclear core for the B61-Model 12 will be manufactured, said: "The resistance to nuclear weapons is not limited to one country. The new B61-12 program will cost more than $12 billion, and when production starts sometime after 2020, Büchel is scheduled to get new nuclear bombs."
"The idea that nuclear weapons provide security is a fiction believed by millions," said John LaForge, of Nukewatch in Wisconsin. "Tonight we showed that the image of a secure nuclear weapons facility is also a fiction," he said. "Everyone's children and everyone's grandchildren have a right to a nuclear weapons-free world. All of creation calls us to life, to disarmament, to a world of justice—for the poor, the Earth, and the children," read the statement. Büchel is Everywhere, Nuclear Weapons Free Now! continues until August 9, 2017 and will close with a commemoration of the US atomic bombing of Nagasaki, Japan.
Six Arrested on Steps of US Capitol Protesting Military Spending On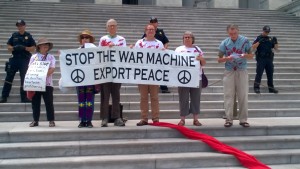 July 12 (the 200th anniversary of Henry David Thoreau's birth), six anti-war activists were arrested on the U.S. Capitol steps in Washington, D.C. After delivering petitions to the offices of Sen. Mitch McConnell, Sen. Chuck Schumer, Rep. Nancy Pelosi and Rep. Paul Ryan, they unfurled a red sash on the Capitol steps to symbolize the rivers of blood flowing out of the Capitol, and held a banner reading "Stop the War Machine: Export Peace." Read more at http://www.nukeresister.org/…/six-anti-war-activists-arres…/
Carl Kabat at It Again Fr. Carl Kabat, OMI, 83-years-old, was arrested at the Kansas City nuclear weapons plant on July 4, carrying on his tradition of Interdependence Day actions at the site. Read more at http://www.nukeresister.org/…/fr-carl-kabat-omi-arrested-
Veterans Arrested Protesting Torture Record of Trump Nominee Three veterans – Ellen Barfield, Tarak Kauff and Ken Ashe – were arrested on June 28 for speaking out at the Senate confirmation hearing of "Torture Memo" author Steven Bradbury, insisting that Bradbury shouldn't hold any position in the U.S. government and calling on senators to oppose his nomination. Code Pink photo. Read more at http://www.codepink.org/veterans_arrested_at_senate_confirm
Four peace activists were arrested on the morning of June 28 after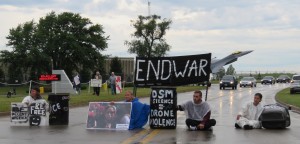 locking down to concrete blocks in the entry road to the Drone Command Center in Des Moines, Iowa. The road was blocked for hours while fire crews cut through the concrete. The protesters were in jail overnight and scheduled to appear before a judge the following day. Read more at http://www.nukeresister.org/…/four-peace-activists-arreste
Mapping Sanctuary in Edinburgh
Following a mapping event that took place after last year's Edinburgh World Justice Festival, an online guide to places and initiatives of sanctuary for refugees and asylum seekers in Edinburgh has been built.  This is a free, public and interactive resource. People can search for resources by keyword, map and search button. People can also add new resources and update existing ones.  The guide is now live, www.edinburghsanctuary.guide
This is still work in progress, but in its current form it will be a useful resource for the city and its people. The Mapping Sanctuary group would love to hear your comments and feedback, so that they can continue to develop the guide collaboratively and according to what is needed. Reply to this email address – hello@edinburgh.cityofsanctuary.org  People are also invited to contribute to shaping the website directly, by adding or reviewing entries. So if you know of a place or initiative that welcomes refugees and asylum seekers, and it isn't on the website, please add it!
From Edinburgh Campaign Against the Arms Trade
As part of our 'creative campaigning' workshop series, we have teamed up with Rhythms of Resistance to put on some samba drumming sessions! Come join us and learn how to drum (against the arms trade) – everyone welcome, all ages, from complete novices through to samba pros! The sessions will take place in Edinburgh meadows corner near Lonsdale Terrace: TUESDAY 1st August  6.30 to 8.30pm                    Workshops are free. Any donations go towards Rhythms of Resistance and Edinburgh Campaign Against Arms Trade.
From UN Wire
New UN Sanctions on Al-Quaeda, Daesh
The United Nations Security Council on Thursday unanimously adopted a resolution to impose sanction measures on two armed groups, two entities and four individuals linked to the Daesh and al-Qaida group, China's Xinhua news agency reported. Two armed groups are the al-Qaida-linked Jund al Aqsa and the Daesh-linked Jaysh Khalid ibn al-Waleed, both fighting in Syria.
UN peacekeeper says South Sudan cease-fire not stopping violence
Fighting in part of South Sudan is escalating and the security of the area is volatile despite a cease-fire declared in May, says United Nations deputy peacekeeping chief El Ghassim Wane.
"There have been reports of active military operations in the Equatorias and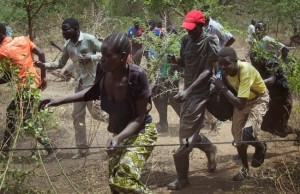 Upper Nile," U.N. deputy peacekeeping chief El Ghassim Wane told the Security Council. South Sudan is in need of an effective and credible cease-fire," he said. There were also clashes between government and opposition forces near Torit, in Eastern Equatoria. "These operations clearly contradict the unilateral cease-fire declared by the government," he said.
Last August, the Security Council authorized the deployment of 4,000 additional peacekeepers as part of a Regional Protection Force. They will be based in the capital, Juba, to help protect civilians. Deployment has been slower than envisioned. Wane told the council that troops from Rwanda and Ethiopia should be arriving in the next two months.
Meanwhile, efforts to revive the stalled peace process continue. Former Botswana President Festus Mogae, who chairs the Joint Monitoring and Evaluation Commission, which is overseeing peace efforts in South Sudan, told the council via a video link from Juba that he had engaged in extensive outreach to stakeholders and regional leaders including former South Sudan Vice President Riek Machar, who is the political rival at the center of the more than three-year-old conflict with President Salva Kiir.
Also of concern is the obstruction of humanitarian aid deliveries by both the government and opposition. More than 6 million South Sudanese are severely food insecure. In June, council diplomats said aid was blocked 100 times, the worst month for aid access this year. The government is still asking humanitarian groups to pay high fees to continue operating in the country.
"This council must be prepared to hold the parties accountable for their inaction and for the continued suffering of South Sudan's people," U.S. Deputy U.N. Ambassador Michele Sison told the council. "That should start with additional targeted sanctions and an arms embargo." A U.S.-led effort in the council last December to impose an arms embargo on South Sudan failed, with only seven of the 15 council members supporting the measure and the other eight abstaining.
Since fighting along largely ethnic lines erupted between forces loyal to Kiir and Machar in December 2013, tens of thousands of people have been killed and more than 2 million have been displaced from their homes. The UN has warned of a possible genocide in the region as violent conflict escalates, driven by drought and famine.