By Rev. Brian Cooper, Inter-Faith Secretary, Uniting for Peace
The Inter-Faith Movement promotes the assembly of individuals and communities of different faith traditions to create mutual awareness and understanding, for mutual enrichment and inter-community harmony – and to help build a more harmonious society and global family. This is in essence a peace-building mission, though inter-faith activists would not necessarily use that term.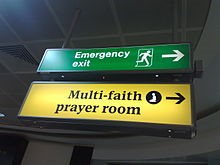 The Peace Movement strives to shift nations and the global community away from violence towards the creation of a world free from war, by opposing militarism, advocating diplomacy, dialogue, non-violent conflict prevention and resolution, and reconciliation processes instead of military actions, and acting at many levels to create a culture of peace. Especially in this age, when misuse of religion fuels many conflicts worldwide, the overlap of the two movements is very evident, and I would argue for a necessary symbiosis. Although expressing it in very different theological narratives and liturgical practices, most if not all major faiths have 'the quest for harmony' at the core of their beliefs – harmony with nature, harmony among the human community, harmony with the Divine. Such is a spirituality-based motivation for helping to build a peaceful world. Peace activists, often motivated by their faith, or by political and philosophical understandings, humanitarian concern, or other factors, can, in my experience find many allies in the Inter-Faith Movement.
At the height of the Cold War I attended a large-scale international inter-faith conference on 'Saving the Sacred Gift of Life from Nuclear Catastrophe'. Religious leaders from East, West and Global South affirmed their faith-driven responsibility to help achieve that urgent goal. In the event, church leaders in several European countries played key roles in ending the Cold War and its life-threatening nuclear confrontation. With the 21st-century rise of ISIS and similar groups globally, and populist threats to community harmony nationally, 'faiths for peace' is once again an urgent priority.
The Inter-Faith for Peace Edinburgh programme of Uniting for Peace – originating with events expressing inter-faith peace responses to 9/11 and the Iraq War – aims to bring together devotees of both movements for reflection and action on
common moral and geo-political issues. For over a decade UfP has co-operated with the authorities of Annandale Street Mosque to present inter-faith peace events open to those of all faiths and none. Christian-Muslim dialogue is a core feature, but not exclusively so: Buddhist and other faiths' spokespersons have contributed. Themes have included: 'Is there a Clash of Civilisations?', 'World Faiths for World Peace', 'Religion and the Arab Spring', 'Understanding ISIS' [two packed events!], and most recently 'Globalisation' and 'Faith, Peace and Global Politics in the Age of President Trump'. The latter, in March this year, articulated faith-based moral analysis of the current phenomenon of populist and extremist politics, identifying key features of the latter as "racial and religious intolerance including Islamophobia; narrow inward-looking vision; appeal to fear, unreason and xenophobia; isolationism; scapegoating of 'the Other' and minorities; creation of division; rejection of compassion and minority rights. "Populism presents a fundamental moral challenge to long-held social ethics shared by Jews, Christians and Muslims – and Enlightenment humanists."
The annual Inter-Faith Occasion for World Peace, held mid-year for over twelve years, a key event in UfP activities, brings together representatives of several faith traditions to share peace-related talks, prayers, meditations, music and visuals – to inform and inspire. Adventists, Baha'i, Brahma Kumaris, Buddhists, Christians, Hindus, Jews, Muslims, Quakers, Unificationists and Unitarians have all taken part in these events – itself a reconciling action. Talks on 'Inside North Korea', a UK-Japanese Hiroshima commemoration and 'Human Rights Abuses in Israel/Palestine', expositions of the peace messages of Jesus, Buddha and Baha'u'llah, and reports on Parliament of World Religions and a charity helping children in need – of all faiths – in Israel/Palestine, have all featured. 'Inspirations for Peace-Making', on July 4 this year, spanned the centuries – from Zoroastrianism's ancient insights on creating harmony, via Peace in the Celtic Spiritual Tradition to 'Non-Violence in Islam', about Abdul Ghaffar Khan, the 'Muslim Gandhi – and shared prayers of different faiths.
UfP works closely with Edinburgh Inter-Faith Association and is indebted to EPJC for publicity help. Please contact me on 0131-446-9545 or by email: briangcooper@gmail.com for further information.