By Sarah MacDonald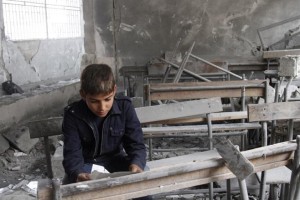 The Syrian civil war has been raging for over 6 years now, displacing millions of people and leaving hundreds of thousands dead. By 2016 there were 6.6 million internally displaced people and 4.7 million refugees who have fled the country. In its path of destruction, an entire generation has had their education disrupted. Experts estimate that there are now nearly 3 million children unable to attend school and this will have a detrimental effect on their future if and when the war ends, and on social and economic stability in the region for many years to come.
This war has been a huge blow to the progress Syria made in education over the last few decades. In the 1980's the Syrian government pushed hard to eliminate illiteracy, and by 1991 had built schools all around the country, and mobile units to serve rural areas. This investment paid off very well, leading to 99% of children being enrolled in primary education, and a high literacy rate for both men and women. However since the beginning of the conflict primary enrolment rates have dropped significantly to 61% in 2013 (from 92% in 2004), and 44% (from 72% in 2009) for secondary enrolment.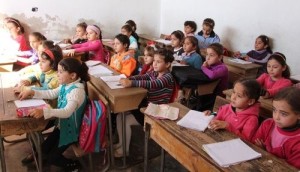 There are various reasons why children are being forced from their schools, besides being the target of many attacks, air strikes and bombs. Schools have been used as shelters for displaced people. They have also been taken over and used as bases for armed forces from both sides of the conflict. This has left the schools inaccessible and has in many cases caused damage to schools' structure, equipment and teaching materials. NGO's are working hard to petition government to prohibit armed groups and the army from using schools as bases, so children can return to school. Even when the building itself is not compromised, heavy fighting in some areas has closed schools for prolonged periods of time. Some have moved to underground locations to keep students safe from the possibility of being targeted.
Girls' welfare, rights, and advancement towards equality is also going to take a hard hit and a step back in this disastrous war. Adolescent girls between the ages of 14 and 18 especially will be at the highest risk. This is an important point in a girl's life to build self-confidence and feel empowered. They are at risk of sexual exploitation, young marriage and of being forced into unskilled jobs. Women and girls are faced with rape, used as a weapon of war by the so called IS. This has become an ever more popular method of terrorizing a populations, using sexual assault and rape to "dirty" a woman's reputation. Parents are keeping their children away from school, especially if they have to travel longer distances to get there, for fear their children will be targeted.
To combat the lack of facilities, NGO's like Save the Children and the Malala Fund are working hard on the ground in Syria and in refugee camps in surrounding Lebanon and Jordan, setting up schools for those forced to flee. Besides a general education, Save the Children also provide psycho-social support through their Healing through Education and Art (HEART) programme, which teaches children to express their emotions constructively rather than hiding them, in an effort to preemptively fight the effects of built up traumatisation these children will be dealing with for the rest of their lives.
Children are incredibly vulnerable at this time of their lives, and the exposure to the violence and lack of resources to help them cope is dire. Without this important support children will be at an increased risk of being recruited by extremist groups. And for this reason, access to school is vital during these times of uncertainty and conflict, as it allows for a sense of routine, hope and developing the tools for a better