Annual P&J Lecture by John Dear
Long time activist and movement organizer, Fr. John Dear was the guest speaker for the Peace & Justice Centre's AGM on Thursday 13 July. Author of 35 books, including "The Nonviolent Life", John is a staff member of Campaign Nonviolence which coordinates hundreds of actions for peace and the environment each year. Speaking on Nonviolent Resistance in the US in the Age of Trump, John described some of the actions there over the past year, including responding to the call of the Sioux tribe for Christian ministers to come to support the resistance at Standing Rock. Sadly the massive oil pipeline is now crossing the Missouri River and already leaking.
A Catholic priest, John spoke of having been arrested over 80 times in acts of civil disobedience against war and facing return to prison in the future. In 2016 John took part in a Vatican conference "Nonviolence and Just Peace: Contributing to the Catholic Understanding of and Commitment to Nonviolence", and drafted Pope Francis's 50th World Day of Peace letter 1 January 2017: Nonviolence: a Style of Politics for Peace which, for the first time in the history of the Roman Catholic Church, recognises active nonviolence as a way of life and a spirituality.
John described an almost Apocalyptic vision of US military and capitalist elites which we do not have the words to describe: oligarchy, the 1%, the military industrial prison complex: their purpose to ensure their own global dominance and profits at the expense of widespread destruction of the environment and decimation of democratic processes. First he said, you kill Martin Luther King, then kill Robert Kennedy, you destroy Vietnam, Iraq and Afghanistan. Trump is only the latest manifestation of this power structure, who aims, with his twitter activity to distract attention from the real agenda of destroying all progress.
There is one condition, John said, for nonviolent action. You draw a line. There are no circumstances in which I will take the life of another person. The hope is in the grassroots movements and hundreds of actions taking place across the US and, as audience members pointed out, here in the UK and across Europe.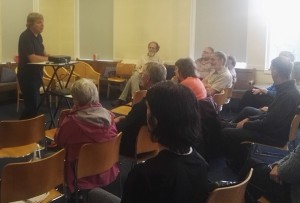 SHOEBOXES NEEDED! We are seeking donations of shoeboxes for packing and storing peace Cranes. Can you help? Drop off at the Centre Tuesday – Friday 10am – 4pm.  For details of how to make and pack peace cranes for the project see our website or contact Coady, Emma or Madeleine at origamicranes@peaceandjustice.org.uk
Maya Evans: Peacebuilding in Afghanistan
Maya has travelled to Afghanistan six times in the past several years, leading small delegations of peace activists on trips there in solidarity with Afghan peace activists, and to witness the ongoing conflicts. In July she spoke at a P&J organised event about her work with the Afghan Peace Volunteers.  Next day Maya led a Fly Kites Not Drones kite-making workshop at the Meadows Pavilion Cafe. About twenty families came along. Many stayed for the full three hours. The children really enjoyed the activity, and adults and children learned about the problems with military drones and about the Afghan Peace Volunteers.
The core group of Afghan Peace Volunteers formed a small, intentional,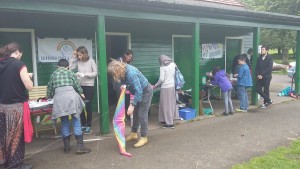 multi-ethnic live-in community in Kabul, as a working example of youth building alternative lifestyles and ways of relating which counter the socio-economic, environmental and military violence. They run several projects dedicated to these aims:
Planting trees and developing green spaces. The Peace Volunteers helped develop Bamiyan Peace Park and are developing Kabul Peace Garden. They are using and promoting non-fossil fuels and renewable energy and creating a permaculture community vegetable garden in Kabul.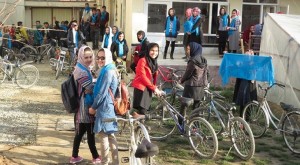 The 'Borderfree Cycling Club' was established to encourage Afghan boys and girls to use the bicycle instead of motorcycles and cars. Borderfree Afghan Street Kids School is attended by 93 Kabul street kids who are learning fast and taking home oil and rice to support their families. 14 volunteer teachers teach the kids Dari and math literacy, nonviolence, creativity and tailoring.
The Winter Duvet Project employs local women to make duvets which are donated to people in the refugee camp in Kabul. The opportunity enables women who otherwise would not be able to get out of the home to do so, and provides some financial independence.
The Food Bank was established in 2016. It receives and stores donated food from Afghan shopkeepers, business persons and charitable groups, to be distributed to needy families, starting with the families of the 100 Afghan street kids at the Borderfree Street Kids School.
Learn more about their work and support the APVs at http://vcnv.org.uk/
Legacies of Resistance to the First World War Scotland
The Legacies project of Workers Education Association on which the Peace & Justice Centre is a partner, is hiring a new Programme Coordinator and a new Edinburgh tutor and will continue with groups of adult learners in Edinburgh, Glasgow and Dundee starting up again in late August. Contact WEA Scotland to apply for a job or to join a group by emailing N.Williams@wea.org.uk for details.
140,000 Origami Cranes Project
The project is now reaching out worldwide with workshops taking place in Gujarat in India, in the Borders and in Edinburgh. There will be workshops at the Peace & Justice Centre on Saturday 5 August and again on Saturday 9 September, with a special Hiroshima Day Origami Cranes session beside the National Gallery at the foot of the Mound by Princes St 6 – 7pm on Sunday 6 August.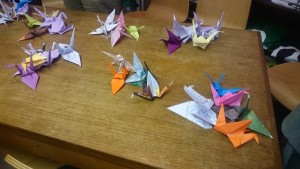 Madeleine Loll, Emma Clark and Coady Johnston are all working on outreach for the project.  Madeleine ran a workshop at St Thomas Aquins High School with History teacher Katie Hunter and support from Frank Thomas and Margaret Ferguson Burns. Saturday workshops are normally the second Saturday of each month 2-4pm at the Centre. Note though that the August workshop is 5th August to coincide with Hiroshima Day.
Thanks to Trident Ploughshares Coulport Camp for contributing 100 cranes to the grand total, now over 15,000. We have a long way to go so we are asking groups and individuals to pledge to make 100, 500 or 1,000 cranes.
Carolyn Affleck Youngs Walking to Japan Book Talk & Cranes Workshop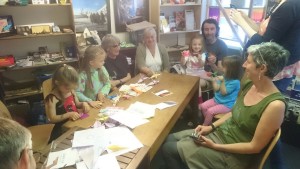 A special workshop was held on 8 July following Carolyn Affleck Youngs', Book Talk on Walking to Japan, A Memoir of her husband, Derek Youngs, who walked 25,000 miles for peace. It was great making cranes with families.
Divest Lothian Pension Fund from Arms
We have teamed up with CAAT to call on the City of Edinburgh Council and Lothian Pension fund to divest from arms. A video of our testimony at that hearing is available on the City of Edinburgh website. Our scheduled appearance before the Pensions Committee was postponed due to elections.
We will be appearing before the Pensions Committee 28 August 2pm. All invited to come along to a public vigil calling for divestment outside City Chambers on the day.
Our Cooperative Games & Conflict Resolution Programme is growing!           Now in its third year the Programme will be running in four schools this term. If you'd like us work in your school get in touch or recommend us to the Head Teacher. A number of new staff have recently completed the training on the programme.
Emma Quayle – Cooperative Games Facilitator
Emma co-facilitated a new Conflict Resolution component of o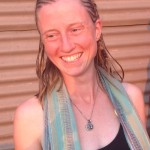 ur Cooperative Games programme at Stockbridge Primary over the summer term and will be co-facilitating at Cramond Primary from August. Emma has been a practitioner of Compassionate Communication since 2013 and has a background in the Arts, studying Music Composition at Dartington College of Arts. With a passion for sustainable social change, she most enjoys working with children and creating restorative spaces where connection-based action can emerge. Her work ranges from listening workshops which develop empathy and nature connection, with children in China, to working with differently abled people in Scotland. She is currently collaborating on a music, dance and restorative dialogue performance between Scotland and South Africa, and working with two organisations to develop integrated communication practices.
Francesco Benvenuti – Cooperative Games Facilitator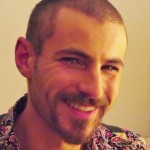 Francesco has co-facilitated classes at Stockbridge primary school. He has campaigned with People & Planet and Friends of the Earth, and was the original founder of the Swap and Reuse Hub Cooperative (The SHRUB coop) in Edinburgh. Francesco works with the Pollinate Edinburgh and Autumn Oak education collectives, running outdoor & gardening classes with primary schools in deprived areas across Edinburgh. He also volunteers with the Green Team to support forest school sessions with teenagers around the Edinburgh countryside. He graduated in Ecological Science (Conservation and Management) from Edinburgh Uni and works as a Shiatsu Practitioner, Qi-Gong and movement instructor across Edinburgh.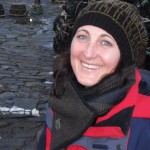 Louise Smith – Cooperative Games Facilitator
Louise has been working on the programme for a year, acting as Lead Facilitator at Dalry and at Parsons Green this past term. She will be leading groups and training new facilitators at Leith Walk Primary in the new term.  Louise has a Steiner teaching background and is currently engaged in youth work and forest schools.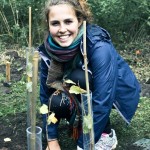 Katie O'Neill – Cooperative Games Facilitator & Festival of Nonviolence Coordinator
Katie will be co-facilitating at Clovenstone Primary and is coordinating our Festival of Nonviolence.  Katie is "a community event organiser and environmental educator. I mostly focus on education as it unifies my passions of ecology and positive behaviour change towards the earth, social justice restoration through community empowerment & cooperation, and the well-being of individuals through being outside and learning to identify and communicate emotion e.g. in conflict."
Toni Dickson – Cooperative Games Facilitator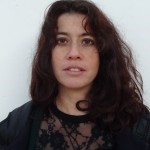 Toni has worked as a Facilitator on our Cooperative Games and Conflict Resolution for Primary Schools Programme since October 2016. She recently completed a PhD in Forest Ecology.  Toni will be co- facilitating the programme at Leith Walk Primary School from August.Katie will be co-facilitating at Clovenstone Primary and is coordinating our Festival of Nonviolence.  Katie is "a community event organiser and environmental educator. I mostly focus on education as it unifies my passions of ecology and positive behaviour change towards the earth, social justice restoration through community empowerment & cooperation, and the well-being of individuals through being outside and learning to identify and communicate emotion e.g. in conflict."
New Volunteer & Intern: Federico Marchiolli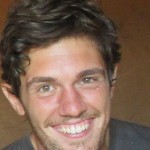 Federico comes from Italy where he studied Law – the international curriculum, including human rights studies – because he wanted to fight against the inequalities contaminating the world. He worked for Amnesty in Rome  raising awareness on the campaign against torture and volunteered for a year for Humana People to People with Syrian and Ethiopian refugees, organising social activities and promoting their integration into local society. In Malawi where he volunteered for Development Aid with People to People and coordinated a project to develop pre-schools and communities in rural areas. He also volunteered in the "Dzaleka refugee camp" which hosted Burundian, Congolese (DRC) and Rwandan refugees.
Intern: Jacob Waterton-Bailey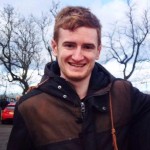 Jacob is a current postgraduate student studying LLM in Human Rights having recently graduated for the University of Leicester with a degree in LLB Law with Politics. His primary interests focus on Asylum Seekers, Refugees and International Humanitarian Law. He has campaigned in areas of International Development as a grassroots leader for RESULTS UK and, worked in Romania to improve the livelihoods of the marginalised Roma Community. He is interning at the P&J to develop his passion for and use his skills to promote Human Rights. He will be working on a Briefing Paper on the transfer of Arms from Scotland to Saudi Arabia that are being used in the conflict in Yemen.
Simonetta Mangione – Cooperative Games Facilitator
Simonetta has recently completed the Facilitator training on our Cooperative Games Programme. She will be co-facilitating on the programme at Clovenstone Primary School starting in August.
Upcoming Peace & Justice Events
Festival of Nonviolence: September – December 2017
Starting on 22nd September marking International Day of Peace and the 37th birthday of the Edinburgh Peace & Justice Centre.
Walk for Peace Edinburgh
Sunday 24th September. 2 – 5pm.
Starting from the Terrace of St John's Church.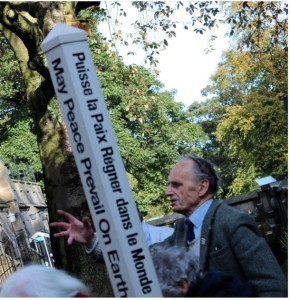 Join us in celebrating International Day of Peace with a gentle mix of mindful walking, poetry, song, and maybe even dancing, as we visit gardens, statues, and other peace places around the city.
In Partnership with University of Edinburgh chaplaincy.
All invited to this event for people of all faiths and none.
Booking is not required but it is encouraged!  Contact the P&J for more info or to let us know you are coming.
Living non-violently towards the earth
Sun 1 October. 1 – 5pm.
Bridgend Farmhouse.  Creating a Peace Garden / Planting a Peace Pole
Workshops: Solutions to how to live non-violently toward the earth,
Choices to live in line with nature.
Booking encouraged. Contact the P&J for more info, details on workshops, to help plan the garden and to book a place.
Festival of Nonviolence Celebration Ceilidh.
Date AND Venue to be confirmed.
With Greater Spotted Ceilidh Band!
Spoken Word, Storytelling, Licensed Bar. Food. Raffle
And some Cooperative Games!
In support of the Festival of Nonviolence
and the P&J Cooperative Games Programme for Schools
Tickets £8 / £6 from the P&J, New Leaf Coop, and on EventBrite.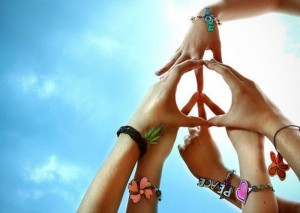 More Festival of Nonviolence Events coming in October – December.
Check our website and Facebook for details.
Contact the P&J for more info or to book places on any of the events.
Volunteers Needed: Contact our Coordinator Brian Larkin by emailing coordinator[at]peaceandjustice.org.uk for more information or to help.
Social Media Staff: Work closely with P&J to develop and implement a programme of posting events and other material about our activities on FB and Twitter.
Video Producer: We urgently need a volunteer or intern to produce occasional videos to promote our events and feature our programmes.
Posting Flyers: Occasionally, a couple of hours per month.  Cleaning 1 hour per week.
Ceilidh Volunteers needed 14 October from 4pm – 1am or part of that time to set up, serve food, take tickets at door, wash dishes. Free admission to the ceilidh for those who give 4 hours.