Activists Take Action Against EU Subsidizing Arms Trade
I Stop the Arms Trade is a new website and an excellent resource for anti Arms Trade campaigners. European weapons pop up in conflicts around the globe. While Europe pleads for peace and civilization, weapons in the Middle-East change hands. Our arms export legislation is full of holes. I stop the arms trade.eu maps the arms trade, lifts arms dealers out of anonymity and takes action in places where we can stop the arms trade. http://www.istopthearmstrade.eu/en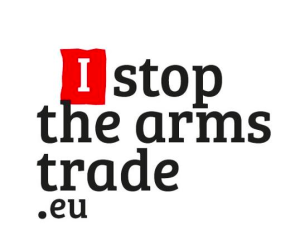 The EU has recently started subsidising the arms industry with a military research programme. The first funding will amount to 90 million euro, but this is only a preparatory programme. The European Commission's long-term objective is to set up a fully-fledged European Defence Research Programme worth EUR 3.5 billion over 2021-2027. On 27 March a group of twenty peace activists took action at the European Defence Agency (EDA) in Brussels, to protest an EU workshop aimed at informing arms dealers about the financial support that Europe has to offer them. The peace activists covered themselves with red blood-like paint, preventing access to the EDA. "While the Middle-East is burning, arms dealers are filling their pockets with our tax money," says one of the activists. "The EU is funding an industry which has blood on its hands".  "It's outrageous that an industry which turns war into profit, and has an annual turnover of 100 billion euros gets EU subsidies", says Bram Vranken, spokesperson of the Belgian peace organisation Vredesactie.
Fascist flop in Edinburgh – Broad and united Response Humiliates 'White Pride' farce
Around 400 anti-fascists saw off a tiny group of just 29 fascists in Edinburgh on Saturday 25th of March. Anti-fascists reported sieg-heiling by Nazis behind police lines. None of the fascists were local and they were soon bussed out of the city behind scores of police lines. The low turnout shows the weakness of the fascist movement in Scotland and in the rest of Britain.
UAF spokesperson, Margaret Woods said: 'There is no place in our society for fascists and we oppose any attempts they make to assemble or march. They will not be allowed to spread their vile racism and division in our community."  ​Tasneem Ali of Muslim Women's Association of Edinburgh, said: "Muslim Women's Association of Edinburgh are very saddened by the hate that led to the horrific murders in Westminster earlier this week. Our thoughts and prayers are with those trying to rebuild their lives after the incident. We oppose all hatred that leads to dividing society. Hatred and misinformation about refugees and migrants that the NF spread. We stand with Unite Against Fascism to oppose this hatred."  Speakers at the demonstration included: Tommy Sheppard, SNP MP, Ian Murray, Labour MP, Zareen Taj and Tasneem Ali, Muslim Women's Association of Edinburgh, Richard Haley, Scotland Against Criminalising Communities, Issa Robson, Edinburgh One Day Without Us Campaign,  Alan Bell, Stand up to Racism, Mick Napier, Scottish Palestine Solidarity Campaign, Donny Gluckstein, Unite Against Fascism Scotland.  The demonstration was also supported by Positive Action in Housing, EIS Union, Unite the Union Scotland and Dumfries TU.
UK revokes ICJ jurisdiction over its nuclear weapons From Sebastian Brixey-Williams
The UK Government has inhibited the International Court of Justice (ICJ) from ruling on cases about nuclear weapons or nuclear disarmament, including if it uses Trident against another country. The move is designed to prevent the Marshall Islands, which was the site of 67 US atomic tests, as well as other non-nuclear weapon states, from bringing fresh cases against the UK for alleged failure to negotiate on nuclear disarmament. Last year, the ICJ – the United Nations court designed to resolve disputes between states – rejected proceedings by the Marshall Islands against the UK, India and Pakistan on the grounds that there existed no 'dispute' between the parties. However, as the judges only voted this way by a narrow margin, another attempt was expected. The change will prevent any case being brought against the UK in the ICJ regarding nuclear weapons and disarmament. This would include if the UK fires its nuclear weapons, in particular against a state without them.
The UK Government's decision would appear to cut off any possibility of the Marshall Islands bringing another case.  Until now, the UK was the only Nuclear Non-proliferation Treaty (1968) signatory nuclear weapon state (UK, US, France, Russia and China) to have voluntarily accepted ICJ compulsory jurisdiction on these matters.  However, by announcing that the ICJ will not have jurisdiction, unless proceedings involve all five nuclear weapons states, the UK will be effectively shielded from any legal cases being permissible, as it is highly unlikely that the other NPT states will reverse their positions.
More crucially, however, it begs the question of what right the UK would have to tell other states to subscribe and adhere to international law and standards around nuclear weapons and nuclear disarmament, if it won't do so itself. What incentives, for example, do states like North Korea or Israel have to join the legal global governance regimes, which we rely on for our security? This Amendment will no doubt be noted by other states, and pointedly used to shame the UK for double standards.The Government's quiet amendment has disappointing implications. The NPT was extended indefinitely in 1995, leaving few remaining mechanisms for accountability to ensure that states follow through and disarm within a reasonable time frame. This move will give the non-nuclear weapon states far less leverage to ensure that the UK is following in good faith its legal obligations to disarm. And the move will be disappointing for those states that continue to feel the effects of British nuclear testing, such as Australia and Kiribati, for which the Marshall Islands case was a test case.
Activists charged with removing a sword from a cross at a war memorial        After two Catholic Workers removed a sword from a cross at a war memorial in Toowong Cemetery in Brisbane they have been branded "religious fanatic" and the action compared to the desecration of religious monuments by ISIS. One of the activists Jim Dowling said he was inspired to "beat swords into ploughshares" while at an event commemorating the defeat of conscription during the First World War when he noticed the sword and cross. He said they hoped to "make Christians think about their complicity in war and patriotic events that just lead to more and more wars."
UN Talks for a Treaty to Ban Nuclear Weapons in New York
In late March over 120 UN states started the negotiations to develop a legally binding instrument for the prohibition of nuclear weapons, along the lines of the bans on chemical weapons and landmines. The UK Government decided to use its access to the United Nation, not to enter the discussion, but to join the US ambassador in a press stunt outside the room. The Ambassador of the United States, the only country in the world ever to have used nuclear weapons, called other countries "Bad actors". Despite the desperate efforts of nuclear countries to boycott this process it became clear that there is worldwide support for the treaty as the ambassadors of one country after another spoke at the high-level segment of the conference, scheduled to end on Monday, but continued until Tuesday lunch due to overwhelming interest. States have clearly come prepared to the conference, indicating their determination to negotiate this treaty despite the opposition of the nuclear-armed states. As Ambassador Pennelope Beckles of Trinidad and Tobago said, "We stand on the precipice of history as we seek to shatter the chronic stalemate that has existed in the field of nuclear disarmament and non-proliferation for far too long."
So now the real work begins. This treaty is being negotiated almost exclusively by states that have rejected nuclear weapons for their security and that do not possess or store nuclear weapons. This makes it unfeasible to negotiate a treaty that sets out timeframes and verification measures for nuclear disarmament. Negotiating such provisions now, amongst this set of states, does not get us where we need to go. The power of this treaty lies in its ability to compel nuclear-armed or nuclear-reliant states to change their practices and policies in order to facilitate the elimination of nuclear weapons in the future.
The most fundamental element of the prohibition treaty is perhaps that no state can join the treaty and possess nuclear weapons. The Non-Proliferation Treaty only prohibits the possession of nuclear weapons by non-nuclear-armed states parties. The ban treaty must categorically prohibit the stockpiling of nuclear weapons by all states parties, without discrimination.Ban treaty states parties could agree that a nuclear-armed state that has decided to eliminate its nuclear arsenals could do so by negotiating a protocol or other agreement with the ban treaty states parties, with agreed timeframes and in accordance with agreed verification arrangements. This would allow a voice for ban treaty states parties in the manner in which the elimination takes place.
It seems certain now that a Treaty banning nuclear weapons will be agreed this year. Sadly, and to its shame, Japan was another one of the countries whose representative did not attend the conference. But a large origami crane was spotted in the place where the Japanese Ambassador should have been. Other paper cranes were given to participants to say thank you.
Speaking at the end of the high-level segment, Setsuko Thurlow, a survivor of the atomic bombing of Hiroshima speaking on behalf of the International Campaign to Abolish Nuclear Weapons (ICAN), urged governments to establish a strong legal standard against nuclear weapons that makes it clear "in no uncertain terms that nuclear weapons are illegitimate, immoral and illegal." It would be wise for states to heed her call.
For more see: http://www.reachingcriticalwill.org/disarmament-fora/nuclear-weapon-ban
UK and Scottish Disarmament Campaigners Attend UN Nuclear Weapons Ban Treaty Conference in New York
A delegation of eight campaigners from the UK joined the large civil society contingent at the United Nations in New York for the conference on a nuclear weapons ban treaty, including Dave Webb, Chair of CND, Janet Fenton, Vice Chair of Scottish CND, representing SCND and Scottish WILPF,  Tim Wallis representing Quakers worldwide, Michael Orgel represented Medact Scotland, Melanie Scott represented Campaign Against the Arms Trade.
 Anti-Nuclear Town Criers in London Announce the Absence of UK at Ban Treaty Talks
A group of town criers has appeared in central London to proclaim the good news that negotiations are taking place at the United Nations towards a global ban on nuclear weapons. Their aim is to encourage the UK Government to join in with these negotiations.
To coincide with the first days of these negotiations, five town criers announced the news at various locations. They gave out leaflets, encouraging people to write the their MPs to ask for the UK to join the negotiations.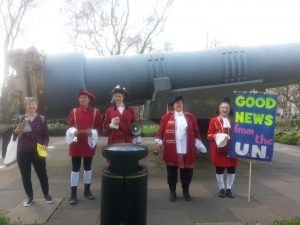 They began outside the BBC who has ignored the UN Ban treaty until they published a small biased report yesterday about the shameful press statement by the UN Ambassador outside the negotiations. They didn't report that the UK & France Ambassadors joined him and that the UK's seat in the room is laying woefully empty!
In November, a majority of member states at the General Assembly's First Committee voted to proceed with negotiations towards an outright ban on the development, production, stockpiling and use of nuclear weapons. This would give nuclear weapons the same status in international law as biological and chemical weapons, which are banned by existing conventions.
The UK Government's policy is to support multi-lateral nuclear disarmament. In spite of this, it voted against the negotiations, and has vowed that it will not take part.
Sylvia Boyes, one of the town criers, said: 'A comprehensive ban on nuclear weapons would be a major step towards the multi-lateral disarmament that the UK Government has called for. It is in everyone's interests for the UK to be fully represented at the table.'
The TP Town Criers continued to spread the good news around London by visiting the Imperial War
Trump Wants More Nuclear Weapons
President Donald Trump has expressed concern that the United States has "fallen behind" in its nuclear weapons capacity and that he would like to restore its supremacy. In an interview with Reuters Trump said he would prefer a world free of nuclear weapons but otherwise the United States should be "at the top of the pack." "I am the first one that would like to see … nobody have nukes, but we're never going to fall behind any country… on nuclear power," he told Reuters.  "If countries are going to have nukes, we're going to be at the top of the pack."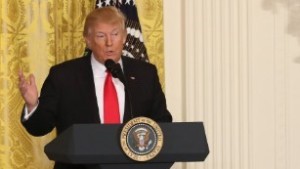 But It's not just Trump: Pentagon Urges Trump to Expand Role of Nuclear Weapons
A blue-ribbon Pentagon panel has urged the Trump administration to make the U.S. arsenal more capable of "limited" atomic war. The Defense Science Board, in an unpublished December report urges the president to consider altering existing and planned U.S. armaments to achieve a greater number of lower-yield weapons that could provide a "tailored nuclear option for limited use." These less explosive nuclear weapons, which pack only a fraction of the punch of the bombs America dropped on Japan in 1945, can still kill scores of thousands of people and lead to lasting environmental damage. Expanding the inventory of lower-yield warheads — and the means for delivering them — could make atomic war more thinkable and could trigger a cycle of response from adversaries, possibly making nuclear conflict more likely.  In the next several years the US will spend up to $1 trillion to update the U.S. nuclear arsenal. That update, as now planned, mostly involves building new versions of the same submarines, bombers, missiles, bombs and warheads.
In a seeming contradiction some of these upgrades involve increasing the explosive force of existing warheads, including that used on the UK Trident D5 missiles. This upgrade, brought in under the guise of modernisation replaces the warhead fuse on the Trident missile enabling precise control of the altitude of detonation of the warhead. Doing so increases the destructive force of the warhead over hardened Russian missile silos insuring near 100% certainty of destruction of targeted ICBMs. This upgrade effectively makes the warhead a new weapon. Its deployment, in conjunction with the Aegis missile defense system now being deployed in Poland and the Czech Republic will allow the US (and UK) to launch a First Strike. Doing this will raise questions in the minds of Russian military planners and greatly increase the possibility of conflicts escalating to the use of nuclear weapons.  For the full story on this see Hans Kristensen's article How US nuclear force modernization is undermining strategic stability: The burst-height compensating super-fuse in The Bulletin of the Atomic Scientists at: http://thebulletin.org/how-us-nuclear-force-modernization-undermining-strategic-stability-burst-height-compensating-super10578 Support for the modernization effort is bipartisan. See more at: http://www.rollcall.com/news/policy/pentagon-panel-urges-trump-team-expand-nuclear-options#sthash.JmsYMkub.dpuf
A New campaign briefing from Drone Campaign Network calls for renewed push to challenge the growing use of armed drones.  Over the past fifteen years unmanned aerial vehicles, commonly known as drones, have become a key component of Western military power, with US, British and Israeli forces launching thousands of drone strikes across Asia, the Middle East and Africa. Drones have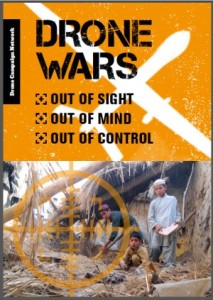 become one of the most used weapons in conventional wars. Drone Wars' new briefing 'Drone Wars:  Out of sight, Out of mind, Out of control' highlights some of the key issues surrounding the growing use of armed drones. It examines the arguments around civilian casualties, how drones have enabled a rapid expansion of targeted killing and how drones are lowering the threshold for use of armed force. Pick up a copy from the Peace and Justice Centre or Download the Briefing at: https://dronecampaignnetwork.wordpress.com/drone-wars-out-of-control/
UN to investigate Myanmar for Rohingya Human Rights Abuses
The top United Nations human rights body agreed on Friday to send an international fact-finding mission to investigate widespread allegations of killings, rape and torture by security forces against Rohingya Muslims in Myanmar's Rakhine state. But Myanmar ambassador Htin Lynn rejected the move as "not acceptable". Myanmar's national commission had just interviewed alleged victims who fled to Bangladesh and would issue its findings by August, he said.
The U.N. Human Rights Council adopted a resolution without a vote, brought by the European Union and supported by countries including the United States that called for "ensuring full accountability for perpetrators and justice for victims". A U.N. report issued last month, based on interviews with 220 Rohingya among 75,000 who have fled to Bangladesh since October, said that Myanmar's security forces have committed mass killings and gang rapes of Rohingya in a campaign that "very likely" amounts to crimes against humanity and possibly ethnic cleansing.
UN Urges Climate Deal Compliance
Climate change is threatening peace and development around the globe and countries must uphold their commitments to the Paris Agreement on climate change, said United Nations Secretary-General Antonio Guterres. The UN World Meteorological Organization has confirmed that on the current track, global temperatures will increase 3 to 4 degrees Celsius. Guterres said:  "We are dealing with facts, not politics".
Civilians trapped in Mosul
As we go to print in late March an estimated 400,000 Iraqis are trapped in the Islamic State-controlled Old City of west Mosul, facing food shortages and growing panic under shelling that could provoke a mass exodus, the United Nations refugee agency UNHCR said on Thursday.
Many civilians fear fleeing because of Islamic State snipers and landmines, however 157,000 have reached a reception and transit centre since the Iraqi government offensive on west Mosul began a month ago, it said. "The worst is yet to come, if I can put it this way. Because 400,000 people trapped in the Old City in that situation of panic and penury may inevitably lead to the cork popping somewhere, sometime, presenting us with a fresh outflow of large-scale proportions," said Bruno Geddo, the U.N. High Commissioner for Refugees (UNHCR) representative in Iraq.
UNHCR camps struggle as flood of Mosul refugees continues
The United Nations High Commissioner for Refugees is building additional camps in Iraq to house the thousands of people fleeing western Mosul as conflicts between military forces and Islamic State militants escalate. The agency recently opened a new camp, which filled up in less than a week, and says 400,000 more people are expected to flee the city.
UNICEF warns 1 in 4 children will face water shortages
One in four children will live in an area facing water shortages by 2040, according to a report released by UNICEF to mark World Water Day. Water stress "will go up in areas of rapid urbanization, and we are already seeing that throughout sub-Saharan Africa and Asia," said Nicholas Rees, one of the report's authors.
IOM: Mediterranean migrant traffic, rescues up from last year
More than 20,000 migrants — mostly from sub-Saharan Africa — have made their way to Europe across the Mediterranean so far this year, which marks a significant increase over last year's traffic, said the United Nations International Organization for Migration. "We are already racing at a pace of arrivals that has exceeded anything we've seen before in the Mediterranean," said IOM spokesman Joel Millman.
UN water expert urges reuse of wastewater
Reused wastewater could be a valuable source of nutrients, energy and minerals, while disposal of untreated wastewater kills 842,000 people annually, says United Nations World Water Assessment Program Director Stefan Uhlenbrook. Cleaning and reusing wastewater could result in major humanitarian, financial and environmental benefits, he says.
UN: Largest humanitarian crisis since WWII looming
Humanitarian agencies need $4.4 billion by July to assist more than 20 million people facing starvation and famine in the world's worst humanitarian crisis since World War II, said United Nations Undersecretary-general for Humanitarian Affairs Stephen O'Brien. Failure to get a significant increase in aid would reverse economic development gains and destroy livelihoods, futures and hope, he said.