Cooperative Games Schools
Over the past term we have run the eight session Cooperative Games programme at two new schools. We have now run the programme at Dalry, Nether Currie, Colinton, and Stockbridge Primary Schools and we will be working at Parsons Green Primary next term. All classes at Dalry have been through the programme except the P1s, with whom we will work with next term.
We've been asked by Stockbridge Primary to do further work with the two class groups we are currently working with, focussing in on conflict prevention and transformation. Cristina Asenjo will provide an additional eight hours of training in this area for our Facilitators in early May. Educators and Youth Workers are invited to join these two four-hour training sessions. There will also be a basic Cooperative Games for Primary Schools Facilitator training in April. For more information or to book a place, contact Brian Larkin at the Peace and Justice Centre.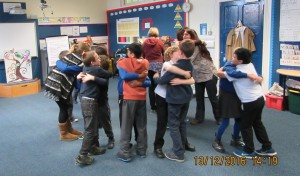 We now have five fully trained Facilitators and two trainees on this programme.
Kate Wilkinson who joined us as a Facilitator last year and has led groups at Colinton, where one third of the children come from military families, and at Nether Currie Primary. Kate will be moving on next term. Toni Dickson and Louise Smith will be working in Dalry and Parsons Green, assisted by trainees Simonetta Mangione and Katie O'Neill. Trainee Facilitator Elena Alvarez, who gave birth to her new baby in late December continues to Mentor facilitators and Fiona Oliver-Larkin has helped out as a Trainer/Advisor this past term.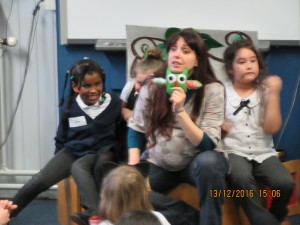 Elena Ramos and Cristina Asenjo ran in-service training sessions for our current Facilitators this past term. And Elena Alvarez completed our Facilitator Handbook with Lesson Plans, Activities, Curriculum, Methodology and Planning and Report & Evaluation forms sections. The handbook is available as a resource to educators and youth workers upon request. Thanks to all the staff and trainees for making the programme a great success.
Legacies of Resistance to the First World War in Scotland
The EP&JC is a partner with Workers Education Association Scotland on the Legacies of Resistance to the First World War Scotland project.                          
We will be providing advice and resources to the project, giving input to the adult learning groups and participating in the Steering Group. Adult Learning Groups are now forming in Edinburgh, Glasgow and Dundee.
The two years Heritage Lottery Funded Project commences in April and seeks to empower learners to explore the stories of First World War's conscientious objectors in Scotland and how they influenced their communities in later years.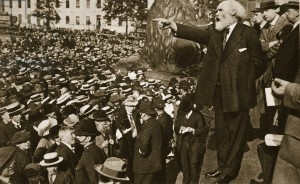 The project will explore questions like: "What compelled people to say no and refuse to fight or take part in the First World War? What did this mean to communities across Scotland?" This project will seek to tell their stories as part of the centenary to help to bring to life the impact of the First World War on communities across Scotland.
There will be a number of 8 week courses with one two hour session per week. For further information contact n.williams@wea.org.uk .
Conscientious Objectors Memorial project
This Project is linked to the CO Memorial project. With support from Edinburgh Sculpture Workshop we are currently seeking funding on behalf of a consortium of groups for a memorial to Conscientious Objectors in Edinburgh's Princes St Gardens. Once major funding is in place we hope to run an artists' competition. We aim to create a website linked to the memorial and we will be seeking funding for a mural created from design ideas of students at St Thomas Aquin's High School. We'll be doing a lot of outreach with updates throughout this exciting process, so watch this space.
140,000 Origami Cranes Project
Following the untimely passing of Cranes project initiator Atsuko Betchaku the Peace and Justice Centre has received hundreds of pounds in donations to continue this work. To that end, volunteer Madeleine Loll is currently doing outreach to Edinburgh, Lothians Libraries and Community Centres and will be extending outreach around Scotland, the UK, and beyond. Frank Thomas and Margaret Ferguson Burns ran a 5 hour cranes workshop at a Japan Society event at the University of Edinburgh last month. Frank hosts the regular Saturday workshops.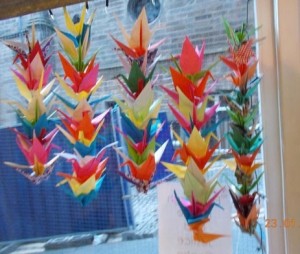 At the Kites not Drones event Margaret ran another 5 hour crane making workshop alongside the kite making workshops. Some people in Japan are already making cranes for the project!
We're inviting individuals and groups to organise workshops in their areas and commit to making 100, 500 or 1000 peace cranes. Resources on how to make a crane are available on our website. If you can help please contact us by emailing origamicranes@peaceandjustice.org.uk .
Hiroshima Survivors Visit Peace & Justice Centre
On 29 March Yamada Reiko, Vice Chair and Yamada Midori of Tokyo Federation of A-Bomb Sufferers visited the Peace and Justice Centre and shared their stories of surviving the bombing of Hiroshima. We told them about our 140,000 Origami Cranes project, and they told us their stories.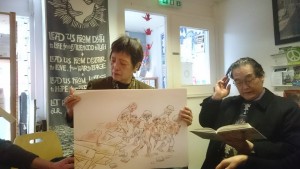 Reiko was herself 11 years of age and in the yard of her school in Hiroshima when the bomb was dropped on 6th of August 1945. Her account of the day and the aftermath of were deeply moving. She told of how every family in her neighbourhood had victims of the bomb. "A good friend of mine was waiting for their mother to return home, when a moving black lump crawled into the house; they first thought it was a big black dog but soon realized it was their mother. She collapsed and died, leaving her 5 children behind…. From the third day dead bodies were brought to the playground of my school. They were cremated one after another. The town was filled with black smoke and the smell of burning bodies…. We planted sweet potato seeds in the schoolyard. On the day of harvest, as we cut the ground, human bones came out with potatoes and we screamed to see them. They were served for lunch but we could not eat them."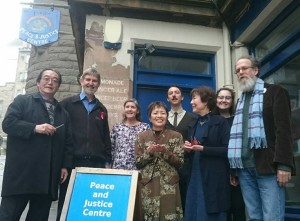 Yamada Midori is a second generation Hibakusha, born in 1949, after the bombing.
She suffered breast cancer at age 34. Her father was mayor of her small town and went everyday for a week to find missing people and was exposed to radiation. She shared with us a copy of her beautiful and sad book telling the story of her brother Jiro-chan who was 13 years old at the time of the bombing. He was in middle school in Hiroshima and on 6 August he and his classmates were mobilized to work on house demolition, making firebreaks on a street very close to ground zero. When the bomb fell he was trapped under the fallen building but crawled out. Just then the debris burst into flames and all his classmates were consumed by the flames and died. After that Jiro-chan did not speak of that day until, after the Fukushima nuclear plant disaster. Before Japan was the victim of the US bomb, this time Japan was responsible. Then, aged 80 he began to speak saying "As one who experience the tragedy I should have informed many people of the atrocity of the atomic bombings. It should be my mission as a survivor…the way to remember and console the souls of my friends who perished." Midori's little gem of a book, made for children, says "He opened his heart and now he talks as if he offers prayers to his deceased friends."
Following their visit to the P&J Centre Midori and Reiko headed down to the Scottish Parliament to meet with First Minister Nicola Sturgeon. The full accounts of these two witnesses to the atomic bombings can be read on the Peace and Justice Centre website.
Countering Military Recruitment of Youth Scotland Group
The Peace and Justice Centre has brought together a new Countering Military Recruitment of Youth Scotland Group which has met three times. The group is organising a public meeting at Augustine United Church Saturday 27 May: (10:30am tea & coffee) Meeting 11am – 1pm.  We will show the Forces Watch and Quaker films Engage and The Unseen March, followed by speakers from Quakers, Forces Watch and Vets for Peace with ample time, for discussion. We're especially keen to attract young people to this event. Please help spread the word if you can.
Yemen Campaign
We're partnering with Campaign Against the Arms Trade in campaigning for an end to the export of arms to Saudi Arabia from Scotland that might be used in the merciless war on Yemen. Join us on 17 April from 8am – 1pm for a Day of Action at the Scottish Parliament. Anyone wanting to hone their creative campaigning skills ahead of the Day of Action is invited to attend the CAAT Creative Campaigning Workshop at the Quaker Meeting House on Sat 15 April. To express interest email Mark Bitel at: eventscaatedin@gmail.com .
We are also working with CAAT to call on the city of Edinburgh Council to divest from all arms manufacturing. Our joint petition gained more than the requisite 400 signatures and we will be presenting the case before the Petitions Committee on 30 March.
Fly Kites Not Drones
We had perfect weather, clear skies and a light wind for the Fly Kites not Drones day by the Meadows Pavilion Cafe. About 300 people came along, including lots of children, to make, decorate and fly kites and listen to the great music, get a massage, make origami cranes, try belly dancing, and enjoy soup and bread to raise funds for the Refugee Community Kitchen. It was a super day. Many thanks to everyone who came along, to Amanda and everyone at the Meadows Pavilion Cafe and to all the volunteers, especially University of Edinburgh Philosophy student and P&J volunteer Lochlann Atack for organising. We could have done with one or two more tables and two or three more volunteers to accommodate all the people wanting build kites.
Fly Kites Not Drones is an annual global day of action to raise awareness of the harms of militarised drones. It was initiated in Afghanistan by the Afghan Youth Peace Volunteers, where young people fly kites every year on the 21st of March to celebrate the Nao Roz, the New Year. Flying Kites at this time of year has become a symbol of resistance to the gross injustice of the mere presence of drones to innocent people. Where once blue skies presented the best conditions for the liberating, joyful activity of kite flying, now they are feared, because they present the best conditions for militarised drones to identify targets.
The annual Fly Kites Not Drones event organised in Edinburgh, by Edinburgh Peace and Justice Centre is now in its third year. The event is one of dozens of similar events taking place across the UK and globally with the aims to show solidarity with innocent people whose lives have been affected by them.