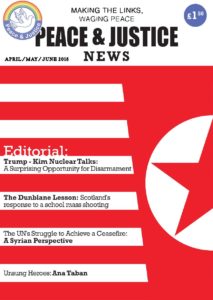 This issue of Peace & Justice News highlights a number of alternate perspectives on all too familiar threats to peace and justice around the world. Read the full pdf here.
Brian Larkin's editorial assesses the unconventional (to put it lightly) approach Donald Trump has embraced as a solution to the US's tensions with North Korea.
Anelise Vaz's feature article responds to the latest shooting in the US by reminding us that it only took one tragic event in Scotland for the UK to implement extremely restrictive measures on gun ownership.
Kristee Boyd's extended feature article is an interview with Zaina Karam, who has lived in Edinburgh for 10 years since leaving her native Syria. In the interview, Zaina shares her perspective on the conflict as a whole, as well as the more recent tragedy in Eastern Ghouta.
Lochlann's Unsung Heroes piece looks at a novel response to South Sudan's long history of violence: a youth led movement that uses art to express messages of reconciliation and change in their country. 
Centre News in this issue includes updates on the Centre's competition for a Memorial to Conscientious Objectors and Opponents of War in Prince's Street Gardens, Cooperative Games & Conflict Resolution Schools Programme, and progress with the Origami Cranes project.
In News From Around the Movements, Zoe Morgan has compiled some fascinating stories. They include good news in the divestment movement to using the Olympic Games as a platform for peace to commemorating Mary Barbour in Glasgow on International Women's Day.
Read the full pdf here.
The Editor