Back in the 80's I encountered the Catholic Worker through a friend I made in jail. We had both joined a blockade of a Cruise missile factory. We shared a cell for 3 months. So when we got out we naturally visited each other. Dean lived at Day House in downtown Detroit in what looked like a war zone. Every other house on the street was burned out. It seems the landlords paid locals to torch houses in order to collect on insurance.  The Workers lived in on a subsistence wage of $5 a week. They opened their home to homeless women while I was paid to run a shelter for the homeless. I felt that they were really living the change they wanted to see.
Over the years I have visited a number of Worker communities. Each is completely autonomous and original. But they all aim to put into practice the gospel vision of caring for the sick and suffering and witnessing against war. Many CW communities are clearly Catholic, but by no means all, nor are all the members within any one community.  A few years ago my partner Jane and I visited Little Flower CW farmhouse in Virginia, the home of Bill and Sue Frankel-Streit. Bill and Sue are married though Bill is a priest. They met at Dorothy Day Catholic Worker in DC and were married while on bail for a disarmament action in which they hammered on a cruise missile armed B-52 bomber in an effort to realize the vision of Isaiah to "beat swords into ploughshares".  Sue is a Jewish feminist anarchist but somehow it all works. Another community member is an African American feminist anarchist from Georgia. They live simply, with composting toilets, a straw bale visitors house, gardening and food taken from supermarket bins. The ramshackle farmhouse was given to them to start the community. Bill and Sue have three children of their own and have  adopted 3 Mexican children, whose mother, an "illegal" immigrant also lives with them.
Viva House is a Catholic Worker soup kitchen in Baltimore, run by Brendan and Willa Walsh for 40 years. It's in the poorest neighbourhood in Baltimore. The windows of all the houses on the street are boarded up with plyboard to protect against stray gunshots, though they are lived in. Brendan told me "If someone on the street demands money just give it to him".  My brother was horrified when I told him I'd cycled in that neighborhood, fearing for my life, though perhaps with good reason. During the weekend I was staying there 13 people were killed on the next block.
Back in England Jane and I visited the London Catholic Worker in Haringey where Martin Newell and Ciaron O'Reilly live. Martin is also a Catholic priest, while Ciaron is a dreadlocked punk. A third community member is an Irish anarchist and a fourth is a PhD student a LSE. They run a shelter in the church for some 25 destitute asylum seekers. Yet another CW community is the London Catholic Worker farm, home of Scott and Maria Albrecht, their two children and 7 women, all destitute asylum seekers. Scott is a living example of "swords into plowshares". An American, he was in the US Air Force based at Lakenheath where he used to load nuclear weapons onto bombers.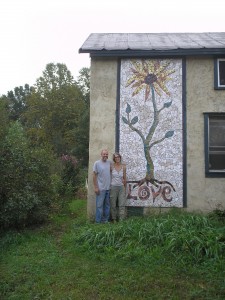 There are over 200 Catholic Worker communities around the world, most in the US, but there are now four in the UK. The first such house was founded by Dorothy Day and friends in New York city in 1933.  They produced a weekly paper that is still sold on the street for a penny, provided hospitality to the homeless, and ran a soup kitchen that fed thousands. The movement is grounded in a firm belief in the God-given dignity of every human  person. All CW communities share a commitment to nonviolence, voluntary poverty, prayer, and hospitality for the homeless, exiled, hungry and forsaken. Catholic Workers continue to protest injustice, war, and violence of all forms . They are pacifist and maintained that stance through the Second World War. Protesting the Vietnam war many of their members burned draft files, facing
long prison sentences, and later poured blood and hammered on nuclear weapons to, symbolically at least, enact the vision of Isaiah to "beat swords into plowshares".
For me these folks, living in poverty, welcoming the stranger and witnessing against war are unsung heroes who are becoming the change they want to see in the world.
Brian Larkin