From Peace in Ourselves to Peace in the World
In this issue we focus on Being the Change We Want to See. This quote has been attributed to Gandhi (though it's not precisely what he said).  He meant, of course, that, if we want to change the world we must first change ourselves. But he also meant that when we change ourselves we change the world. The idea of inner peace as the basis of world peace is found in all religions and among many non-religious activists.  In the Upanishads we find the prayer, "Lead me from hate to love, from war to peace.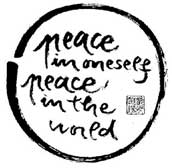 Let peace fill our heart, our world, our universe. In Christianity there is the Prayer of St Francis. Zen Master and engaged Buddhist Thich Nhat Hahn teaches followers to practice Being Peace.
Most of us at the PJC are grounded in some form of spirituality. But our focus is on active nonviolence. As we look around at the plethora of spiritual practices for creating peace from within many focus primarily on the inner or personal aspect of transformation. Yet there are many people and organisations that work to move beyond inner transformation, to overturn structures of domination and oppression and create new, sustainable, structures for a more just social order. In this issue we look at a few of these movements and organisations.
Some, like the Catholic Worker Communities that Brian Larkin has visited and feature as Unsung Heroes and  Jubilee Scotland whose campaigns worker Alys Mumford explains aim to eliminate third world debt, are faith based. Others are not.
In Fair Trade Matters Lisa Jones, a former retail assistant at the One World Shop highlights the achievements and problems facing the Fair Trade movement in Scotland. Will Roper of the New Leaf Coop, in Marchmont, which is run on a non-hierarchical model, tells of the advantages and difficulties of creating a workers collective wholefood shop, while promoting a more sustainable ways of eating.
In keeping with the theme we reprint an excerpted review of the new book Doing Time for Peace: Resistance, Family, and Community by Rosalie Riegle. This work of oral history brings together the stories of many resisters who, symbolically at least, have begun to fulfil the vision of the Prophet Isaiah by beating swords (in this case nuclear weapons) into Ploughshares. Finally in a Reflection on the Drones Quilt Jane Tallents concludes that we must not only cultivate beauty and inner peace but we must also take political action.
Brian Larkin