DRONES QUILT EXHIBITION
A TRIBUTE to the VICTIMS of DRONES
Throughout the Festival the Peace and Justice Centre had a stall on the Terrace of St John's. We collected signatures on a petition calling on the UK to scrap trident, sold lots of T-shirts and badges, and exhibited the  beautiful 40 foot long DronesQuilt.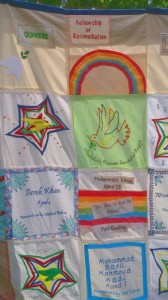 The Drones Quilt is a really simple project designed to raise awareness about drones and remind the government that those killed by drones are human beings, whose lives are sacred. Each square of the quilt was made by someone like you, who wrote their name and then the name of a victim on a square of fabric. By doing so they advocated for that person, putting their names together as a sign that they stand in solidarity with them. The squares were then sewn together to create a visual petition which will be taken to Parliament next year to advocate on behalf of those killed needlessly.
Drones are remotely piloted aircraft that are being used to launch attacks in Pakistan, Afghanistan, Yemen and Somalia. But they are operated by "pilots" from bases in the United States and now in England. They reduce human beings to dots on a screen, tiny blobs of light in the control room of an air base. Many of those killed in drone attacks are civilians including many children. The quilt restores humanity to those killed and reminds us that every victim of a drone was a real person with loves, desires, and a life. Since June 2013 UK drones have been piloted from Waddington Air Base in Lincolnshire launching rocket attacks which often kill civilians.
Organised by Edinburgh Peace and Justice Centre with CND, Stop the War, CAAT, Scottish WILPF.
The Drones Quilt is a project of the Fellowship of Reconciliation (FoR). To learn more about Drones visit http://dronewars.net/