Welcome to the October Issue of Peace and Justice News, where we feature a number of writers inspired by last month's issue 'Be the Change'. This month we take for our theme 'A Culture of Peace'. Many of our readers have been involved in the Peace movement for many years and are well used to anti-war demonstrations, and are well versed in the arguments against nuclear weapons, but in this issue we demonstrate that a culture of peace is about far more than the absence of war. Indeed, the absence of war is merely the starting point.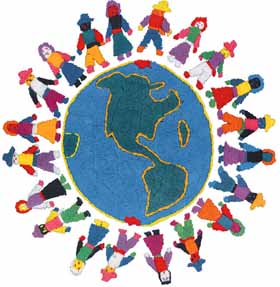 Thus in this issue, in addition to our regular features, Centre News,  News from Around the Movements and Unsung Heroes, we also hear from writers making their own contribution to a culture of peace. Jeroen van Herk writes about the dismal nature of much care for the elderly, Jake Lawy and Isabelle Wolf introduce us to non-violent communication, a means of practicing non violence in our everyday lives, and Martin Mansell writes about the Alternatives to Violence Project now expanding across Scotland.
We also feature a review of David Gee's Holding Faith which many readers will find interesting and a Reflection by our Coordinator Brian Larkin on Gandhi and the necessity of nonviolent civil resistance in our struggles for justice and peace, an account by our coordinator Brian Larkin about his induction into the peace movement, and Anne Scott explains why we should all be wearing a white poppy this November.
Next month we look at the theme of Remembrance and War.  Any readers who wish to contribute please email submissions and ideas to news@peaceandjustice.org.uk , whether this be their own remembrances or comments on the upcoming remembrance celebrations.