With the devastation of Typhoon Haiyan and subsequent COP19 talks in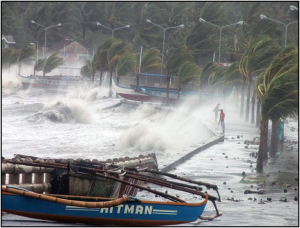 Warsaw it is timely that in this edition of Peace and Justice News we feature several articles on Climate Change and related sustainability issues. Hannah Walters' Editorial makes the case that human induced Climate change impacts the poorest communities most. Jane Tallents makes a plea for joined up action and takes us from the Philippines, through Warsaw to Scotland and Cauldhall Open Cast. Sophie Bastable of Biofuelswatchexplains the cost of UK biofuel expansion on US forests. Our newest contributor Niko Gori looks at the cost to the planet of industrial meat production and makes the case for reduced meat consumption as a vital piece of carbon emission reductions.
With Human Rights Day in December it is fitting that Jeroen van Herk reviews a new Report which implicates medical professionals in torture at Guantanamo and Pat Bryden reviews "Gaza: When the Sky Rained White Fire", which lets us hear the voices of Palestinian victims of that terrible attack. And in his Reflection Brian Larkin argues that the idea of "Just War" is outmoded.
Readers can catch up on our activity in Centre News and on a variety of campaigns in News from Around the Movements. And remember to look for actions you can take in our Take Action section. Finally, included with this issue is our annual Appeal for financial support. Please don't put it aside. Please review the activities of the Centre outlined there and consider supporting the work of the Centre.