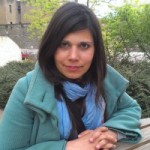 Maya Evans has travelled to Afghanistan six times in the past several years, leading several small delegations of peace activitsts on trips there to  to stand in solidarity with Afghan peace activists, and be eyewitnesses to the ongoing conflicts. There she has lived and worked closely with the Afghan Peace Volunteers.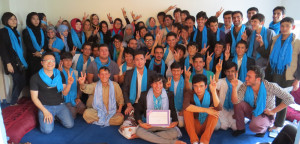 The core group of Afghan Peace Volunteers formed a small, intentional, multiethnic live-in community in Kabul. They wish to be a working example of a group of youth who are building alternative lifestyles and ways of relating which counter the socio-economic, environmental and military violence in Afghanistan and the world.
Their long term mission of non-violence includes Borderfree and #Enough!, which represent the collective wish of the human family to relate and work with one another non-violently and in solidarity under the same blue sky, organizing ourselves as 99% free of borders, so as to take care of our earth, build socio-economic equality for all, and abolish war.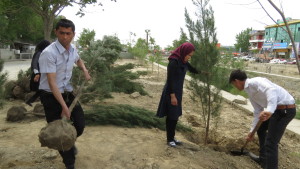 APV projects include:
Building a green, equal and nonviolent world without war: A green world
Planting trees and developing green spaces ( gardens and parks ) in Afghanistan. The Afghan Peace Volunteers had helped develop Bamiyan Peace Park. Since 2014, they have been developing Kabul Peace Garden.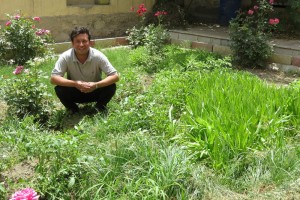 Use and promotion of non-fossil fuels and renewable energy. The Afghan Peace Volunteers have installed solar power at the Centre, and hope to be fully reliant on solar power for all of the Centre's needs in 2017.
Permaculture Learning and practice: a small permaculture community vegetable garden has been started in Kabul, under the guidance of pioneer Australian permaculturalist, Rosemary Morrow. Rosemary held a permaculture workshop in Kabul in Feb 2016, and the Afghan Peace Volunteers worked on a Permaculture Demonstration  Plot in Kabul in 2016. In 2017, they hope to continue practicing permaculture by establishing a Permaculture Vegetable Garden.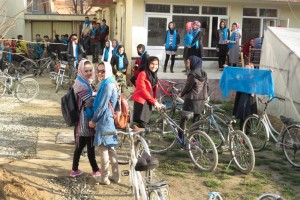 In 2016, the 'Borderfree Cycling Club' was established to encourage Afghan boys and girls to use the bicycle instead of motorcycles and cars.
An equal world
Borderfree Afghan Street Kids School – 93 Afghan Street Kids attended the school in 2015. 14 volunteer teachers teach the street kids Dari and Math literacy, nonviolence, creativity and tailoring.
The Winter duvet project employs women from Kabul to make duvets which are then donated to people living in the refugee camp in Kabul. The opportunity enables women who otherwise would not be able to get out of the home to do so and providing them with some degree of financial independence.
The Food Bank was established in 2016. The Food Bank receives and stores donated food items from Afghan shopkeepers, business persons and charitable groups, to be distributed to needy families, starting with the families of the 100 Afghan street kids at the Borderfree Afghan Street Kids School.
Please JOIN and SHARE the Facebook event to help spread the word about Maya's visit and register on our Eventbrite event. Here is the Flyer.