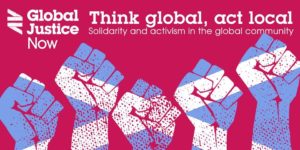 Join us in Edinburgh for this year's Scottish activist gathering!
Whether you've been campaigning with Global Justice Now for years or you're only just finding out about us, this is a great opportunity to meet other members and activists from around Scotland, learn more about our campaigns, and find inspiration to make a difference in the world.
This year, we'll be looking at the ways in which we can take an active role in the global community, and how we can act locally to make a fairer world for everyone.
Sarah Glynn of Scottish Solidarity With Kurdistan will be speaking on the importance of global solidarity in creating radical change, and Ecuadorian activist Letty Farjado Vera will be joining us to talk about the grassroots movement to hold Chevron to account for its ecological destruction and how 'corporate courts' in an international trade deal have handed the oil giant unprecedented powers.
Once that's got you fired up, join us for a range of campaign workshops:
Folks from our local Global Justice Glasgow group will discuss how they've built an effective local migrant rights campaign
Our head of Scottish campaigns Liz Murray will help you get to grips with our new campaign against corporate courts
And Caroline Rance of Friends of the Earth Scotland will fill you in on the case for radical climate action in Scotland.
Through our speakers and workshops, we will discuss the value of international solidarity, explore the need for our campaigns, plan how to take action locally together, and learn from each other throughout the