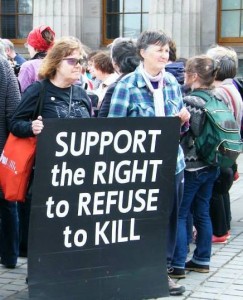 Prof Toby Kelly
(Head of Anthropology Edinburgh University).
Dr Lesley Orr 
(New College, Edinburgh University).
7- 9:00pm. St John's Church Hall.
Lothian Rd. Edinburgh.
Toby Kelly is currently investigating the role of conscience in modern liberal politics and the spaces that are available for non-violence in the midst of war. Lesley Orr, a member of the Iona Community, has recently joined the faculty of the School of Divinity at New College, University of Edinburgh.
This discussion will move from consideration of the history of conscientious objection in the First World War to examine broader issues surrounding the refusal to participate in wars up to the present day.
The talk will follow our short AGM.