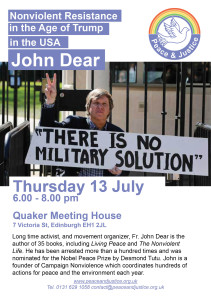 6pm. Informal gathering with light meal at the Peace and Justice Centre – an opportunity for networking and fellowship.
6:45pm John Dear's talk at the Quaker Meeting House, 7 Victoria Terrace.
8:30pm. P&J AGM.
Long time activist, and movement organizer Fr. John Dear  will be the guest speaker for the Peace & Justice Centre's AGM on Thursday 13 July.
John Dear is the author of 35 books, including "Living Peace," and "The Nonviolent Life." He has been arrested more than 75 times. John was nominated for the Nobel Peace Prize by Desmond Tutu and is Outreach Coordinator of Campaign Nonviolence which coordinates hundreds of actions for peace and the environment each year.
A Catholic priest, he has served as the director of the Fellowship of Reconciliation, the largest interfaith peace organization in the United States, and after September 11, 2001, as one of the Red Cross coordinators of chaplains at the Family Assistance Center in New York City, and counseled thousands of relatives and rescue workers. He has worked in homeless shelters and soup kitchens, traveled in warzones and been arrested over 75 times in acts of civil disobedience against war, including for a disarmament action – known as a Plowshares action in which he hammered upon an F-15E nuclear capable fighter bomber to fulfill Isaiah's prophecy "they shall beat their swords into plowshares and study war no more." John served nine months in prison with the renowned disarmament activist Philip Berrigan for that action and was a very close friend of Jesuit Father Daniel Berrigan.
John was a Jesuit priest for decades but was dismissed from the order for, according to the order, being "obstinately disobedient".
In 2016 John took part in a Vatican conference called "Nonviolence and Just Peace: Contributing to the Catholic Understanding of and Commitment to Nonviolence". The participants called on Pope Francis to consider writing a "major teaching document," reorienting the church's teachings on violence. This led to the MESSAGE OF POPE FRANCIS for the 50th World Day of Peace 1 January 2017: Nonviolence: a Style of Politics for Peace which recognises that active non-violence is is a way of life and a spirituality.  It was an important step in the direction of non-violence as a message for the Catholic community worldwide.
Please Join and Share our Facebook event to help spread the word, and here is the Flyer.
John will be co-leading a Reclaiming Gospel Nonviolence Conference 14—16 July 2017 at St. Mary's Monastery, Kinnoull, Perth, PH2 7BP. For more info on the conference see HERE.