The Peace and Justice Centre is developing a Nonviolence Education Programme for schools and communities. Workshops will be for adults and children. We hope to run a pilot of our education module by the end of this school year and run modules in schools in 2014 -15. 
Cooperative Games Workshop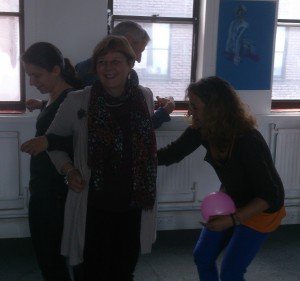 As part of our Nonviolence Education Programme the Peace and Justice Centre ran a Cooperative Games Workshop on 25 May 2014 at the Art's Complex, Edinburgh. The workshop was open to all and an initial training for facilitators for our Nonviolence Education Programme. It was led by Maria Elena Ramos and attended by six participants.
The workshop began with Games for introducing ourselves, getting to know each other and building our self-esteem and respect for others. These included:
MY NAME IS… AND I LIKE…
THE SUN SHINES ON EVERYONE WHO…
THE FRUIT BOWL

YOU SCRATCH MY BACK, I'LL SCRATCH YOURS
CIRCLE OF COMMUNICATION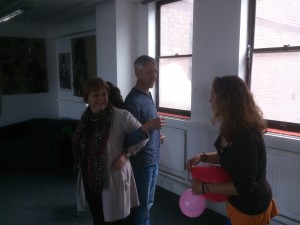 We then playd a series of Teamwork games, games to give us energy, and games which involved physical contact
TEAM SEATS
CROSSING THE RIVER

KEEP THE BISCUIT ON YOUR HEAD
FLY THE NEST
LAY AN EGG
ELEPHANTS AND PALM TREES
KNOTS- COCOA TREES AND PALM TREES
IN A BALLROOM IN FRANCE
MANI AVANTI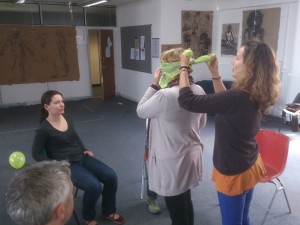 After a shared lunch we learned games for building confidence, games for calming ourselves down and learning about conflict.
THE CAKE
I'M LOOKING FOR A PARTNER
BIRDSONG
THE NET
SHÉE, KEÍ (CHAN-PIN)
THE BLIND MAN
ANTS
THE BLIND INDIAN
UNWRAP THE SWEET
ARAN SAN SEN
Before fininshing we played Games to say goodbye, to recap what we have learned and to analyse what we had done.
SELF ESTEEM ACORDEON.
THIS IS A KISS
GIVE ME YOUR RIGHT HAND, GIVE ME YOUR LEFT HAND
General running of the workshop
The workshop was carried out without any problems. We started on time with four people and the facilitator, and two other participants joined us in the first half hour. Everybody enjoyed and actively participated in every game.
The place and the times fitted well with the outcomes of the workshop. Possible areas for improvement include having deeper conversations and to talk in a way that clearly highlights the link between cooperative games and non-violence. People should be made more aware of this. In the workshop, we explained that the objective was to learn and to play rather than talk. Although it was important to discuss what we had done after each game, if we had talked, then we would have played fewer games.  I believe that, for a first go, the workshop was a success. It was also a good start and helped us to look toward developing similar activities.
Future prospects
 Several future prospects for the non-violence education programme were mentioned. Some of the people who attended the workshop were interested in doing other activities and workshops and may be interested in joining us in the non-violence education project. The next step is going to be to organise some games with children in the Pavilion Café at The Meadows Festival. Fiona, Ana and Elena will be in running this.
We are also going to create a mailing list group which will allow us to keep in touch. Kasia, Fiona and Norma are interested in joining the project but we would need to see about times and commitments.
The games and material prepared for the Workshop by Dominique Mason and Elena Ramos will be on the Peace and Justice website for everyone who wants to have access to the programme  and the games.
Participants  feedback
At the end of the workshop, participants were asked to give feedback about how they found the organization and workshop management, activities and games. They were also asked about the facilitator and how the workshop was carried out. They wrote:
About Organization and workshop management
Day ran smoothly, good transitions.
Good balance of structure and flexibility.
No issues with it, seemed very smooth.
Good development, really good fun, learned a lot.
Fun, playful, nice choice of activities with good timing.
Games and activities
 Chiken game, Italian.
Good variety, good to sit, then move out
Ants in the arm, chiken
Liked the variety.
Vocal, psysical.
Particulary enjoyed the web/strong on the singing ones.
Great variety.
Will use a lot of these now in the classroom. Thank you.
Palm trees and elephants became a bit boring after repetition.
Perhaps more discussion on some of the problems and how to overcome them would have been useful.
Facilitator and how the workshop was carried out
Very clear, simple, confident instruction.
Felt very safe, you exuded confidence, professionalism.
Very professional, good balance between games, speak [sic] and breaks.
You made me feel safe and comfortable from the start.
Great fun, relaxed, get always professional.
The laughing really put us all at ease. I felt very confortable.
Easy and open, enjoyed the easiness you created.
The laughter so therapeutic.