First World War & Conscientious Objection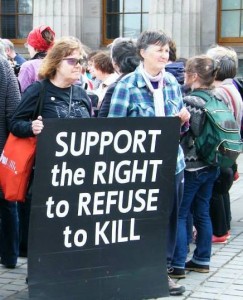 We initiated and lead the ongoing campaign for a Conscientious Objectors' Memorial in Edinburgh and we organise the local  International Conscientious Objectors' Day Vigils annually in Edinburgh on 15 May. We are on track to create a permanent memorial to Conscientious Objectors in Princes Street Gardens by March 2016, the centenary of the passage of the Military Service Act of 1916 that brought in conscription. We organised the World is my Country exhibition of Emily Johns' posters which tell the stories of people who opposed the war at the Storyteling Centre in February & March 2016.
White Poppies and Remembrance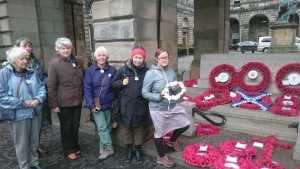 We organised vigils and the laying of a White Poppy wreath on Remembrance Day annually, to remember all victims of war, including civilians and challenge the glorification of war within mainstream remembrance of the First World War. We organised the distribution of hundreds of White Poppies in the Edinburgh area.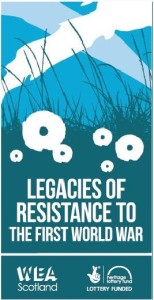 As part of our alternative remembrance of the First World War we created and produced Divergent Voices of the First World War at the Scottish Storytelling Centre and the International Storytelling Festival. This multi media production starred Gerda Stevenson and Crawford Logan and featured voices of people who opposed the war.
Legacies of Resistance to the First World War: Adult Education Classes in  
Edinburgh, Glasgow and Dundee
The two years Heritage Lottery Funded Project, in partnership with WEA Scotland, seeks to empower learners to explore the stories of the First World War's conscientious objectors in Scotland and how they influenced their communities in later years.
For further information or to register contact Kerrie Hutchison: k.hutchison@wea.org.uk or 01383 510774.
Cooperative Games & Conflict Resolution Skills for Primary Schools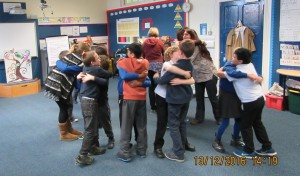 Our innovative, tried and tested Cooperative Games and Conflict Resolution Programme for Primary Schools is available for schools at no cost . We can offer the programme to run for 8 weeks per term with two or possibly four class groups.
Our team of skilled facilitators developed and delivered this programme in 8 week sessions to class groups ranging from P1 up through P7 at five primary schools in Edinburgh in  2015-16 and 2016 -2017 school years.
Read more about the Programme and get information on how to get involved here.
Countering Militarism
We;re working with the Edinburgh Campaign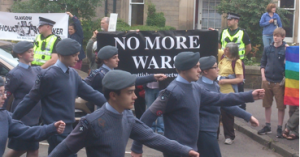 Against the Arms Trade to campaign for the City of Edinburgh and Lothians Pension Fund to divest from the arms trade and to call for an end to arms exports from Scotland to countries like Saudi Arabia that is bombing Yemen, killing thousands of civilians and causing a massive humanitarian crisis with 20 million people in severe crisis. 
We have brought together a network of individuals and organisations from across Scotland to challenge the Militarization of Children and Young People.  We produced a briefing on this issue, hosted a talk in the Just Festival and we're organising a public screening and discussion of the films Engage and The Unseen March to raise awareness of this issue.
As part of the Scottish Peace Network we have organised vigils and a presence at Armed Forces Day parades annually for several years with the message that War Is Not Family Entertainment.
Support for Refugees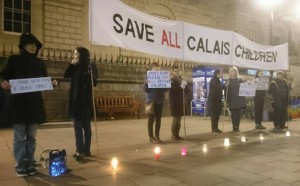 We are calling on the UK to take its fair share of refugees, increase humanitarian aid to refugees, especially around Syria, and not to resort to military solutions to the conflict in Syria. We organised the Light Against Darkness exhibition of the artwork of Syrian refugee children at the City of Edinburgh Methodist Church and raised over £1600 in support of the work with the children in Lebanon.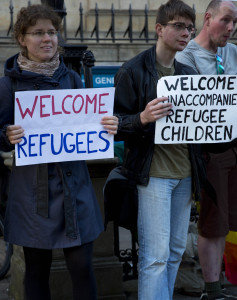 We have collected winter clothing for Syrian refugees in Lebanon in cooperation with East Lothian Aid to Refugees. At the height of the crisis in Calais we published a briefing on Addressing the Needs of Unaccompanied Asylum Seeking Children in Scotland, organised a SAVE ALL CALAIS CHILDREN vigil and a symposium at the University of Edinburgh with 6 speakers from a variety of organisations working on this issue.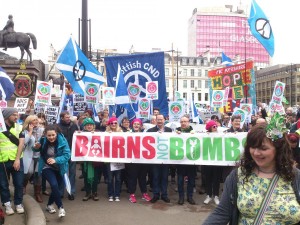 Campaigning for Nuclear Disarmament
The Centre has long campaigned for nuclear disarmament. We play a key role in facilitating the Scrap Trident Coalition which organised demonstrations in Glasgow and blockades of Faslane where the UK's Trident nuclear weapons are based in 2013 and 2015. We are affiliated to the International Campaign to Abolish Nuclear Weapons (ICAN) calling for a global ban on nuclear weapons.
140,000 Origami Cranes Project: Remembering Hiroshima; Building a Culture of Peace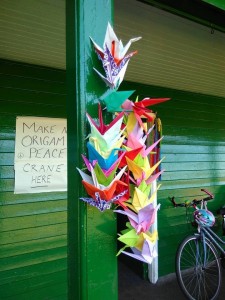 Workshops most Saturdays at the Peace and Justice Centre and at Community Centres and Libraries in Local Communities. More info on how to help by making cranes or by Organising a Workshop in your area here. 
The project aims to make 140,000 paper cranes to remember those who were killed by the atomic bombing of Hiroshima. Folding paper cranes is done in memory of the children killed by the Hiroshima and Nagasaki bombs because of the story of Sadako, a Japanese girl who was just two years old, living in Hiroshima when the atom bomb was dropped. Sadako later developed leukemia and while in hospital heard the legend that anyone who folded 1000 paper cranes would have their wish granted. Wishing for peace Sadako set out to fold One Thousand Paper Cranes before she died aged 12. There is a statue of Sadako holding a golden crane stands in the Hiroshima Peace Memorial Park.  Read more about the project here.
Don't Bank on the Bomb Campaign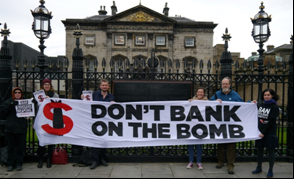 The Centre has brought together a network of groups to campaign for a boycott of financial institutions that fund the companies that are involved in the production of nuclear weapons until they divest. We organised a public launch event with the authors of the Don't Bank on the Bomb report from Pax Netherlands and an event at Scottish Parliament where they spoke. We continue to leaflet regularly outside RBS to urge people and ultimately, this publicly owned bank to move their money away from investments in nuclear weapons.
Fly Kites Not Drones
We have organised wonderful Fly Kites Not Drones events on the Meadows annually in partnership with the Meadows Pavilion Cafe and Refugee Community Kitchen that have drawn hundreds of people including many families and raised awareness of the plight of people living under the threat of Drones.