Campaigning for Nuclear Disarmament
The Centre has long campaigned for nuclear disarmament. We play a key role in facilitating the Scrap Trident Coalition which organised demonstrations in Glasgow and blockades of Faslane where the UK's Trident nuclear weapons are based in 2013 and 2015.
Don't Bank on the Bomb Campaign
The Centre has brought together a network of groups to campaign for a boycott of financial institutions that fund the companies that are involved in the production of nuclear weapons until they divest. A public launch event with the authors of the Don't Bank on the Bomb report from Pax Netherlands will take place 16 November in Edinburgh.
First World War & Conscientious Objection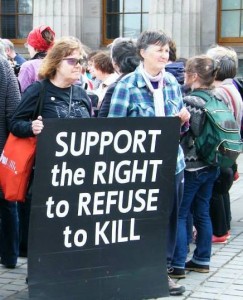 We initiated and lead the ongoing campaign for a Conscientious Objectors' Memorial in Edinburgh and the local annual International Conscientious Objectors' Day Vigil. We are on track to create a permanent memorial to Conscientious Objectors in Princes Street Gardens by March 2016, the centenary of the passage of the Military Service Act of 1916 that brought in conscription. We're organising the World is my Country exhibition of Emily Johns' posters which tell the stories of people who opposed the war at the Storyteling Centre in February & March 2016.
As a member of the Scottish Peace Network we organised events across Scotland that challenge the glorification of war within mainstream remembrance of the First World War.
As part of our alternative remembrance of the First World War we created and produced Divergent Voices of the First World War at the Scottish Storytelling Centre last year. It also featured voices of people who opposed the war.
Nonviolence Education
We will pilot our innovative Conflict Resolution programme for primary schools, which employs cooperative games, at Dalry Primary School in October 2015. Following that we plan to deliver this programme to other schools.
Countering Militarism
We;re working with the Edinburgh Campaign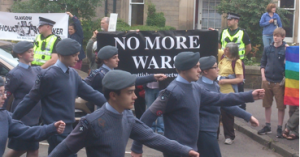 Against the Arms Trade andEdinburgh University People and Planet to campaign for the University and Scottish Parliament to divest from the arms trade. And we're working to challenge the Militarization of Children and Young People.  We produced a briefing on this issue and hosted a talk in the Just Festival.
Support for Refugees
We are calling on the UK to take its fair share of refugees, increase humanitarian
aid to refugees, especially around Syria, and not to resort to military solutions to the conflict in Syria. We organised the Light Against Darkness exhibition of the artwork of Syrian refugee children at the City of Edinburgh Methodist Church and raised over £1200 in support of the work with the children in Lebanon.